Bead On The Moon is being developped for about a month now (since the begining of the ludum dare 39), and there are sooo much things to be said about the post-jam version of it. For those who don't now what the game is about, here is a description and some screenshots (that are now a bit outdated but it's not a big problem) :
« Who are you ? Why are you here ? It seems you are on a planet named « moon ». But it's not a round planet, nor a conventional one, for sure. Whatever, you just don't have enough power to leave this weied place, and you're totally stuck here. However : you can serve other magical girls in order to get more power, and leave this nightmare. But you better do it quickly : although this planet is populated by kind people, you know that something is wrong and unusual. »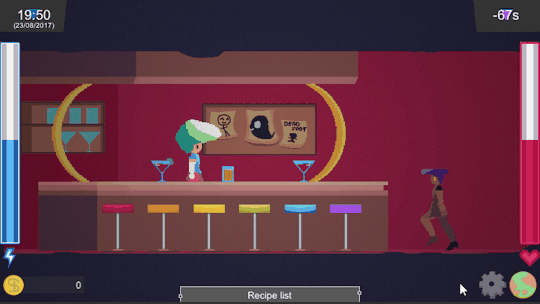 Bead On The Moon is some kind of a « bartender game » mixed with a bit of « point and click ». It's the illegitimate and strange child of Animal Crossing, Cooking Mama, old flash games... (But wait. It's still unique in his kind, I promise).
What have been done for the past few weeks ?
Since the ludum dare 39, I've worked a lot on Bead On The Moon, and I'm now able to talk a bit more about the new features I've incorporated :
• A new cooking system that is both easy to take in hand but a bit hard to masterize. There is a learning-system and a new module that let you add « extra » ingredients. It's pretty simple : you have ingredients, you combine them according to a very precise recipe to make the meal you want. Then, after you baked what you wanted, you can add some « extras » that will change the meal a bit. (Make it more salty or more… « Moony » !). You'll have to take many factors in count (and not only the taste) to bake the perfect meal for each client. (Note that there is still two cooking system : one for clients, and one for monsters).
• Randomly-generated clients : « regular » clients are now randomly generated. There is actually (but it'll increase) 3850 differrent clients that can appear in your bar (According to their physical appearance, without taking in count their identity, personality and tastes). Also, their request are generated according to your level, so you will never have a client you can't handle. In the future, I hope to have at least 125000 different clients according to their physical appearance, and also « VIP » clients (that come according to the current hour, to current month… And will maybe help you or give you some rare or secret objects.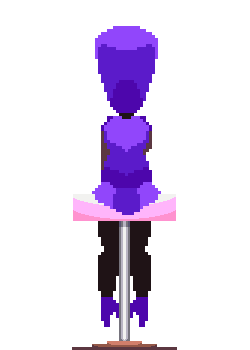 (a client you may encounter)
• Taking care of your bar : You'll be able to personalize your bar with many decorations, and this will influence the satisfaction of clients who come. And even more the satisfaction of VIP clients !
• New interactions : I've added new interactions with the clients, wich let you steal him everything he has because magical girls are not only kind people.
What's coming next ?
These are the next things i'll be working on next weeks. I hope to finish that for the next weeks ! :
• Polishing the generation of clients – to be sure that they feel good and the bonus/malus they give are not too much nor not enough. With that, i'll have barrely finished this scene of the game – and it's the most important one so I have to make sure it's perfect, not like in the ludum dare version… -.
• Finishing other scenes that I'm working in on : a shop and a « tree », that will both have a huge role to play. In fact, you'll have to play not only INSIDE the bar, but also outside.
• Adding the VIP clients : It's something that will be VERY important in the game. VIP clients are the basics of the game's background. And maybe they have something to do with the story-side of the game !
• Updated graphics : I'm still working on that but, as you can imagine, it takes time ! So it's going to be done step by step. Also, I'm using a new color palette which is a bit different from the old one, so I've been recoloring every assets I had.