Greetings Scifi Fans, Welcome to the 5th development update for WarpedSpace.
Awoken from stasis into an unexpected and hostile environment,
the hunter / explore must discover the mysteries of WarpedSpace
or just build a HAB and hide away in deep space.
November Progress
New Smarter FPS Ai Variant was worked on and added to the game.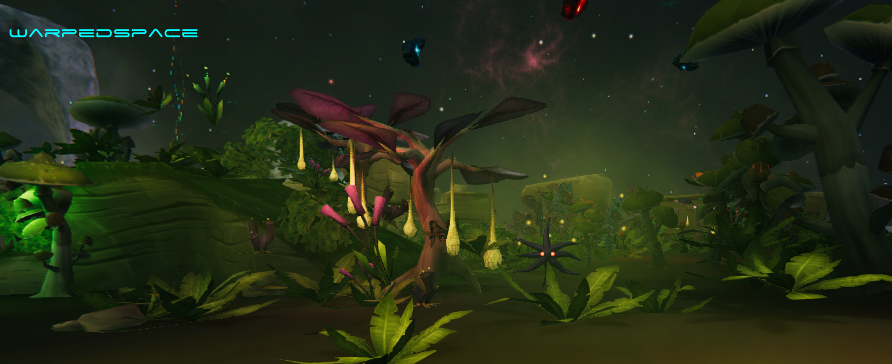 The player's ability to equip and un-quip weapons and useable was also improved upon.
The ship's signatures were added are now visible on the MDF display giving you an idea of how invisible you may or may not be to other ships.
The Ship's surroundings now affect your signature. Giving you the ability to run, hide and escape from hostiles. Parking your ship next to a large asteroid will make the ship less detectable to other ships who may be roaming the area.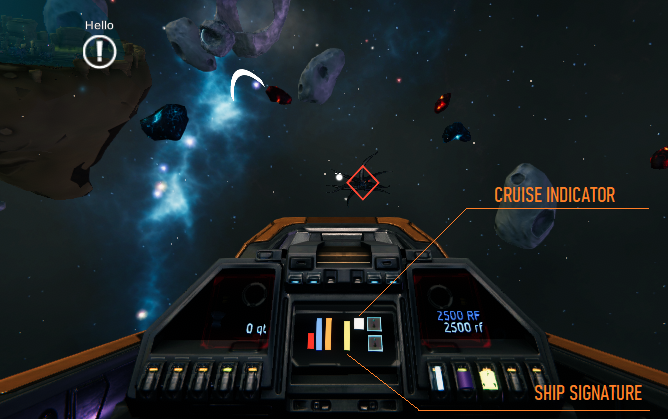 The player is now locked into place while Editing the name's
of Storage Container, Location Beacons etc.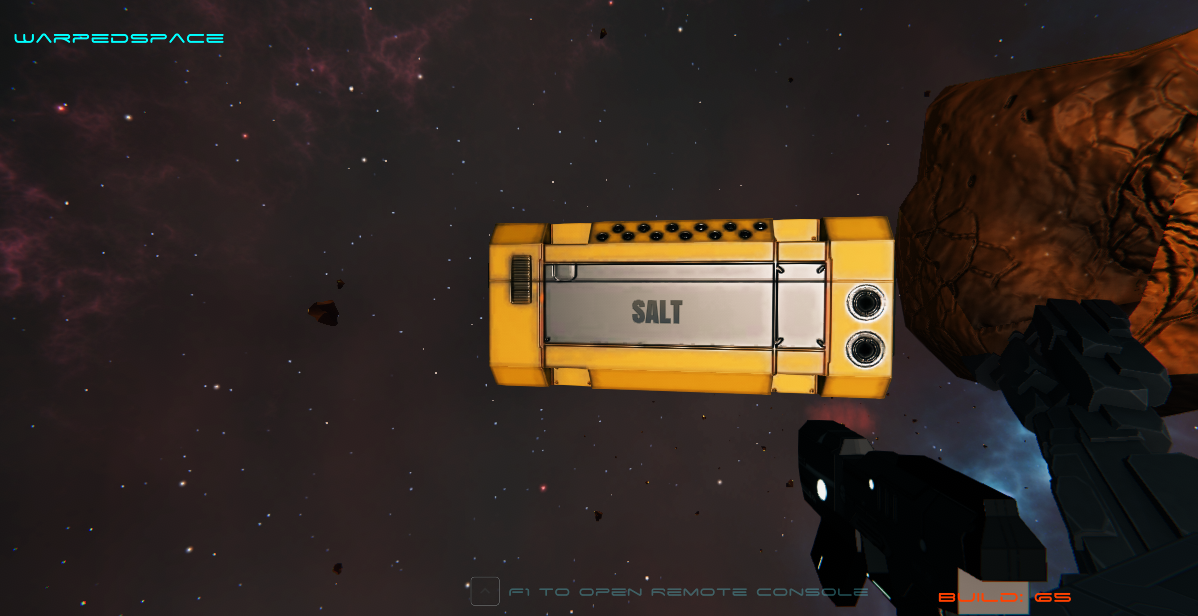 Location Beacons can now be crafted & placed at points of interest you might want to
find your way back to.
Location beacon visibility can be toggled via the ship's cockpit, thus keeping the HUD clean.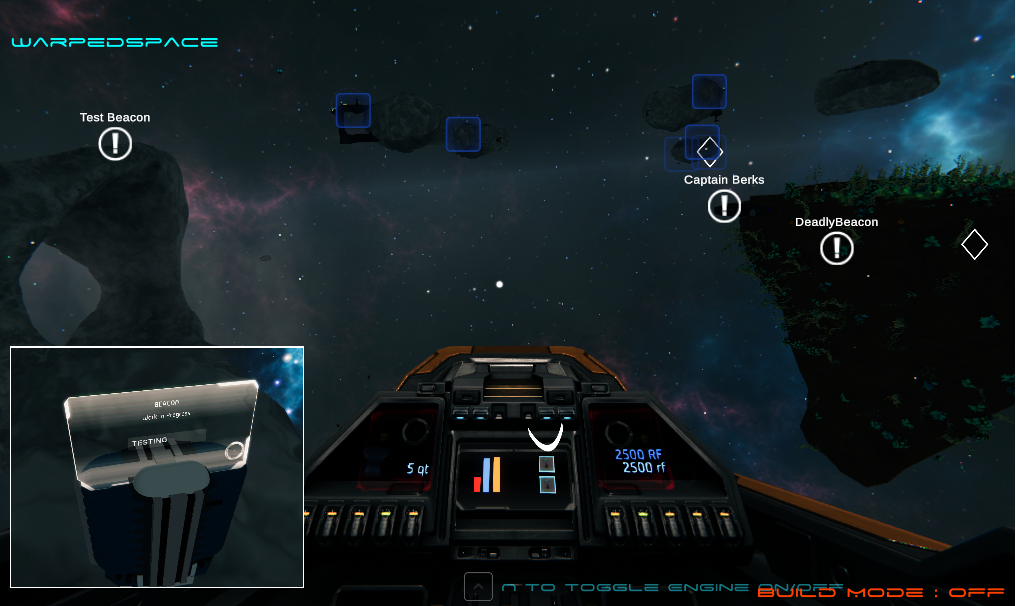 After feedback from pre-alpha testers, cruise mode for ship flight was added.
With cruise mode off you have better control over your ship for landing and maneuvering around.
With cruise mode on you maintain speed, without having to hold down for long flights.
A Proof of Concept Item, the Bounty Tracker Item was added to the game.
The Bounty Tracking Item will show up in your ship if you have it in your inventory. Allowing you to Track a target via the Bounty Tracker.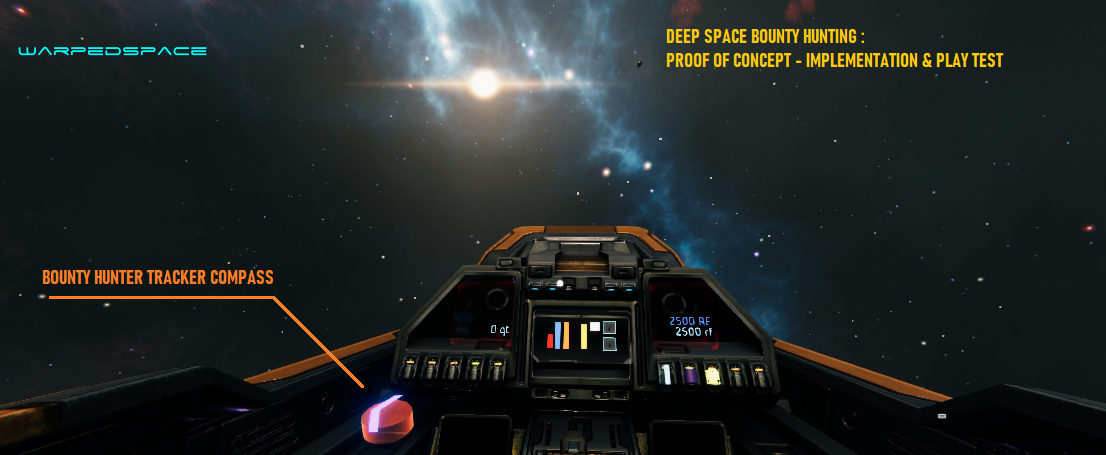 Improvements were made to the "Creature Manager", the manager maintains the levels of creatures in given areas taking into account creatures that have been killed by the player or other events.
Ship Setup was improved, slots now only accept correct item types.
Fuel / Weapons / Power Source.
New Success & Failed SFX were also created and added.
Then I investigated having different Shield Shapes including Dome Shield creating some interesting use cases. ie. Bunker or Landing Pad Shields vs Ship Bubble shields etc.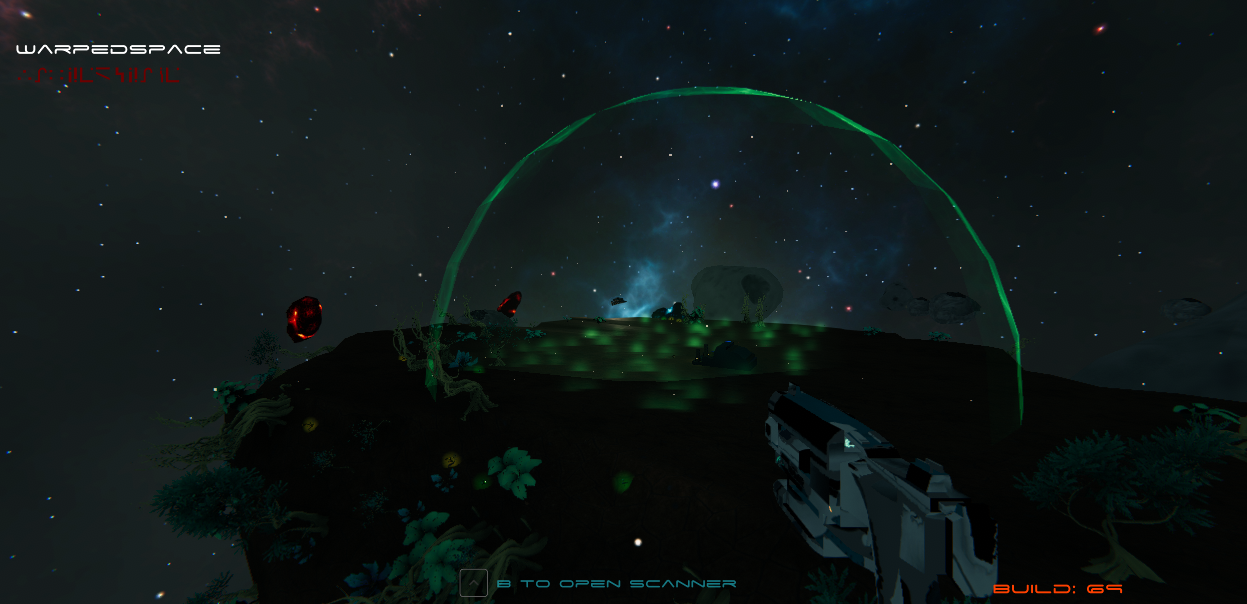 Later various ground and cave textures were improved.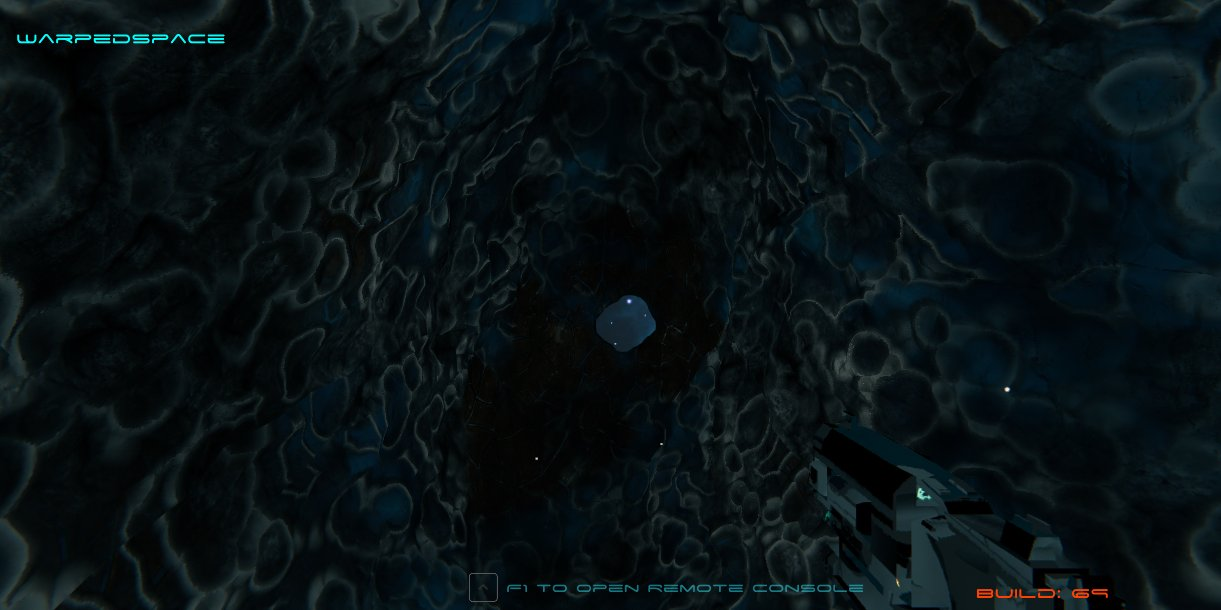 Ships are also now able to equip and use different weapons.
Some of the new ship weapons are now Craft-able.
Orange, Red, Purple Energy Weapons, and various new collectible and craft-able items were added to the game for example Ice Fragments, Energy Projectile Variants, Crystals, and various metals used in crafting.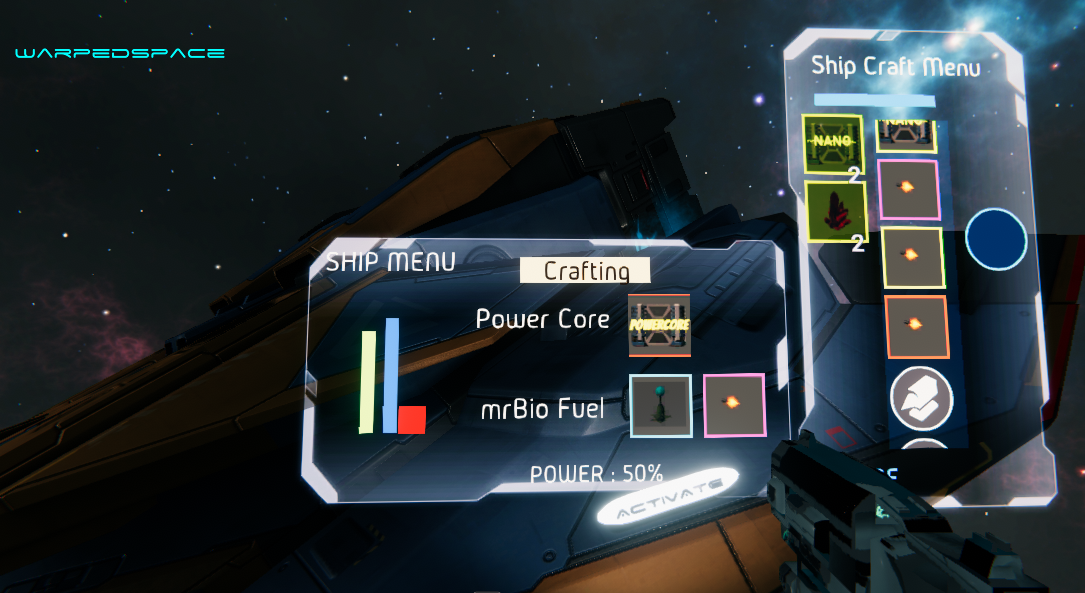 Not everything will be craft-able, some components will be found as you explore WarpedSpace.
Various Interact Buttons were added to ships which can be activated by "Holding - F " and clicking with the mouse.
Then the foundation for Twitch Integration was added ~
Allowing the possibility for "Chat" to Troll or Help the player.
Radiation Belts were added along with new collectibles in those belts.
Proximity radiation affects the player's resistance until it reaches zero.
- Upon Reaching Zero - The player's health is then affected.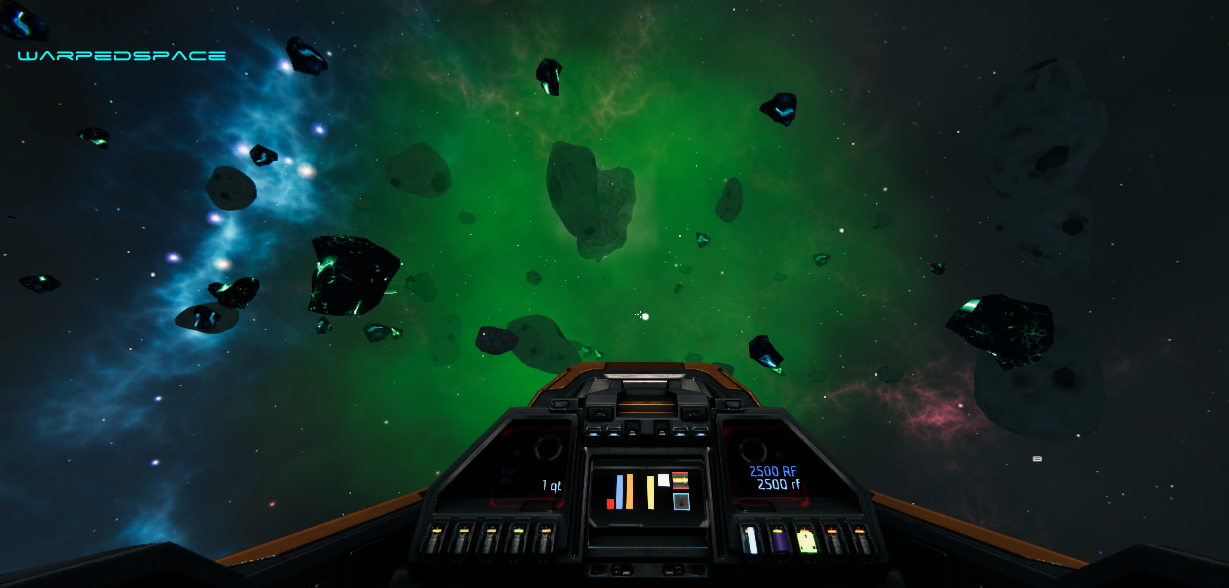 A Ship Power Manager tab was added to the ship's MDF.
This will allow you to divert power in cases where components get damaged and also boost different ship systems under normal operation.
Persistence for the ships MFD States was also added.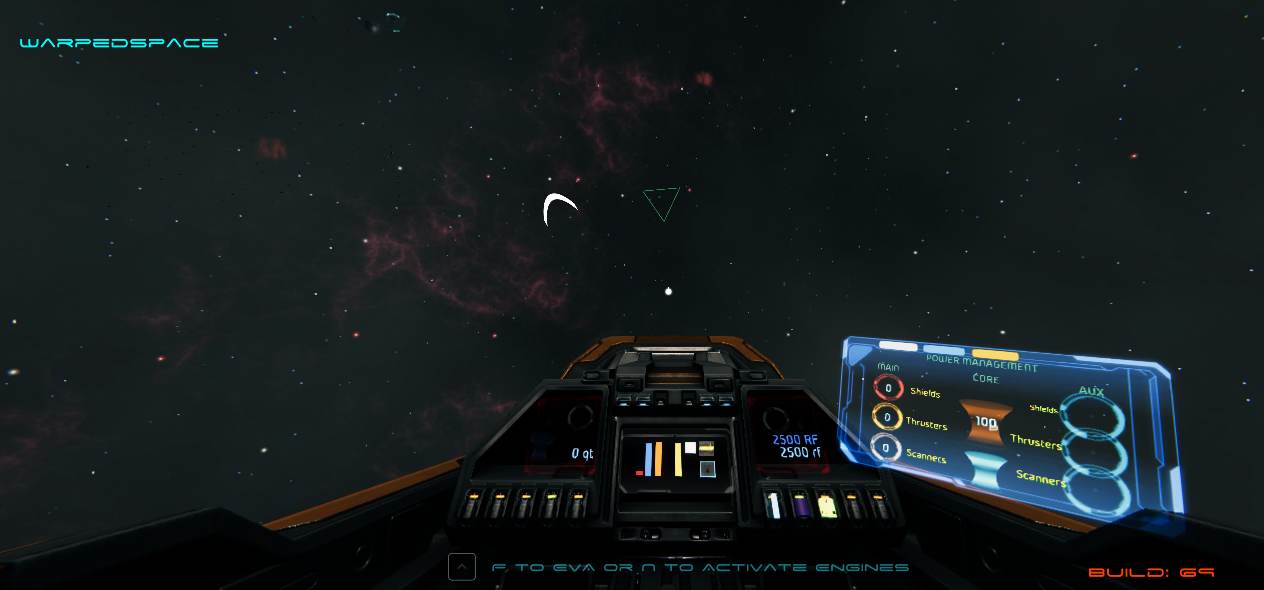 Next, I worked on the ability to shoot down missiles and missile-like objects. A feature I have wanted to add from the start of the project, this does seem to make combat all-around more fun.
Then Ships shields were made easier to interact with and all ships were updated to the new standards.
Initial Joystick Support for Flying Ships was implemented along with the setting option to enable it.
Ships now slow to a stop when turning the engines off. Instead of stopping instantly.
Lastly, I reworked the Character Controller for full EVA movement allowing the player to have 6 degrees of freedom while floating around space.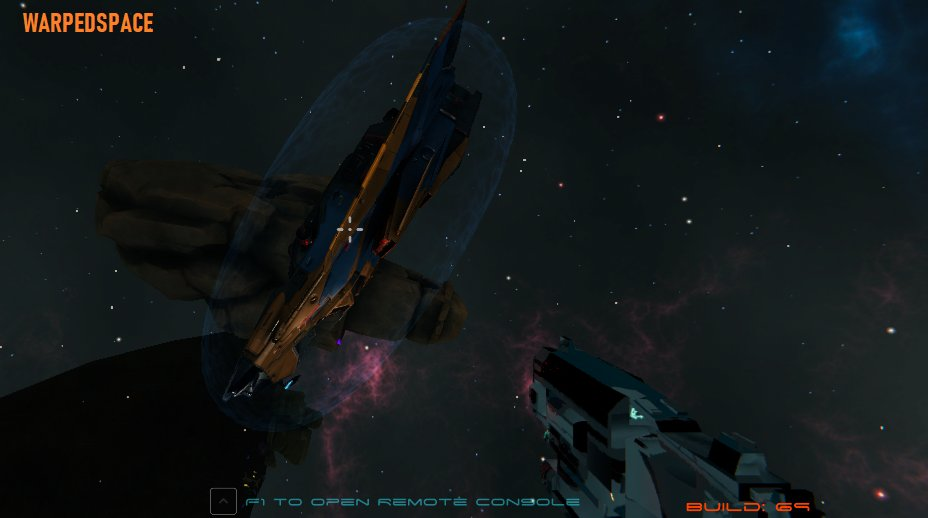 That's all for this week! Remember you can keep up to date with our development progress
by joining the discord or following me on twitter @warpedspacegame o7
Until the next update, see you in WapedSpace!