In this month's development update we talk about improved of the graphics, the musics and the general gameplay.
First of all, you may want to check this video of a level with the aquatic theme to see some of the new elements :)
The main part of the work we did this month was to add the decorations in each of the 40 levels. We also reached a better aspect for the general structure of the roller coaster by adding some shadows on the planks and by adding some metal bars.
We worked on the improvement of the visual feedback: the birds now lose some feathers when they are hit, the explosions generate some smoke and the items react on the mouse in a better way.
The level selection is reaching its final state. It will be in a large level with the entries to the game levels at various places on the track. The entries are displayed with widgets like the one below, which displays a level with the western theme and for which I have won the gold medal: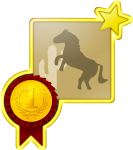 Also we now have all the musics of the game and we continue to add some samples here and there.
For the next milestone we will work on the introduction of the game, the transitions between the levels and the credits. Then it will be possible to release a beta version of the game.
By the way, you are welcome to follow us on twitter @stuffomatic, where you may be among first to know about the release date of the game :)