The last update was one month ago and, actually, it is quite difficult to organize all the work done since then. A good part of the job was to paint the fifth and last theme, a morbid theme:
Then we worked on the boss, this woman that drops the zeppelins, cables, crates and others on the tracks. Here she is, in her helicopter: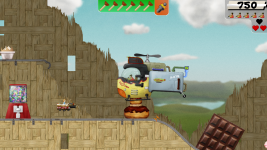 It was a difficult task to make her to move and drop the elements in a coherent way and to find the right place for the weak points. Finally we are quite proud of the result :)
Once that the boss was done, we could design the levels to fight her. With this plus the last levels of the storyline we have almost all the levels done. We are now adding the decorations in them. I have to say that we are really satisfied by the tools we made for the game. It becomes really easy to adjust the graphics, sounds, characters and code independently.
We have finalized the placement of the player's state in the interface, confirming the choice presented in the previous news. Now the informations are displayed on the top or bottom of the screen, where the mouse is not, in order to not interfere with the game.
As for the previous update, we worked on the audio too. We have added a lot of sounds to the game and produced three musics, for the western theme, the morbid theme and for the boss levels. You can hear two of them in this new video:
For the coming weeks, we will be working on the finalization of the levels: adding decorations everywhere, calibrating the scores that trigger the medals and setting the performances that validate the levels. We will also add three extra-super-bonus levels, do the introduction of the story, complete the title screen and the credits, and more…