Escape the Mad Empire is a roguelike tactical RPG we recently announced for PC to be released late 2022 or early 2023. You can already add the game to your wishlist on the Steam Store.
It features party management, real-time tactical combat with instant-actions on pause, roguelike elements, base-building elements and pixel graphics.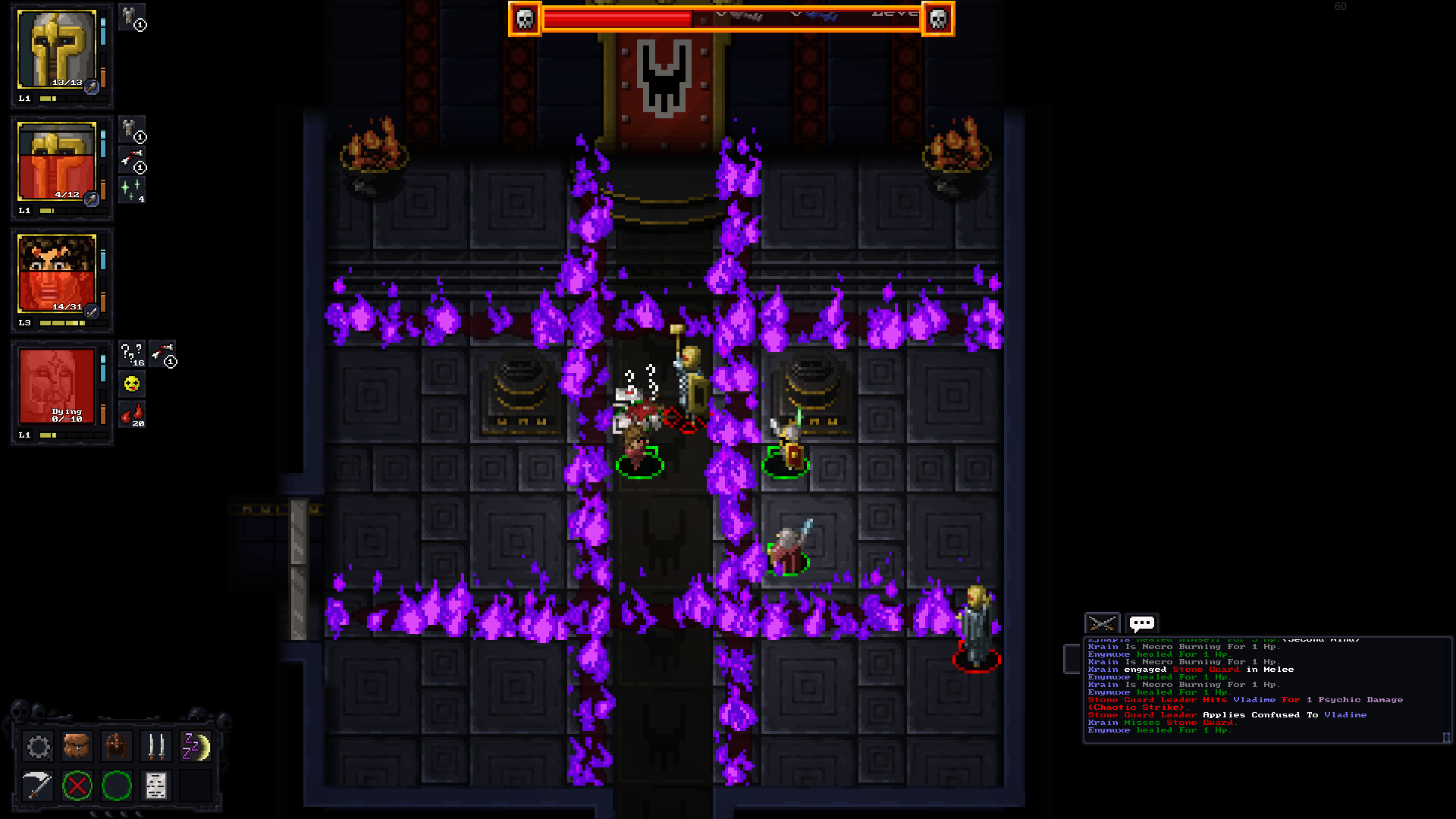 Across Genres
The game is a bit of an oddball because it does not fit clearly in any sub-genre, which is both a strength and a weakness. A strength because the game is a ton of fun, feels fresh and will help pushing back genre boundaries. A weakness because it does not 'belong' to any clear-cut niche, which makes it more difficult to present and explain.
Roguelike? Not traditional enough. CRPG? With roguelike elements and 2D pixel art, no way! Base-building? Not really since it's not part of the core loop, it only happens between dungeon runs. RTS? Get out! Roguelite? Ok but that definition is so wide and associated to action-RPG more often than not.
Even describing it as a deviation from a known game is not easy. It's like a traditional roguelike but with party-based real-time combat and base-building elements. Or it's like Baldur's Gate II but with roguelike elements, lighter story content, wilder combat system and base-building elements. Or it's like Darkest Dungeon I but with top-down real-time combat and combat/spells mechanics that feel more CRPG-ish. Well, you can see where I'm going with this!
What is clear though is that one of the way the game stands out is through its real-time combat system which goes against the current turn-based trend. We really think that adding instant-actions on pause (no casting delays) help combining the strengths of real-time and turn-based tactical RPGs by retaining both the precision of turn-based combat and pace of real-time combat.

Devlogs Preview
Escape the Mad empire is a fun, tactical RPG game with tons of depth so we have a LOT to tell about it. Over the following year we'll try to explain better what the game is about though a series of development logs. Here's a preliminary sample list of the discussed subjects:
Game structure overview
Battle system overview & real-time with attack on pause
Tactical system: positioning, surfaces effects, cover, flanking
Equipment system
Crazy magic items, curse and identification
About emergent gameplay, perma-death and drama
Instability, injuries and unconscious systems
Character Classes
Magic & skills system
Dungeon structure and procedural generation
Examples of monster mechanics
Boss Battles and challenge rooms
Epic Run Mode
Stats and combat formulas overview
Hunger and thirst management & more resources management
About the story structure
Hub structure and base-building elements
Teams Management system
Crafting system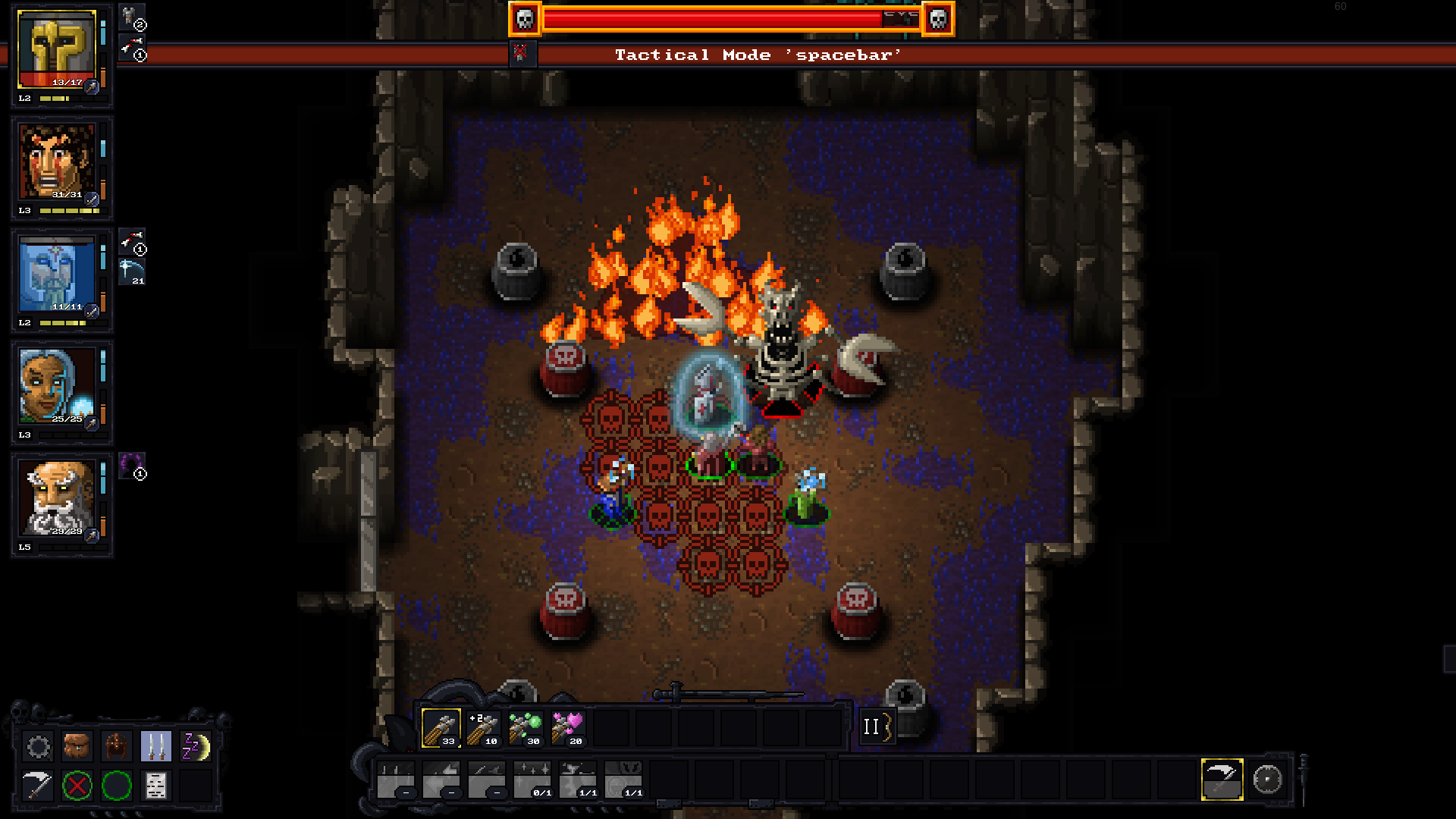 Development Roadmap

After over 4 years of development, we are currently working on our 10th major milestone. The main goal of this milestone is to bring the gameplay in a quasi-ready state for Early Access. Here's the major objectives:


Finish major Hub functionalities like basic crafting system, missions system, interfaces, character upgrades functionalities, library (skills unlock), graveyard, etc.
Magic items overhaul (rarities revamp, balancing and new items)
Instability system
Skills upgrade system (all skill/spell will become upgradable)
Combat system: revamp armor mechanic to include physical and magical shields
General balancing and calibration
Complete reward screen after missions
New treasure chest rarity tiers and review loot balancing
General tweaks, minor feature additions and bugs fix

The milestones schedule might be modified along the way but here's the currently major planned milestones:
Milestone 11: tutorial and early game Content
Milestone 12: story, Quests and immersive content
Milestone 13: alpha release preparations
Milestone 14: additional content (new apocalypse content, environements, stories, monsters, etc.)
Milestone 15: beta release preparations
Milestone 16: Early Access release
Post-EA Milestones: TBD but at least iterations based on community feedback, gameplay content and end-game story content

That's it! See you for Devlog #1!