This past week we've mostly worked on the Egyptians (which is going to be the first civilisation to get included in the mod) . As you can see, most of the Egyptian buildings still have Persian models as placeholders, but progress is coming along steadily. The Egyptians are 'playable' in the latest git version. That is to say: if you start a game playing as Egyptians, you shouldn't get any serious errors.
Only a few models have been done at the moment, but having done these, we are confident that the rest will get done just fine.
On the "Egyptians Demo" map (see picture), you'll find all of the models/entities we have made for the Egyptians.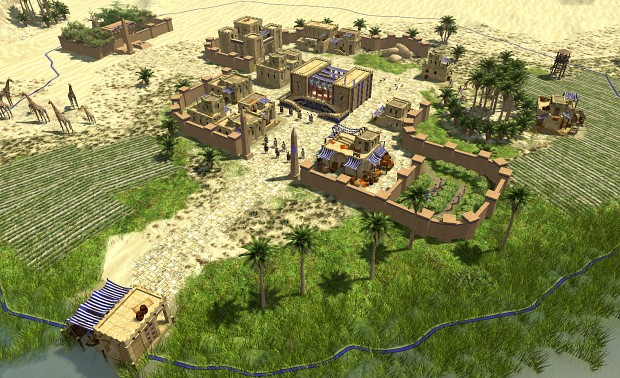 I, Idanwin, have spent the last week making models and making all necessary .xml files.
Lion has textured all of my models at an incredible speed (really, right after posting a model I just had to reload the page to see the beautiful textures he made).
Atenmeses is really busy at the time, but he took the time to help us out anyway.
And Zaphzaph has worked on the design documents and is learning to model so that we can get more work done!
I would like to thank all of you :-)
Changelog:

Added Egyptian Spearman
Added Egyptian Swordsman
Added Nubian Spearman
Added Sea People Swordsman
Added Egyptian Garden/Temple Walls
Added .xml files for all buildings + female citizen
Included the map "Egyptians Demo" which is a showcase scenario for the Egyptians