I think that The Waste Land has had some unconventional development cycle, even in the indie scene. The game started as a GameMaker experiment in july 2009. I used my spare time during lunch breaks
(outside that lunch breaks i'm a professional developer too, having directed the development fo some fine racing games like MotoGP13 for Playstation3, Xbox360, Playstation Vita, PC.. but that's another
story!) to work on it, then i added the train travels i have to do every day ( i'm a commuter) so i had about 2 hours a day. Not bad. By the end of the first year i had a vertical slice, some levels, some
enemies, a boss, so i started working on graphics too. I used the remaining 3 years working on the levels and the enemies, basically.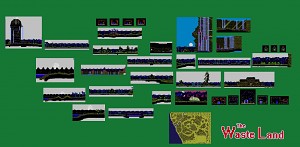 Now i'm in the final stages of debug and tuning, and i've approached
the level and world design in a day-by-day and top-down basis. In other words, i've designed the overworld by rough lines. Then when it was the time to work on a particular world i've desinged its map, and its levels, trying to create something always interesting, spreading around villages, towns, temples, secrets and bonuses here and there. At the end, after 7 worlds, it turned into a second nature to me.
Join the Facebook group here: Facebook.com, visit the website: Thewastelandgame.weebly.com

Fledermaus.