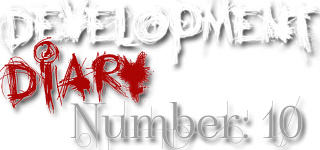 First off I'm going to start with the Brand new story tweaks!
Introducing John: Eric's Brother (Details not included major spoilers!)
Introducing a Son being brought into play. Little info will be given on him
Several other small tweaks for game play purposes
An update to the State of Grey mechanic in the game:
A change where the player is transported to a map which has turned grey (besides the player)
Introducing a New enemy that will ONLY appear in these maps (Concept art may or may not be released soon)
The State of Grey maps will have many more hidden secrets for back story and unlocks so fourth during your play through.
The Psychopath and Stability feature in the game has now been given several new heavy affecting areas including:
The Ending
The feel of game play
How you can interact with other characters. (Will be implemented as it's developed)
Ability to use certain objects (Still being implemented)
Bug Fixes:
Fixed the Door Animations being jumpy
Fixed the interaction chat scene (not recording the X key)
Fixed a lighting bug with the flashlight randomly flickering non stop (Gave me a headache!)
New Additions:
Implemented the "Fury Feather" System, which when 3 feathers are collected your Max HP is increased by 5
Implemented the SoG Maps "Grey" system
Begun working on a "Glow Stick" Feature for random areas of maps
Newly Added Images
Newly Added Music
A fancy Intro is in development
The New "Main City" Map is currently being developed by Had at Work Bee
Trying to create the new "Enemy" as previously stated above
New Scripted interactions
New Scripted Item Gets
New scripted doors
More depth added to certain story areas
I'd have more but It's mainly all little things from this point on and I'd prefer NOT to bore you! SO Here is some media for some of the new updates!Door Animation Fix:
Fury Feather Update:
The Newly Updated "State of Grey":
The (Currently being worked on and hard developed) map of the city:

And of course! If you have not already! Here is the new song added to our soundtrack:
Would you guys like to see a fully released soundtrack? Post your thoughts below! Any way Thanks for reading! I hope you enjoyed! Post thoughts and ideas below! We love to hear from you!
~Skyline Interactive Team