Hello everybody.
It's been a while since anything was posted here. But I've been busy.
There is now a version 0.97.1 alpha demo available.
I will now only be creating Linux and Windows versions. Mac isn't playing nice with my machine.
Also, Uploaded builds will be put into the dropbox link at www.ceresthegame.com
Its too big for this site now. It just keeps growing.
Lots of stuff has been updated.
New perks.
Perk data updated.
The UI has been improved.
Hacking and module targeting improved.
A Sav egame feature has been added, although it is a work in progress. May not work completely.
Modules and ship data updated.
Price for modules updated, etc.
Factory function added. It allows the player currently to manufacture ammo for cannons, missiles etc.
Player can now change his character name and image.
Various fixes to station trade.
Random encounter generation.
Cinematic camera feature. Instead of grabbing your camera. The game will now display a small window to show you items of interest.
Added key binding at the Ceres configuration screen.
Follow order added to Quick GUI. This allows you to order your ships to follow one ship. It works well if you want to control just one ship and make the others in your fleet follow it.
The follow order works for both friendly and hostile targets although Issuing a follow order on a hostile ship will order your ship to attack the target.
Radar range has been changed. Its been extended to a factor of 3. Various scenes now affect your radar range. The Khaos could for instance reduces your radar range by 66%. Clouds can also reduce is even further.
Fleet view updated. You can now control your modules in detail. Turn them off or on or change their power usage.
Tactical view has been changed. You now cycle through 3 views. First is ships, second loot, and third both.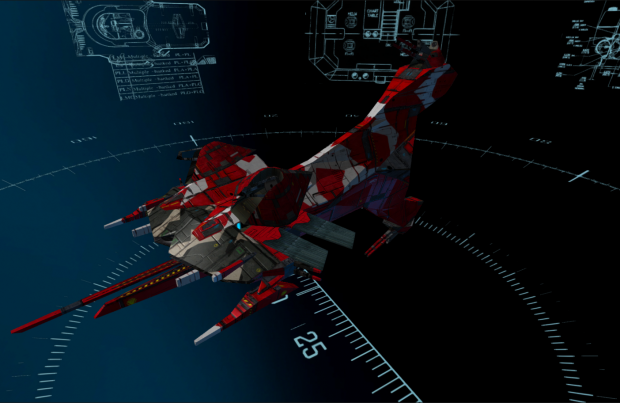 Whats next?
Improve the save game load time.
More content is being added. More ships, more modules, etc.
Textures will be improved.
Work is progressing on creating new scenes. New missions and interesting stuff.
Game tutorial improvement. I know the game is a bit complex to get into. As the designer it's quite easy to play. This is needed!
A.I window will be changed. The Attributes will be removed and replaced with A.I. info window.
A faction window will be added. Here you can see each faction hostility towards you. You will also be able to change their disposition towards you by paying a fee. This should allow you to stop the Terran Alliance from destroying you...
This will also work with the pirates, although only temporary. A fixed no fire time.
The game is about to reach a feature freeze stage. That means I will stop adding new features, unless something fun and interesting or vital will appear of course, that won't take too long to implement.
The one thing about the game that is bugging me the most is the formations function.
Its use seems to me be a bit limited.
Currently you just create formation that you use with a created group. Select the group and select the formation. Issue a move order and a formation plane will appear and all ships will move to their placement.
What I would like is that the ships would use your player ship as their leader, place themselves into their formation position to him. That way the ships would follow you and try to stay in formation.
This is probably something that is needed.
-Tryggvi Hákonarson
Lead designer.