Okay so we thought it was about time for a development blog and to give a little more info on what Heavy Steel is all about. So in Heavy Steel the time lines play out a little differently to our own, Britain isnt fairing to well, the luftwaffe never switched there attacks to the cities and factories and instead kept up there relentless attacks on the RAF airbases and radar-stations. By the time of autumn 1940 German forces began to sweep across the channel capturing beaches and towns all along the south coast, with the luftwaffe still heavily engaging the RAF, and the Royal Navy being engaged in both the Mediterranean and North Sea, only the British defences along the GHQ Line stand in the German invasion forces way.
So in Heavy Steel we have the possibility to bend the rules a little on how WW2 took place, while we intend to stick relatively close to the technology available to both sides at the time, we do intend to take a creative licence towards the conflict. So what can you hope to expect? Well, theres a few things visuallys that will change, the Germans will look more sinister here are some early concepts of how some of our German players will look.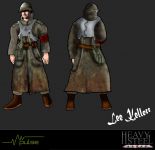 Some early concepts for our German Infantry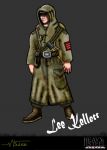 Early concept of a German Paratrooper Heavy Steel will take place around the port beach and small town of dover, this area became witness to some of the most intense fighting of the British Invasion, centralised around a British Radar station. As the Germans your task will be to storm the beach, use your heavy tank support to then smash the seawall, allowing you to surge inland. Capturing the radar station will allow you to spawn further inland, para dropping in behind the British beach defences, before moving on to the main dover HQ, storm the bunker there and kill the British commander. As the British your task is a simple one, hold out, keep the Germans from breaking out from the beach and hold the radar station at all costs, the bombers and naval patrols are on the way but untill they arrive, you must never surrender.
Fight across beaches, cliffs, towns through bunker complexes and trench networks, Heavy Steel is set to take WW2 to a truely unreal level.