Author: 羿风Ostwind
Translation: Mirage in the Void
Hi again everyone, I am Ostwind. In this Dev's Diary I will discuss our reworks on air combat mechanics and system, as well as some other trivial contents.
Corona redesigned the air combat system to address the different roles of different aircrafts and emphasise the importance of air power. The changes are listed as following:
Increase the penetration capability (health pool) and areal damage ability (AoE damage) of bombers. This will allow T3 bombers to support the frontline more efficiently and open up possibility to launch surprise attack with well-coordinated route.
Increase the anti-ship capability of bombers. T3 bombers will now deal additional damage to medium and large vessels in order to counter the slow but powerful naval units, especially long range siege units.

Increase the survivability of bombers. Bomber units will now be equipped with self-defence cannons or machine guns. These weapons have same range as air superiority fighter weapons and can only shoot targets behind the aircraft. When bombers are pursued by fighters, the damage taken by pursuers can by considerable depending on the amount of bombers in the fleet.

New units: Interceptor.
As bombers gaining their power, traditional air superiority fighters are now facing the challenge on dealing with T3 aerial units. With the Celestial Qinglong Combat Core Ship joining the battle, even the damage output of air superiority fighters is becoming questionable. To balance the power, interceptor has joined the game.
Interceptor units stand out by their long range AA weapons (longer than bombers' self-defence weapons), decent health pool and high burst damage. Interceptors can quickly unleash all their ammo to targets and return to the airbase then take off again with full ammo again. They can shoot down bombers even before the ground attack begins.
New Interceptor Units:
Soviet Union: Sukhoi Interceptor
The Sukhoi Interceptor is derived from the famous and gorgeous Sukhoi Su-27, while taking the role of her ancestor Su-15. The aerodynamics is modified to fit in the environment of RA3, such as installing thrust vectoring nozzles and central lift fan.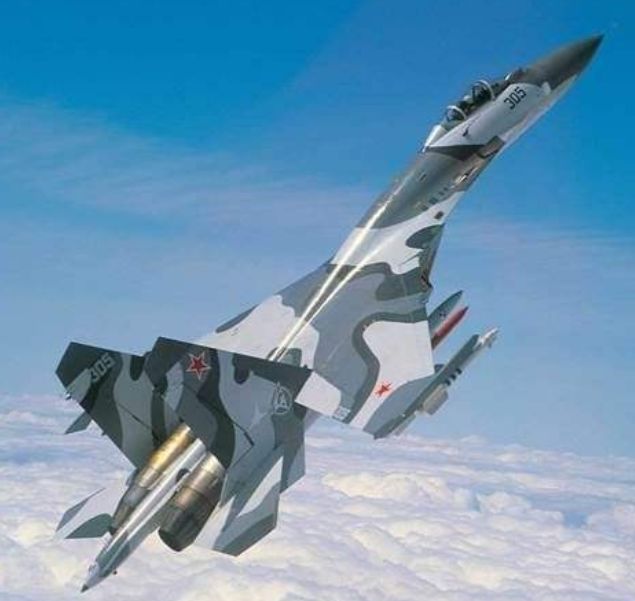 [Russian Su-27 Fighter]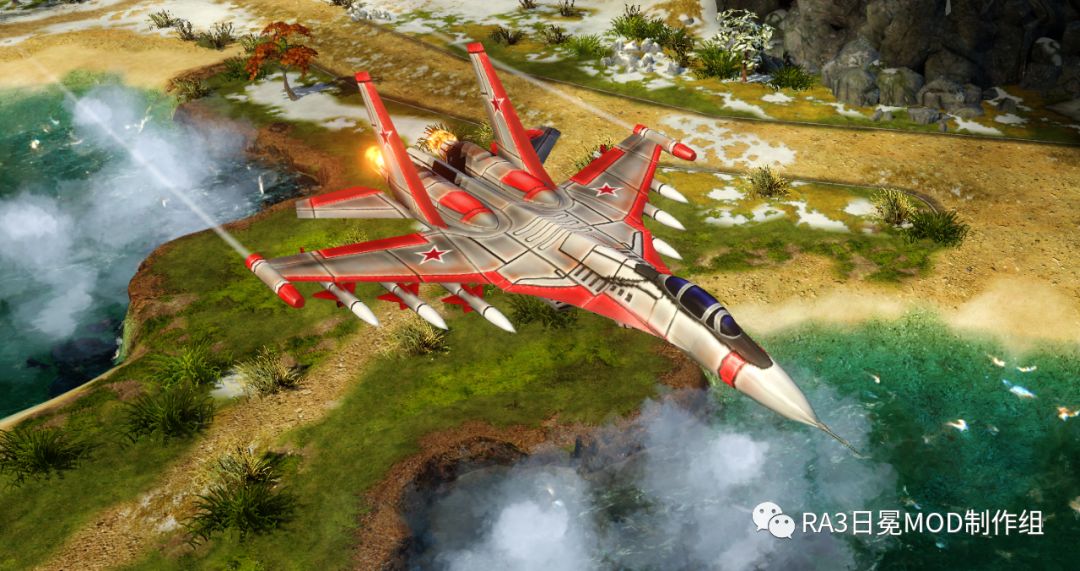 [Sukhoi Interceptor]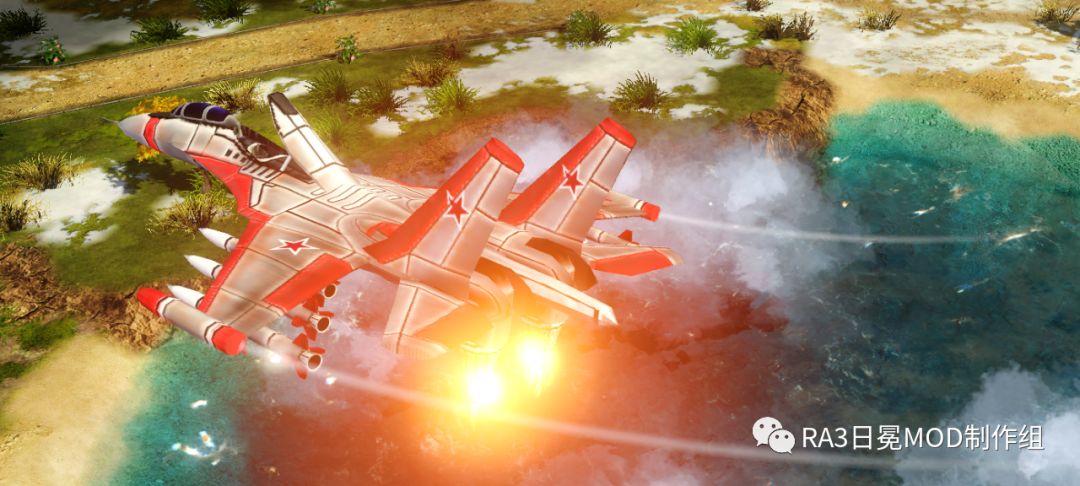 [Sukhoi in Spiral]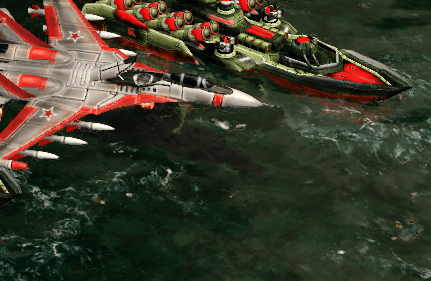 [Sukhoi in Spiral.gif]
The iconic Cobra manoeuvre will be shown in the game too, but only when landing.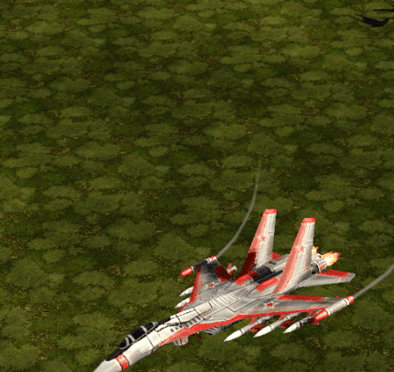 [Landing Arts]
The attack pattern of Sukhoi follows a hit-and-run tactic. Once locks on a target, the Sukhoi will pursue the target using its high speed, or merge with the head-on target and turn around then start the pursuit. While Sukhoi can easily chase down and eliminate bombers, its attack pattern makes it an easy prey for air superiority fighters. Once after merging, the Sukhoi will find itself in a dangerous overshoot position and be dragged into a dogfight with fighters with supermanoeuvrability. The high tier, expensive interceptors are NOT a straight up better fighter than the MiGs. In addition, merely 6 missile capacity of Sukhoi is not good at dealing with multiple aerial targets.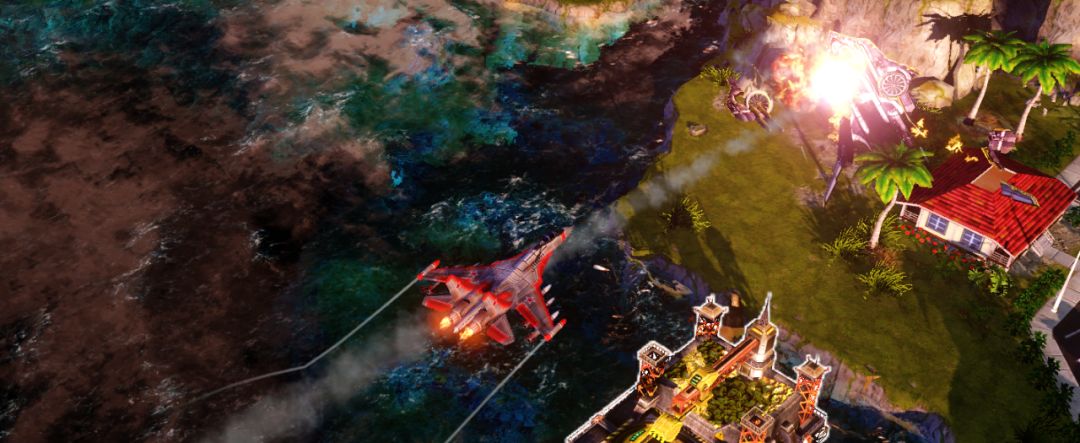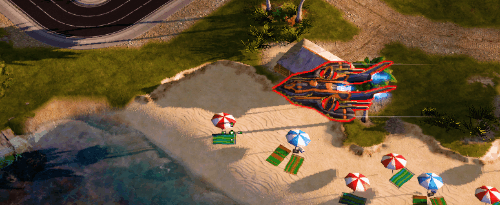 Allies: Cryointerceptor/ Ares Interceptor
The original design is to implement the cryo technology into missiles to create a powerful ammo type. The missile will explode upon hitting and generate frozen fog that deals damage over time and slows the units fly through the area. However, the new missile is proved to be too deadly for fragile aircrafts that rely on their manoeuvrability. The plan was suspended and replaced with a new concept, which is the Ares Interceptor.
The GDI Firehawk's model is temporarily used as a supplement. We are still working on the new model.

[Ares Interceptor]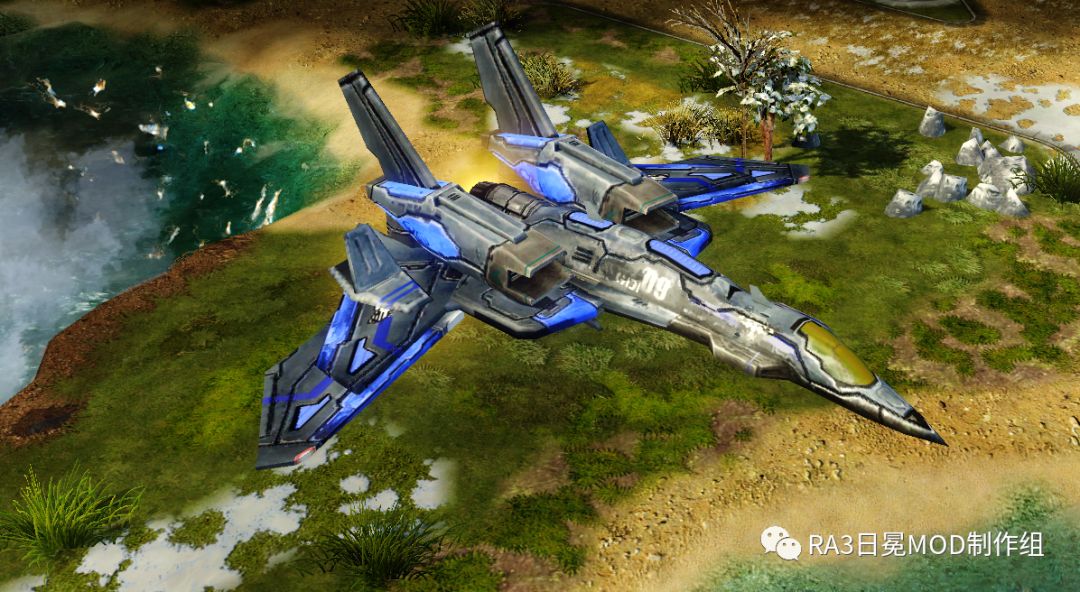 [Ares Hovering, its air brakes are deployed]

[Ares Hovering, with its NO.1 and NO.3 nozzles pushing downward]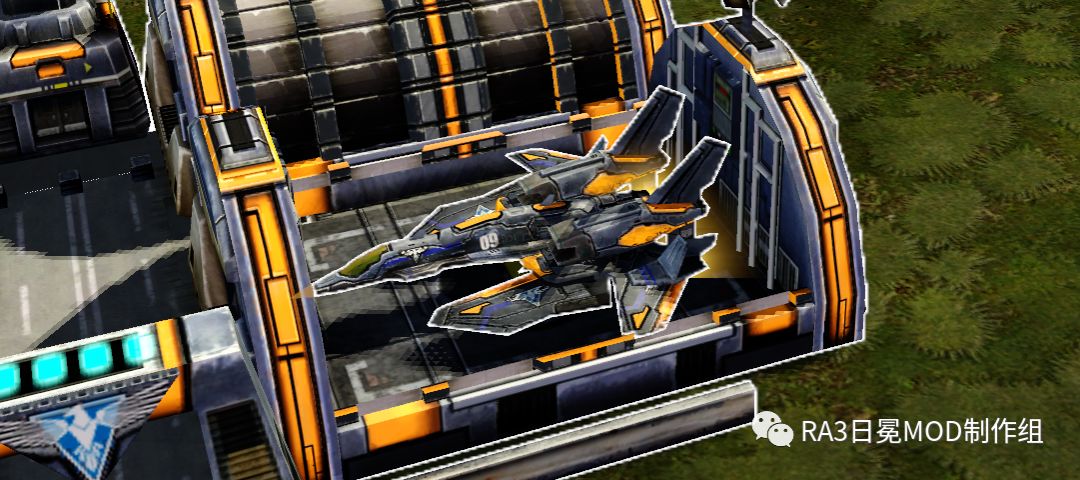 [Ares in Allies Air Base]
The Ares Interceptor is armed with two single proton colliders, the shells can start chain reaction upon impact. In game, the attack will deal both based damage and additional percentage damage, the latter will be Ares' primary mechanism to threaten large aircrafts.
[Ares Attacking]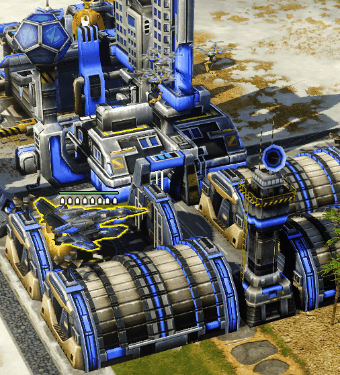 [Ares Taking Off.gif]
After receiving the Advanced Aeronautics Upgrade, the number of proton collider charges it can carry is increased from 9 to 12.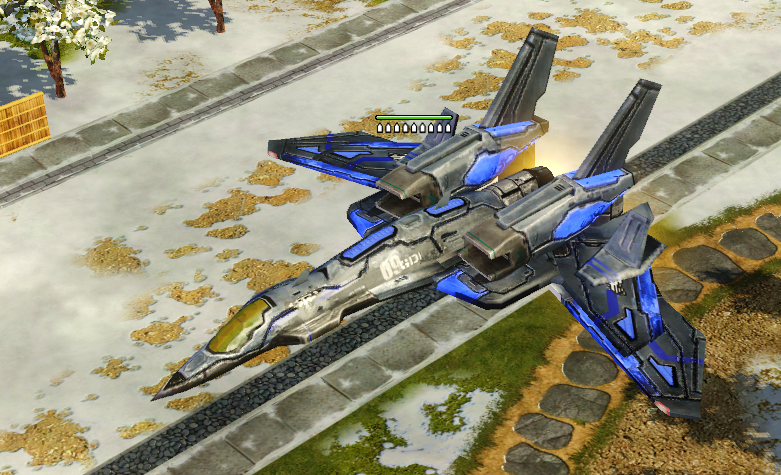 [Ares, 9 charges]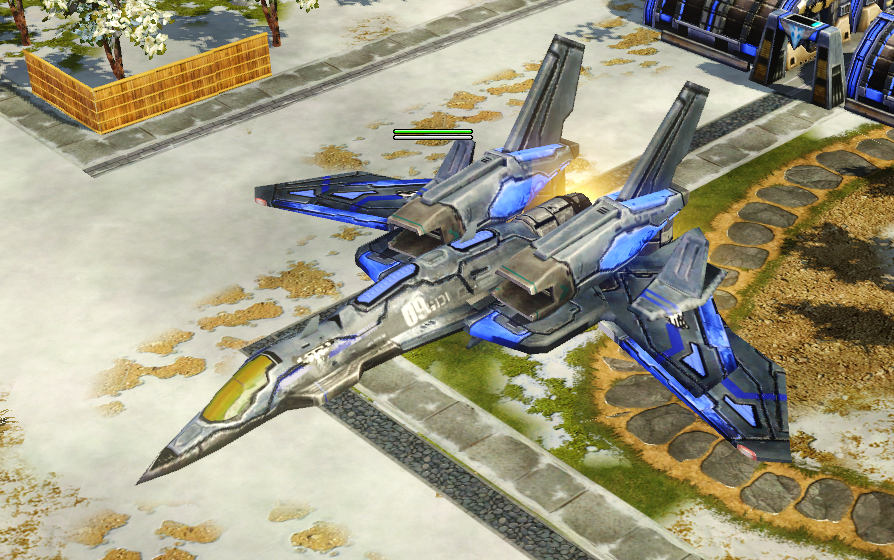 [Ares, 12 charges]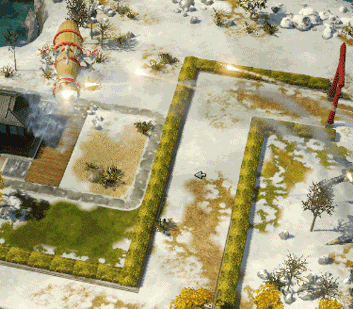 [The earlier version of cyro missiles]
Celestial: Chongming Interceptor
Named after the legendary bird Chongming (A mystic bird with two double pupils eyes in each orbit cavity, I created a word "Bioculusdicoriegallus" to help you understand it) that can solely threaten lions and tigers, the interceptor's flight envelope is almost identical to that of fighters.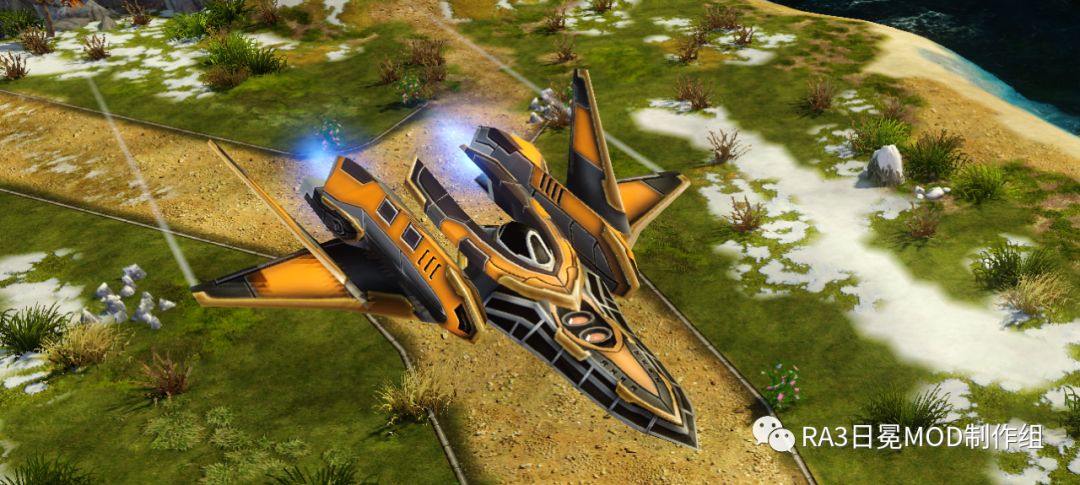 [Chongming Cruising]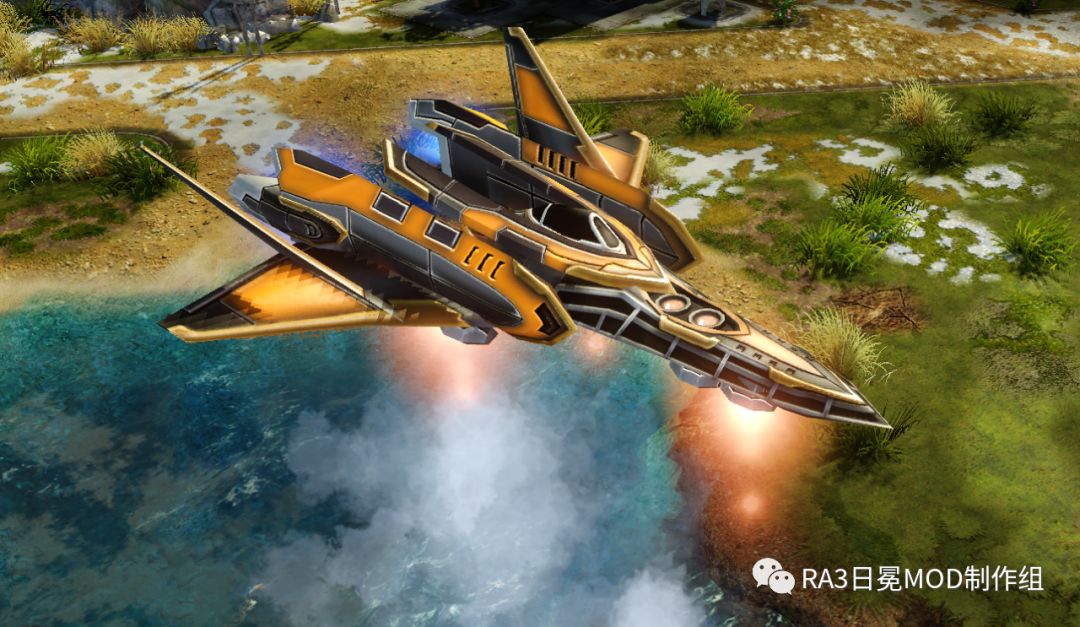 [Chongming Hovering]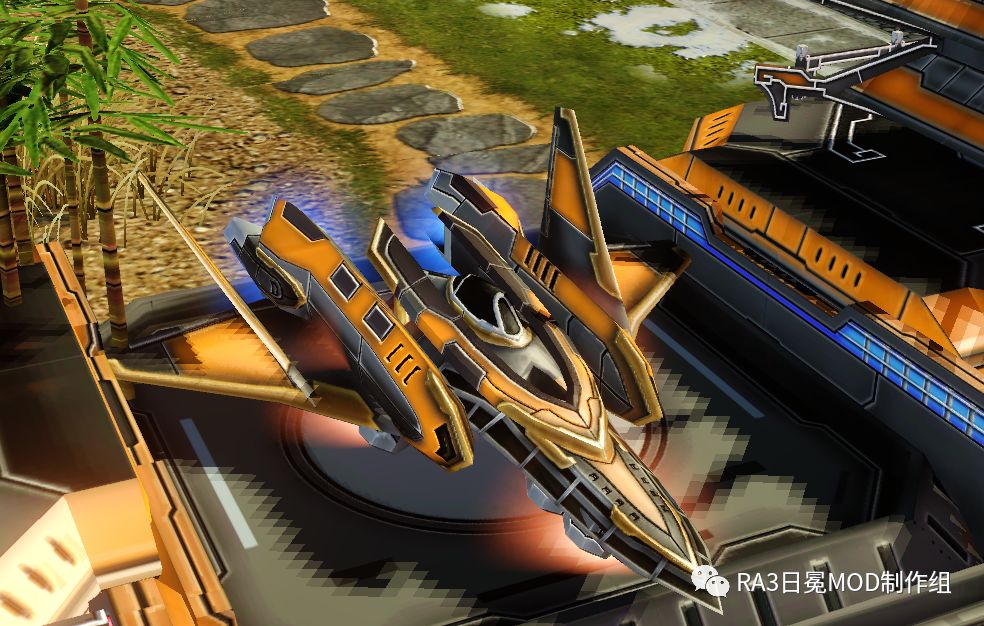 [Chongming in the Airport]
Its double reactors are paralleled as if the bird's eyes, which gives the interceptor the name in the first place. The weapon of Chongming Interceptor is a laser generator that can burn the target and melt down its armour, lowering its resistance. Each damage tick will increase the future attack speed by 10%, to a maximum of 300%, the lights on the reactors will become correspondingly brighter. Overall, the weapon functions like Void Ray's Prismatic Beam.

[Chongming Attacks]
Chongming has more ammo than other interceptors, but its burst damage is quiet lacking. As a result, it is more capable to deal with high health pool units or large quantity of units, but fighters can burst it down long before the laser attack speed is stacked up. It is common for Celestial commander to preheat the laser by attacking the Combat Core Ship before engaging.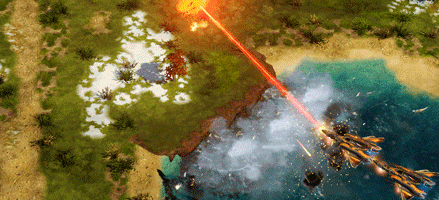 [Chongming Attacks.gif]
Chongming Interceptor is also responsible for the missile intercepting mission. It can effectively defend against missile attack once the attack speed stacks up.

[Chongming Intercepting Missiles.gif]
Empire: Sakura Attack Rocket
The Sakura Interceptor or Attack Rocket or Attack Aircraft or whatever kamikaze objects depending on how you consider it, will be the Empire's equivalent of interceptor aircraft. It can be produced from either Mecha Bay or Imperial Docks, and will be unlocked at T2 upgrade. The production cost of Sakura Attack Rocket is 8001000, 5s. The rocket is a de facto cruise missile, with very limited health pool. Thus, while it acts as an interception unit, it is at the same time countered by other interceptors.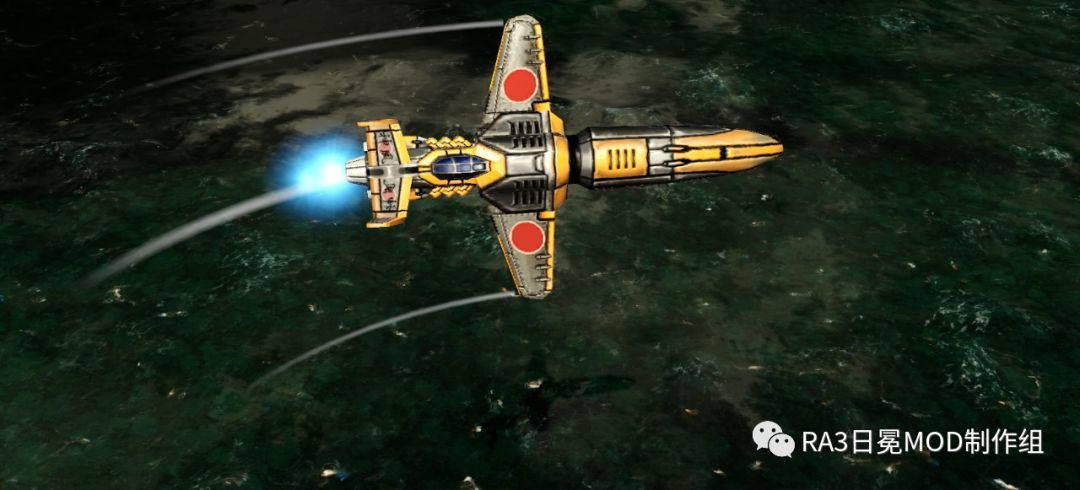 [Rocket Mode]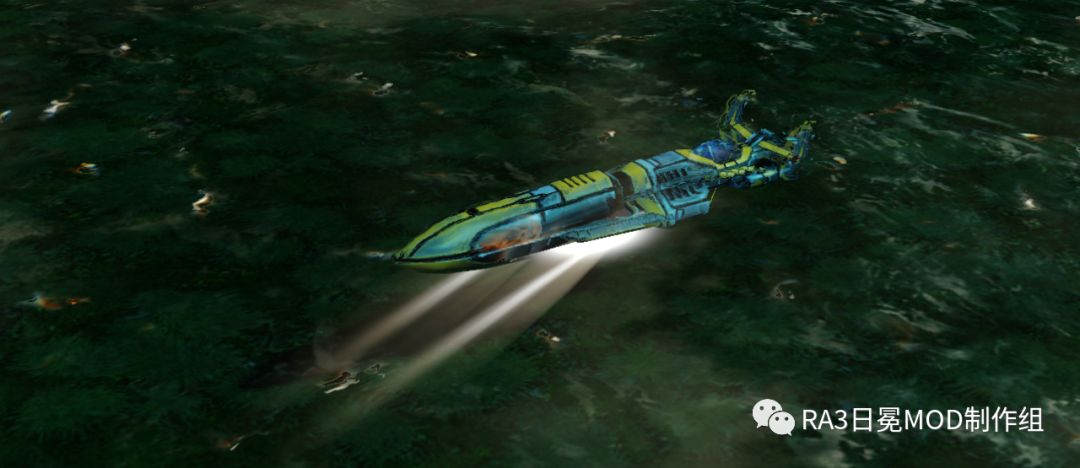 [Torpedo Mode]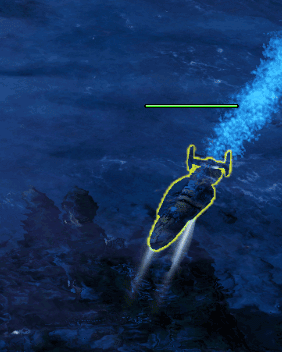 [A Sakura Kaiten Torpedo Jumping Out the Water]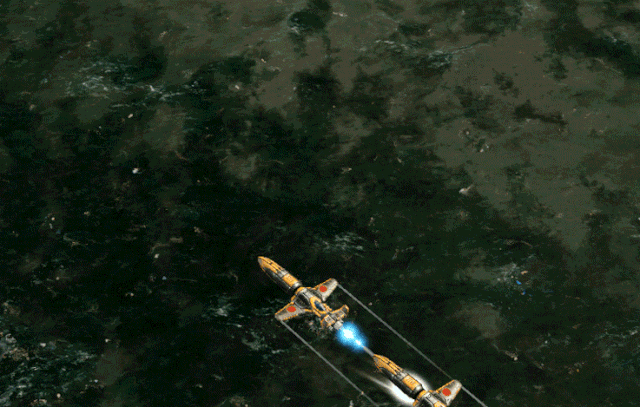 [Attacking Aerial Target]
As you may already see in the Empire Naval Units Demo, the Sakura Attack Rocket can transform into Sakura Kaiten Torpedo to attack naval units. It is designed to break through the line of naval superiority units and attack capital ships, so that it can compensate the lack of T3 bombers in the Empire's arsenal…to some degree. Because of its high cost, wasting 5 to 6 Sakura Kaiten Torpedo on a single Assault Destroyer might not be a good idea.

[Torpedo Attack]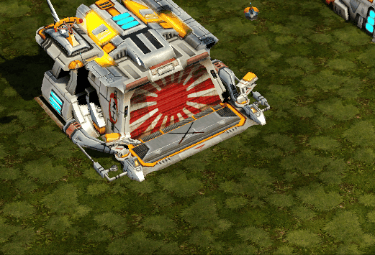 [The Sakura take off from factory]
This is currently what we have about air combat adjustments and interceptors. Next, we will talk about other changes.
MiG Fighter: Missiles are replaced with 37mm (Yes, the development from THAT Nudelman 37mm on MiG-15) autocannon. The new weapon with have lower damage to heavily armoured units and less flak burst, while the raw DPS is higher. Additionally, MiG will have better manoeuvrability.


Iron Guard: Before upgrade, they will use an ammunition belt supplied AP shell on their guns, after receiving Crashing Thunderbolt upgrade, the guns will be upgraded to railgun.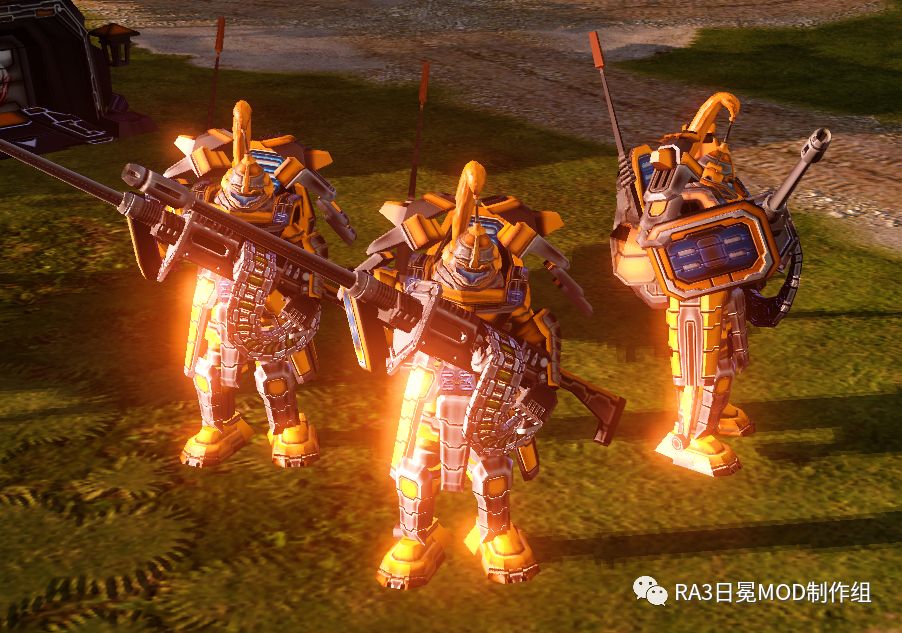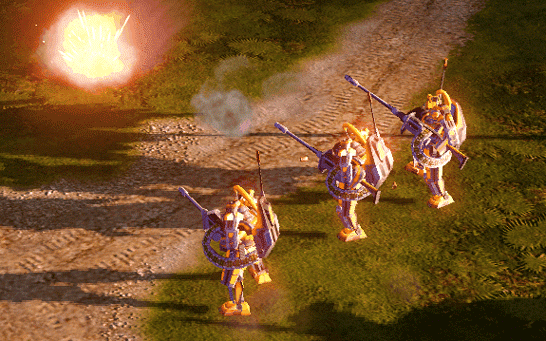 [Pre-Upgrade]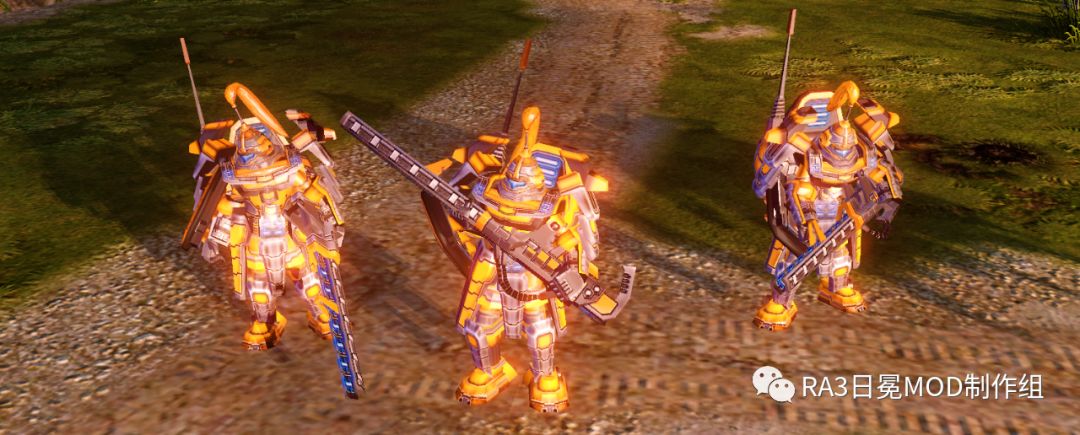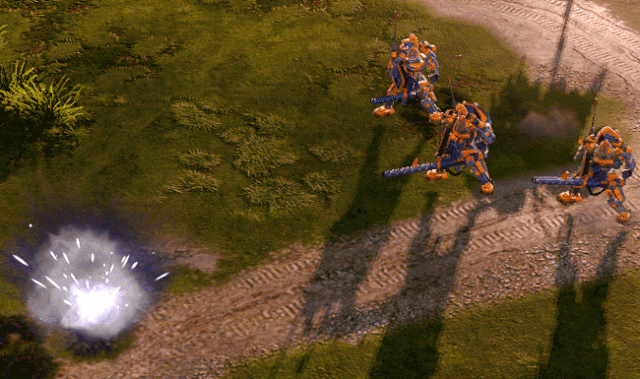 [Post-Upgrade]
Hydrofoil: Attack speed is increased, the Icarus 20mm CIWS AA gun will definitely look more terrifying. The default missile defence ability is removed.

[Hydrofoil]
In the Allies Information Centre, Missile Defence System Upgrade is available. After upgrade, the hydrofoils will gain a radar and missile defence capability.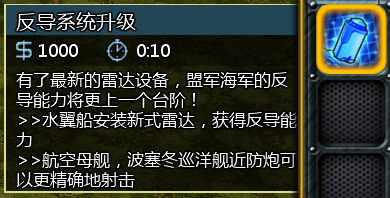 [Icon of Upgrade]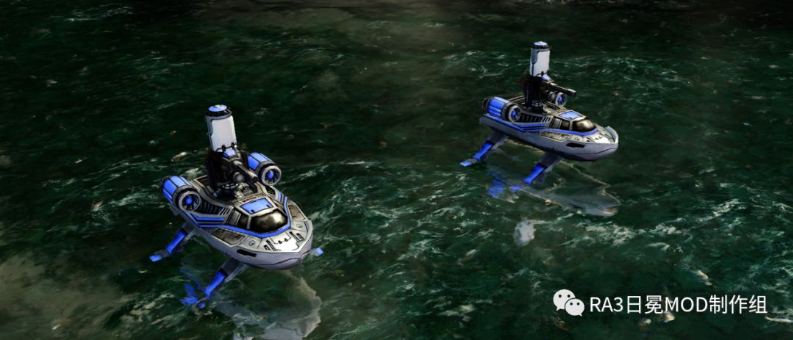 [Post-Upgrade Hydrofoils]
Flak Cannon: shell model is added. The flak burst animation is improved, with lower intensity and faster sparks movement. In the Battle Lab, Fire Control Radar Upgrade is available, it will give the Flak Cannon missile defence capability.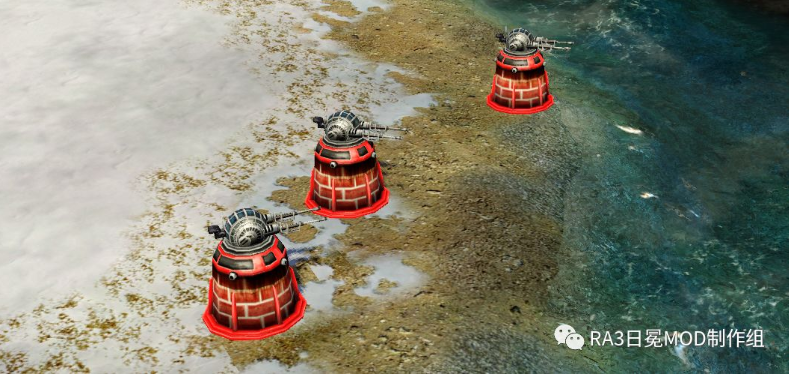 [Pre-Upgrade]

[Post-Upgrade]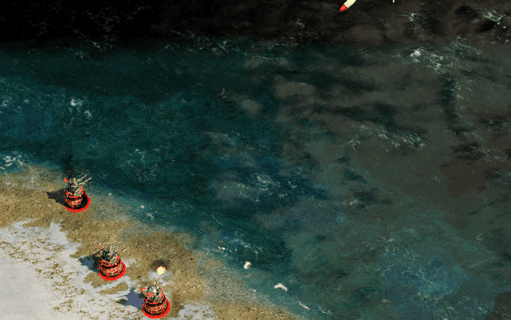 [Intercepting Missiles]
This will mark the end of this Dev's Diary. In the future, we will discuss the tech buildings and upgrades they provide. We will continue to work on animation optimisation too.
Lastly, on behalf of the Corona Development Team, I would like to thank you for the constant support, which inspires us to keep on working on Corona. The design of Corona is steadily approaching its perfection, despite the considerable amount of flaws. But at the end, we promise to show everyone a complete and delicate Red Alert 3 Corona Mod.