Developer Report - 10/27/14
Progress has been going smoothly. Weapons code is all but completed now for all 16 weapons' effects.
Enemy creation is going very well. Servbot is fully functional. Cyborg Drone model base is complete but not textured or animated yet. Security 2 Bot is 90% modeled and looking deadly. Inviso-mutant is fully modeled, textured, and animated with only the code left to do. The Hopper model is completed, but not yet animated...time lapse! Check out the video. This is about 1hr of work compressed into less than 5 minutes.
Work continues to complete all of the enemies. I'm averaging about 3-4 hours total for each enemy for modeling, texturing, rigging, animating, coding, and testing.
The weapons still need models for when they are lying about the level. I'm still debating whether or not to have view models or not. The original only ever showed a small tip of your current weapon.
In case you didn't notice, the medical level is fully meshed out though not completely lit yet (fullbright):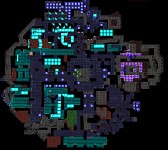 Engineering level is 80% meshed out. No lighting yet.
Also, crouching and prone are close to functional, only a few kinks to work out with head movements. Leaning is not yet implemented, but is looking promising now due to the crouching implementation.
Other code cleanup has occurred, nothing fancy. Also, a small portion of the inventory code for individual items has been revamped in order to make the inventory usage "just work" for any new items coded in. Kind of boring to report, but it will save time later on.
I would show you more, but it's back to work. Busy busy busy. Only 57 days left til December 23, 2014.