Developer Journal #36
We have a whole list of stuff on our things to add in to NuVO, but there is one that has been requested far more than others that we are revisiting and working to add in. Work has continued on adding in object animations which will also include avatar spot animations that can be added to objects. I've covered these a bit in the past and will go over them again now in it's current state.
I'll go over the editor aspect of these first so that developers can get an idea of how these will work. When creating objects in the editor there will be a new Edit Animations button in the Product menu which will contain all the functionality for importing and configuring object animations and Avatar Spot animations.
Object Animations
After you import your object mesh you can then import the animations for the mesh under the Edit Animations panel. Animations should be exported in dae format just like your main mesh. The animation and mesh can be exported in to the same file or you can export your animations separately. Either way you'll need to select a dae that has animations for your object when you add an object animation in the Edit Animations window.

There are various options available for object animations and I won't go in to full detail here, but I'll cover some important aspects. The main thing I'll talk about is the Show In Menu Option as this is easiest way of setting up a simple object animation. With this option selected the animation will appear in the Objects Right click menu in the client. The name of the animation will be how it appears in the client side menu. In the screenshot above I would want to rename my animation to something more explanatory to what the animation does. Animations available in the menu can be toggled on and off in client by clicking the same animation again in the right click menu. This makes simple interactive objects that need a turn on/off mechanism quite easy to setup.
Avatar Spot Animations
The other big element of object animations are the Avatar Spot animations. This will allow developers to add avatar animation spots to the object that can be triggered in client. This is a great way of adding in avatar interactions for objects such as avatars snuggling on a couch, interacting with an object and more.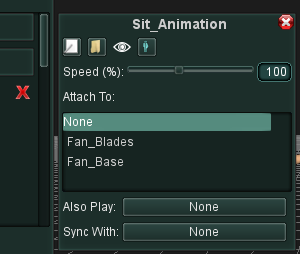 Again I won't cover all the options available in the screenshot above, but there are some great options for developers to create some really cool interactive products. Again the name of the Avatar spot animation is important as that is how it will appear in the objects right click menu under Avatar Spots.
When editing these in the editor there is a reference avatar for each spot animation so that you can see what your animation will look like. You can also move the avatar spot around so that you can get the spot just where you need it to be.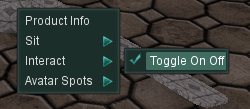 As we can see this adds some great new options for products and some new ways to interact with both objects as well as other avatars. In client it becomes easy for users to interact with objects as they can simply right click on the object and find object animations under the Interact sub menu or Avatar Spots under the Avatar Spots sub menu.
We're really excited about these new updates and hope to have this out sometime next week.
Until next time... have fun out there!
Danto