Developer Journal #32
So we're very excited to have released the 1.3.6 version of the client. While there aren't a lot of user changes the networking system was completely re-written to start allowing for some other things we have planned. In this Developer Journal I wanted cover what some of those new things are.
Coming in the next release
We have a couple new retail items that will be coming out in the next client update. We wanted to encourage more attention to First Meta Exchange so we'll be adding the FMX ATM Terminal. This will function just like the regular ATM terminal which will also have a small change to it. Both ATM Terminals will now open a window with options to purchase from NuVera Online or purchase from First Meta Exchange. You can use either, but for those that want to promote FMX there will be the new FMX ATM Terminals.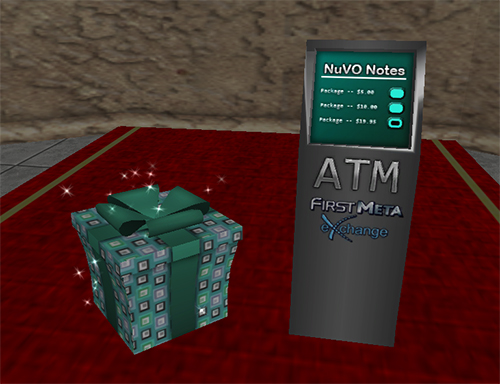 In the screenshot above you may notice a sparkling new present. This is a brand new Retail Object we're working on that will allow Developers to give away their products as a free gift. After purchasing a Gift Box you can add the product you want in it via the management interface. Anyone else interacting with the object will be able to get that item for free! This is a great way to help promote your products or have a free give away as part of an event. These will only be visible in the Retail Catalog to Developers as only Developers have published product to put in them.
Coming Soon...
Event Terminals
We are also working on Event Terminals which will be a handy way for users to find, attend and create events right in world! Event Terminals will be made available in Tutorial Island and Sunset Harbor. We'll be making some big changes to how events are handled to better connect events to locations, event notification as well as better timezone handling so you know exactly when that awesome event is going to start. We have a lot more planned for Event Terminals so stay tuned!
Object Animations
We are still working on object and avatar interactive animations, but there are a few kinks we're still trying to work out. What we are currently working on is the ability to add avatar animation spots to objects. These animations will be usable in client by right clicking an object and selecting the avatar animation spot name. The new animation system will also allow for objects to animate as well via several different mechanics such as right click, avatar proximity and more. The new networking system was key to being able to properly notify users of object and avatar animation states.
Vehicles
Vehicles are something we're very excited to add to NuVera. Vehicles will allow users to zip around TI and Sunset Harbor in an all new and fun way. Vehicles will allow for a driver as well as a passenger and we have plans to allow painters to create custom vehicle skins in the editor as well. Keep an eye out for an exciting look of the first NuVO vehicle coming soon.
We're really excited about all the new features and toys coming to the NuVera Online client. Now that we have that big network update out of the way expect a lot more frequent updates as we continue to make improvements!
Until next time... have fun out there.
Danto