Hello! Today we would like to talk about the three new government types we are introducing in GoA2.
Warcraft is a fantasy universe with undead, demons, tentacle lads, and bugs. And as you would expect, their ruling style differs from vanilla feudals. Thus they get their unique government types which we refer to as Dark Governments.
First, we will explain the common ground all three governments share. We want their focus to be switched from developing their realm to bringing havoc on Azeroth (or combining both). This means mechanics such as Raiding are a special focus for Dark Governments, along with a host of other special mechanics that we will showcase later.
Like the vanilla Clan Government, they don't bother with individual obligations for each vassal. A vassal's contribution (taxes and levies) is based solely on the vassal's opinion.

To avoid their titles passing to mortals and infidels, they have a variation of the Partition succession law: the Same Religious Family Partition. It's identical to Partition, but only characters of the same religious family can inherit.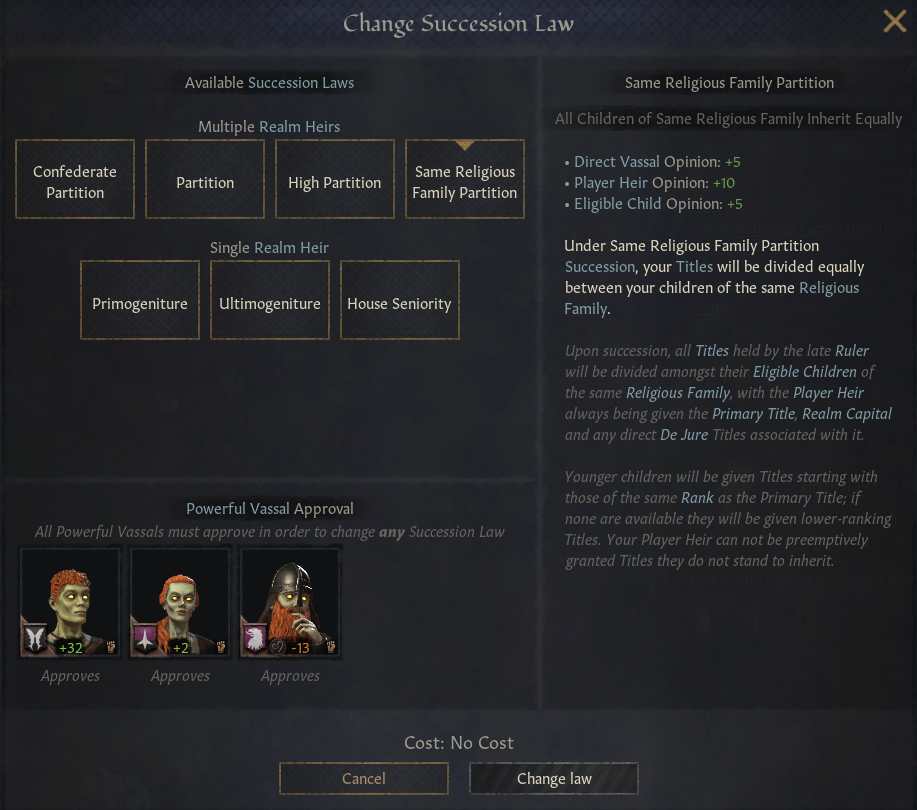 Instead of Crown Authority, Dark Governments have Dark Authority. The key difference is that Dark Authority can't be passed manually. To achieve the next level of the law, you will need to accumulate a resource called Dark Frenzy.
Thresholds:
Insignificant Circles (1st Level): 0
Scattered Cults (2nd Level): 25
Dark Covens (3rd Level): 50
Unholy Congregations (4th Level): 75

Each of the three government types has a unique way of obtaining more Dark Frenzy, which we will explain below. As an addition to the vanilla authority features like title revocation and increased vassal taxes, the 3rd and 4th Levels of Dark Authority will grant unique benefits.
But be wary, as the 1st and 2nd Authority Levels will give you debuffs. Which means it's better to keep Dark Frenzy as high as possible, though it won't be easy as Dark Frenzy decays over time. The larger your realm, and the higher your Authority Level, the faster Dark Frenzy will decay.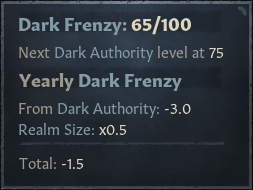 Now let's take a look at each government type.
Necro Realms
Necro Realms are kingdoms of the undead. They are available to undead characters with Necromancy allowed in their religious doctrines. Examples of such realms may be the Forsaken of Sylvanas, the Scourge, and the kvaldir.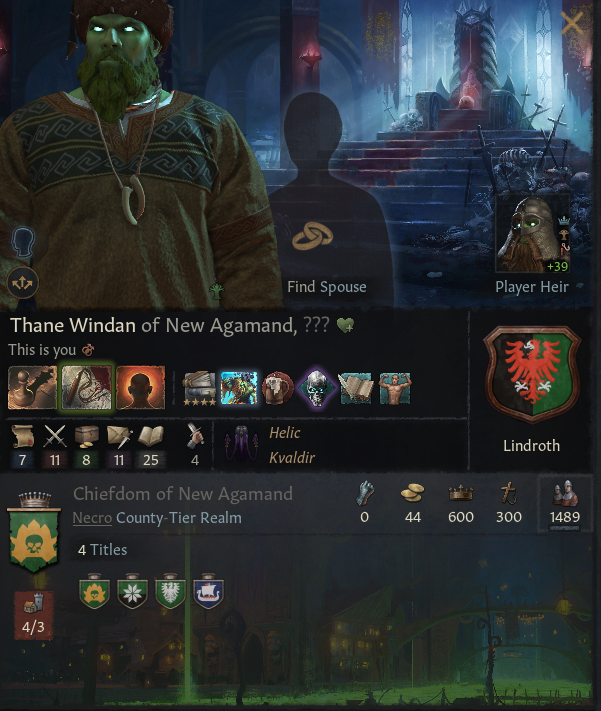 They obtain Dark Frenzy from winning battles with their armies, sieging or looting enemy lands, and converting them to their culture and religion.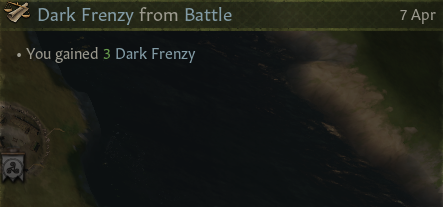 As long as the undead keep harvesting mortals, they field larger levies, reinforce faster, and their Men-At-Arms units are cheaper.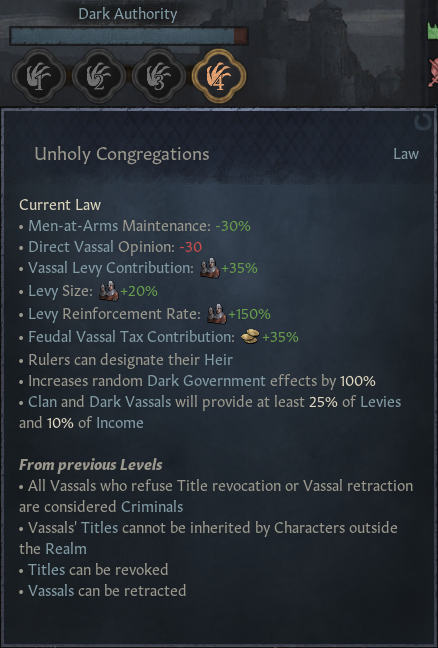 Additionally, instead of killing enemy knights, Necro Realms raise them into undeath after combat to use as their own commanders in a never-ending army.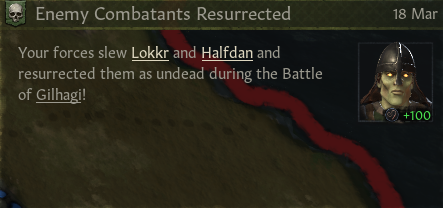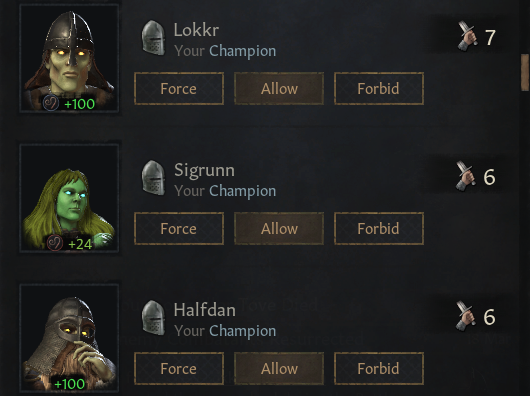 Demonic Realms
Next is the Demonic Realm government. It's available to demon characters with Fel Magic allowed, with the Burning Legion and satyrs being the most common examples.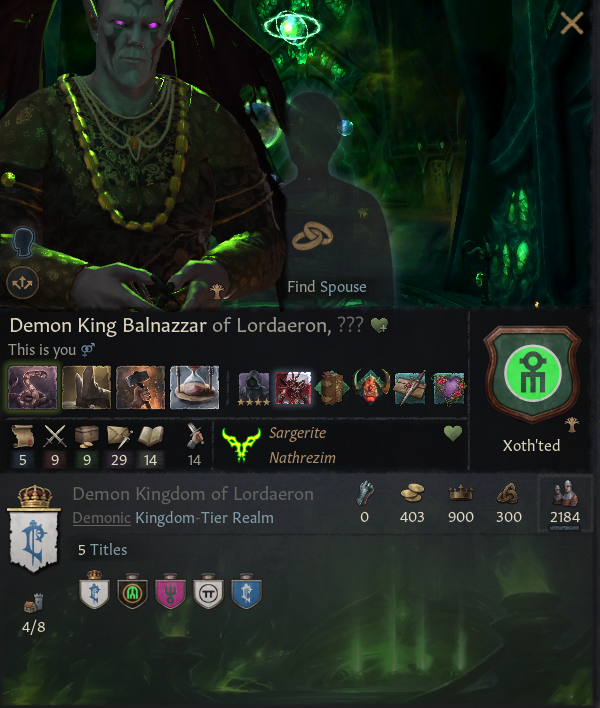 Above all, demons enjoy suffering, so they obtain Dark Frenzy from executions and torturing.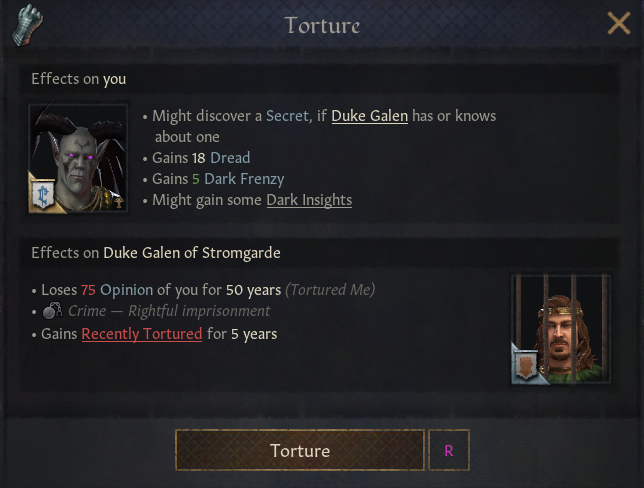 While Necro Realms provide a giant army, the demons focus on army quality. Having high Dark Authority boosts the speed and damage of their armies, as well as slowing the Dread Decay of characters.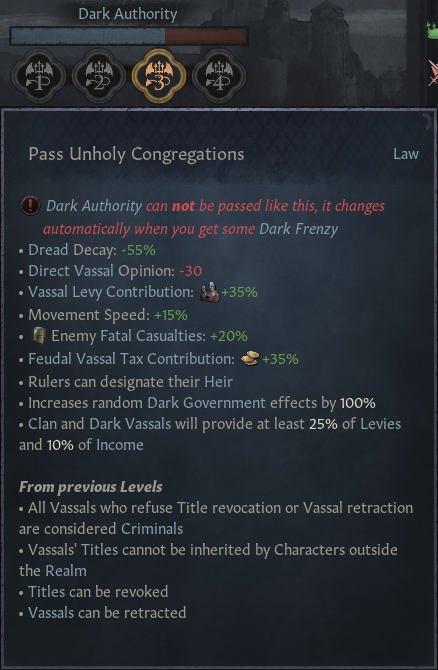 From time to time, Demonic Realms may find unusual guests of high skill level in their court: lustful succubi, shrewd eredar, wise observers, mighty pitlords, cunning nathrezim, and more.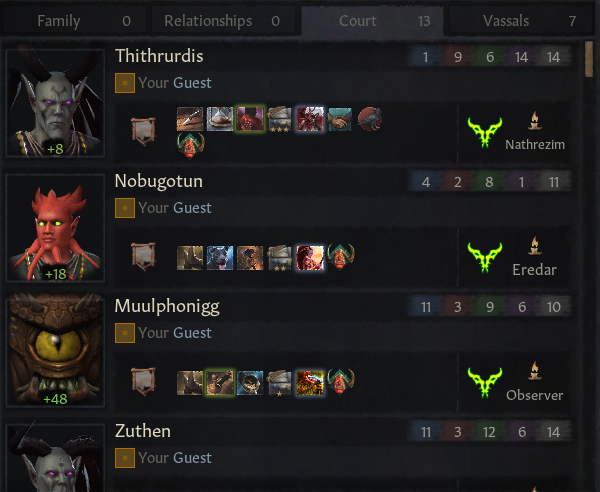 Eldritch Government
The last government type is the Eldritch one. Long before the Titans arrived, the Old Gods ruled over Azeroth. Giant pyramids and temple complexes once stretched across the entire continent. The Eldritch Government is available to void beings with Shadow Magic allowed. Although the Titans defeated the Old Gods, their children, the mantid and qiraji, carry on their legacy across Pandaria and Kalimdor.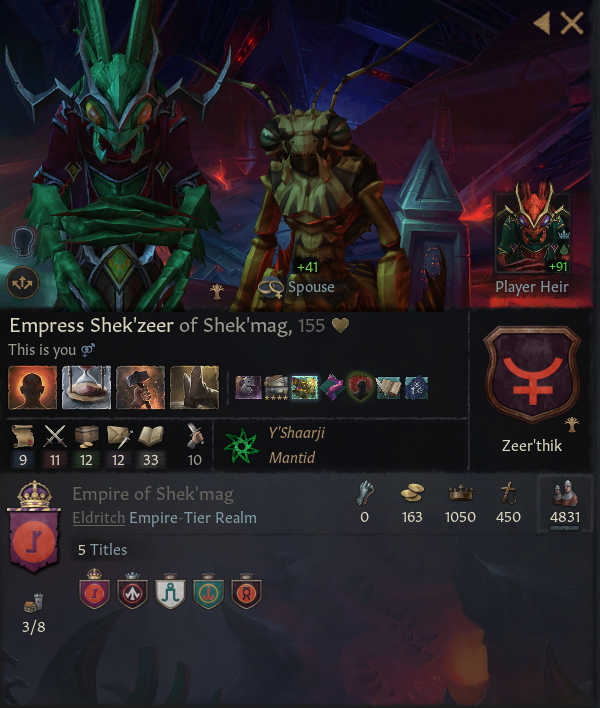 Executions in the name of Those Who Sleep grant Dark Frenzy. However, their main strengths are Mental Breaks and Stress Level. Eldritch Realms obtain Dark Frenzy from each Mental Break. Thus, being stressed and insane will grant Eldritch rulers significant bonuses.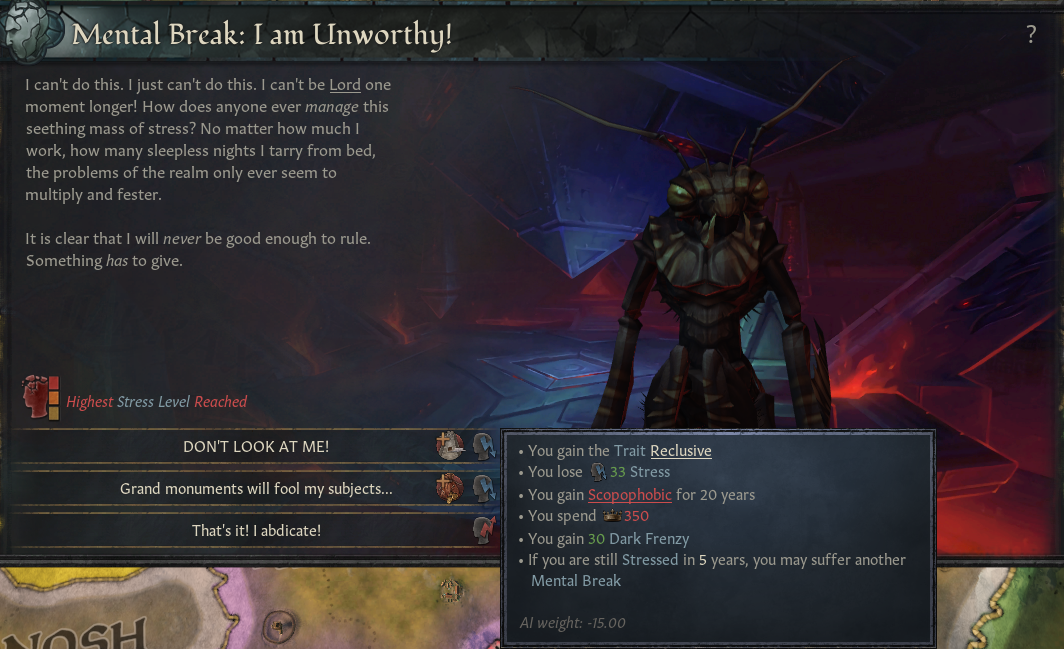 Having high Dark Authority increases all of your skills according to the character's Stress Level. For example, if you have the 4th Authority Level and the 3rd Stress Level, you get +3 to each skill. Also, to restore the glory of the Black Empire, Eldritch Realms will gain a boost to development growth.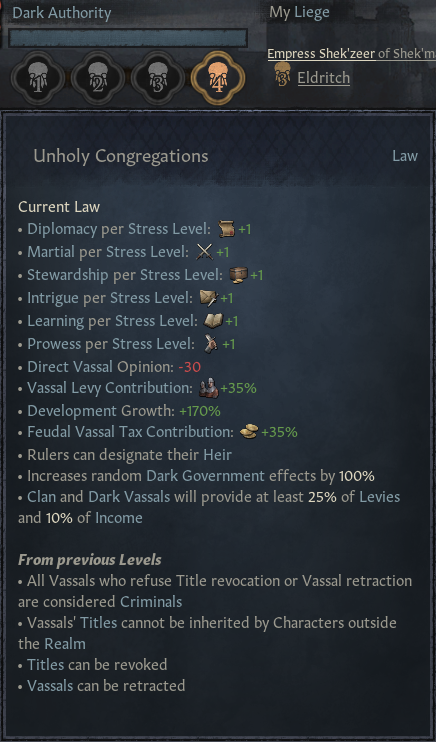 But that's not all! Faceless Ones, also called n'raqi, may visit your court. They have a good Prowess bonus and will make for perfect Knights. If you are lucky enough, you might attract an almighty C'Thrax, the stronger version of an n'raqi.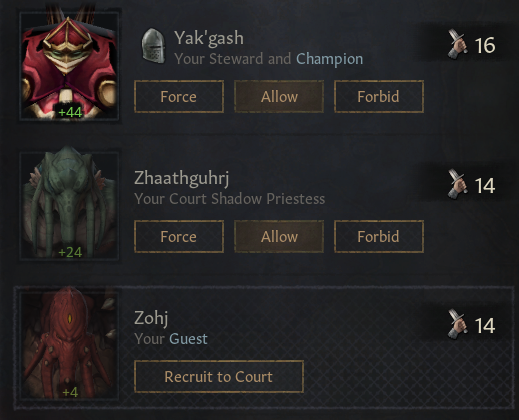 That's all for today! We welcome any kind of feedback. If you have unique ideas, feel free to share them! If you like what we're doing, consider supporting us on Patreon. If you have free time and wish to bring the release closer, we would like to Recruit you. Thanks for reading, and thank you for your continued support! Until next time!
Special thanks to our patrons:
a. b.
Adam M
Anders Rosnes Kvamme
Andrew seaman
Arthur Anderson
Bobby
Caellach
CazaClaw
Chad Volsung
Chris Baker
cldcrst96
CrusaderMaker
Dan
dude guyerson
Emil
Enby Mirrors
Francis Morin
Hagen Dreßel
Heliaste
Herbemagik
Jacob Ross
Jake Coop
John Krane
Kaiser Germanicus
Kevin Schwarz
King of the Mushan
Laetoy
Lepra
Lil Penpusher
Lorsan
Lyreface
Magnus Dalmatius
Mayor
Melorandor
Namhai Vu
Nicole Knight
One Game
Ryzzik Trognesou
Scithes
sebastian emil müller
SirDanceAlotTheThird
Smithon
Solignox
Spore9
swiftdraw
TheKingAmal
ThenellDK
Theoderic
Theseventh
traditional
Untoten
WarAndStryfe
Willem van Kraaij
Wyatt Balboni
Zack Walsh