I'm introducing a developer diary to talk about current developments regarding the game. Unlike my previous news articles, I won't necessarily wait until I have new screenshots to show.
My studies at university have thrown me a bit off balance, but I've got some good stuff coming up for the game, so I'll go over some of them now.
Achievements have been introduced to the game. The system which it uses is also capable of saving "career statistics" which means that your achievements in one session can have an effect on future sessions. (For example: an official scenario might require you to complete another one before you're allowed to play it)
There's also a new gamemode coming up with the working title "DDOS". It's going to revolve around fighting off waves of enemies, earning currency and spending it on weapons, upgrades and allied minions all in effort to protect your base. It's likely not going to support randomly generated maps all that well, at least not anytime soon.
Shops and currency items have been introduced, and will soon make their way into the game.
I can't come up with a useful estimate on when the new gamemode will arrive, but I'm about halfway there already. Here are a couple of in-development screenshots: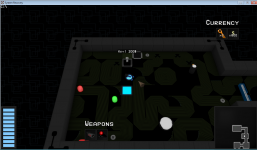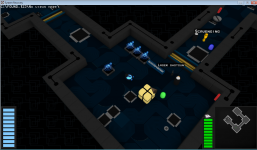 The level editor is going to be updated with the ability to specify variables for entities, groups of entities and levels. With this, you could specify data for the gamemode to act differently upon, change starting health for enemies, alter their speed, and so on.
I'll try to keep you informed at least once a month, but preferably more often. Your thoughts and support is still very much needed and appreciated!
Don't forget to check out SR on Desura!

-Dan