Today we tell about characters each player faces when he or she first starts Legends of Eisenwald. We will talk about main heroes of the game.

HISTORY OF CREATION
Three main characters of Legends of Eisenwald are invented by leading game developers Nikolai Armonik and Denis Lomako analogous to our first game Discord Times. We have once said that initially Legends of Eisenwald was planned to be much easier and more like a remake of Discord Times, but eventually we got many different ideas that found their way into the game. We eliminated everything that is impossible to do by a small team and got a hardcore simulator of a wandering knight. It was originally planned that we would have 6 heroes (one male and one female characer for each class), but in the process we decided to give make it a bit different, so we ended up with just three characters: Knight, Baroness and Mystic.A little later, when Nikolai had already developed the game engine and we came up with game visualisation, its main features, narrative outline, and other elements. We decided not to go much into narrative individualization based on the hero class, and we made a bet on the players possibility to associate themselves with a character.So today, you can choose one of three characters, not only in accordance with yours strategic and tactical preferences, but also to write your own history of relationships with the world of Eisenwald. This world has a twisted story and a large number of in-game legends, which can be touched. We believe that our characters perfectly embody everything that we do with the game world.

CHARACTERS = CLASSES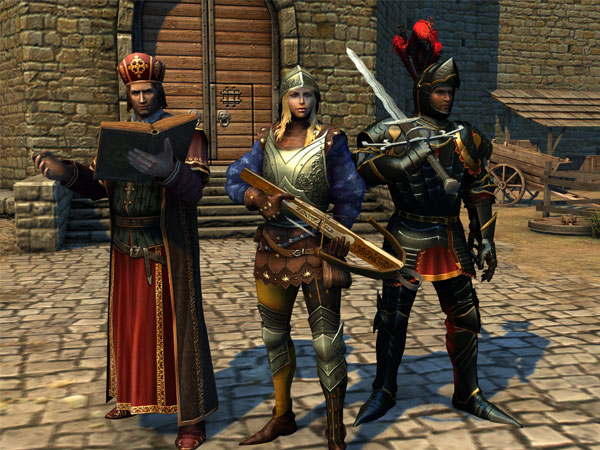 Despite the fact that we did not seriously pursue individualization of heroes, for general understanding of the classes possibilities we descriptions (not in the game yet and not edited yet):

Knight:

This is a strong and tough warrior wearing heavy armor and he is unsurpassable in melee combat. He leads his troops to victory or death, marching forward and then as the first meets one or the other. There are no weapons that wouldn't be fatal in his hands, whether it's a quick sword, cavalry lance or a heavy hammer. When he mounts his steed, he will not leave his enemies even a chance to escape.
Baroness:

She is a bold and self-willed noble woman. She prefers hunting, archery competition and dangerous journeys to needlework and music. She considers hand to hand combat a privilege of men but sill she knows how to handle a bow and a crossbowBaroness assume fights face to face privilege of men, however, she knows how to hanlde a bow and a crossbow. Thank to her instincts, cunning and hunting skills, she like no one else can gain advantage in the wild.
Mystic:

He is a learned man who apprehended metaphysics, astrology and alchemy, but also who realized that to discover the mystery of life you need to look death in face. A cruel fight is the best lesson in philosophy, and the huge world is a laboratory. That is his postulate. When he gained power over the properties of matter, a mystic tells metal become brittle as glass, leather – strong as steel, and touch – deadly as flame.
Game skills of main characters are divided into three branches: the command, social and class.Command skills are the same for all three characters. They include five abilities to improve capabilities of fighters. Some increase initiative, others reduce damage. You can even get an extra support slot! A great commander is a leader. One can not conquer alone, so we recommend to pay attention not only to personal skills of your hero but also to his command skills.Social skills do not differ between the classes of the game characters. In fact, this direct line of three points of development: a feudal lord, a traveler, a merchant. Each of these points, as the name implies, provides definite advantages to the player, which could significantly affect the gameplay. The feudal lord may take tribute from villages, the traveler does not receive fines for traveling over rough terrain, and a merchant trades with higher efficiency. Our game is not just about knights battle each other, but also about the medieval world. You have to immerse yourself in this world, hence opportunity to stock up on useful skills of noble man may be just opportune for anybody, who prefers to tread carefully through uncharted lands of Eisenwald.But the most delicious for any player are, of course, class skills! It is because of them you choose the baroness instead of the knight or the mystic! Because these skills make your playing style very specific and not similar to other. Class skills will allow your character to progress their own skills, to fight at the head of troops or to support organizational process and also practical skills.Knight is not only battle commander for his army, but he is a battering ram in the battle because his class abilities allow him to fight not only with one-handed and two-handed weapons. He can also use horses in battle and even ramming attack with his lance. A class branch of Baroness consists of progress in shooting abilities and features of the character. At the outset Baroness can give any hunter a hard time, whether she has a bow or crossbow. We consider, that mystic is a one of the most difficult to learn skills. At the same time this is the strongest class for a person, who study out in a fine structure of existence and who is a true-born astrologer and alchemist. Mystic can learn 6 skills, that help to use a variety of spells, which he acquires during the game. Spells can be both punishing (for enemy), and supporting (for allies). Astrology increases the impact of selected spell depending on a position of the stars, metaphysics allows to nourish with spiritual energy at the end of the turn, and Necromancer skill, for example, allows you to be able to invoke spirits! We don't want to bother you with description of all characters skills. In our opinion, it was written enough above to help you decide which hero you will choose when you start the game for the first time. If you have already played for all characters in the game, we invite you to join the discussions on our Steam forum and tell us what class is more interesting and what is easier!

P.S.
Incidentally, in the scenario "Cursed Castle", which was officially included in the game with the latest update, each character is present on the map and has its own starting position and castle. To state the obvious, in this scenario in particular you can see who is worth what.