G a r y:
So hi Paddy, how's things?
Paddy:
Going great mate how's yourself?
G a r y:
Been great thanks, So Paddy what's your role on the team then?
Paddy:
I am the programmer/unreal scripter or as some people call them the coder monkey
G a r y:
Ha-ha, great, so what have you been working on within the game lately?
Paddy:
I have been doing a lot of stuff lately, the game is progressing very well but currently i have been working on the bullet penetration system and weapon implementation
G a r y:
I'm sure everyone would love to know more about that, so does the Team intend to implement a system similar to say Modern Warfare. Or is there a bit more to it?
Paddy:
The penetration system will not be the exact same as that of call of duty but all weapon penetration system are similar the bullet travels through the wall so i plan on having a entry and exit decal to appear on both sides of a wall. Also COD shows you via the crosshair if you have hit an enemy(pawn) through a wall we will not have this crosshair info but you will heard a sound if you have hit a pawn.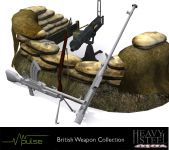 G a r y:
Sounds like a difficult piece of scripting for unreal3, will the team be planning to release any tutorials for this type of thing? I'm sure there are plenty of budding developers out there.
Paddy:
Yes I will be releasing a few tutorials soon. These tutorials I believe will be of high interest but won't give too much of the game away. One will be the penetration system but also an extensive weapons tutorials and including a teaser of the weapon reload system with the "R" key
G a r y:
Keeping things close to the chest for the time being then I see. So I think one of the main things our fans have been wanting to know Paddy, is with the UDK now being released for free, is there any plans to release the game using the UDK?
Paddy:
The UDK was a question I am prepared for the answerer is YES the game will more than likely be released on the UDK eventually, but what we will do is release the game via the UT3 method and then using feedback and requests from our fans begin work on the UDK release.
G a r y:
So a standalone release for Heavy Steel is definitely on the cards then?
Paddy:
You would be correct in saying that just hoping for fan feedback
G a r y:
Right so getting close to the end now, then we can let you get back to work, few more questions. I'm sure there's a few people out there wanting to know if there's also a possibly PS3 port on the cards? I know I've had a few messages in my inbox about it
Paddy:
That I'm not 100% sure on, perhaps reason for this is that I don't have a PS3 to play the game on lol, joking aside if enough people want it on the PS3 I can't see why not after the game is released
G a r y:
Excellent, so there you go all you PS3 fans. Right so final question Paddy, the games currently slated for a May release. What is your favourite thing you are probably looking forward to the most within the game, without giving too much away of course?
Paddy:
I am looking forward to getting into a defensive turret and pounding the enemy with shells and watching bullets flying towards me with shell trailing just being all headed in my direction and deciding whether to run or shoot that last round off and hope in being a hero in dying I inflict damage on the opposition lol tough choice I can't wait to find out what i will do
G a r y:
Ha-ha sounds hectic, right so Thanks paddy its been a great insight into the workings of a programmer. You can get back to work now mate, any last words for our fans?
Paddy:
Programming to me is like a huge puzzle the size of the Great Wall of China and I have to build every brick and every piece of cement to make the entire structure secure and useable and that's the life of a programmer.
lol no seriously bring on may and let's get everyone playing this game.
G a r y:
Thanks Paddy
Stay wired to Heavy Steel for further updates in our Developers Diary series real soon.