I wanted to share with you some details about the game I have been working away on for a few months now, and invite you to have a say in its development.
Firstly, a little bit about my game, and what type of game it is.
When I set out to create Greedy Station, I wanted to create a 4x game sans exterminate (so really, a 3x game) that was arcade fast, and simple enough to play with a game controller. (If you are not familiar with the term 4x, its used to describe a subset of the strategy game genre that emphasize 4 elements of design: explore, expand, exploit and exterminate. En.wikipedia.org)
To explain the whole game at once would take too long, so I am going to break this up into 3 parts. So for Part 1 of my series, I want to focus on the exploit aspect of 4x games, in this case, gathering resources.
Exploit Gameplay : Gathering Resources
In Greedy Station, you have 3 primary resources you go in search of and gather: ORE, GEL, and CRYSTAL (although I haven't yet decided on shortening it to CRY). You find these resources on Planets, and in Fields of Space ... things. Asteroid Fields for ORE, Ice Fields for CRYSTAL, and Space Bubbles for GEL. Currently, there are 6 primary planet types: Ocean, Rock, Ice, Lush, Desert and Gas. Each planet has a different balance of the 3 resources... and a few other things I will get into later.
To gather these resources, you start by sending mining ships to a sector of space that has them, which quickly gathers some up, and returns to your station, depositing its harvest. As you progress, you gain access to new ways of collecting resources, more quickly, and in greater quantity.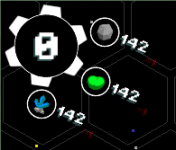 In the top left corner of the screen, displayed are your stations current count of each of these resources. These values are counting down, as your station is using these resources to power itself. This forces you to act quickly, giving it that arcade style play I was wanting, and a clear reason for why you are going out and gathering them.
There is however another resource in the game (the big 0 in the image above), and this is the resources the player generates or purchases through research. This is the TEK resources (symbolized by the cog or gear).
Every time the player sends out a ship, or builds a structure in space, they use this resource to do so (in the case of ships, this resources is recouped when it returns). This helps to distinguish the TEK resource from the other 3, by what it is used for, and how it is acquired.
There is more I could say about this topic, but I want to save some of the game for when you actually get to play it. Please let me know what you think and what questions you may have, as I am always open to feedback, and outside input.
Thanks
- fidgetwidget