Hey guys, Alex here (aka MajinSephiroth)! Today I'd like to take some time to give a more thorough insight into this amazing game we have come up with. So, sit back, relax and enjoy the discussion.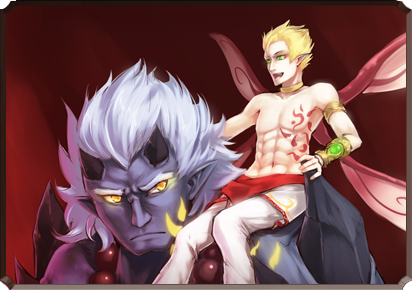 What stemmed this idea?
You see, I've played lots of RTS games in the past, but every single time I was thwarted by micromanagement. I was very capable of getting through the game, but not be competitive at it. With the surreal influx of TD (Tower Defense) and MOBA (Multiplayer Online Battle Arena) games, we wanted to stand out with something unique. What if, instead of following the flock, we decided to concentrate on the little guys and get them rising to power? What am I referring to, you ask? The waves and waves of creeps. In a TD game, they are generally the ones that get slaughtered by all of your defensive towers. In a MOBA game, they are the ones that die for a (good) cause. So, we figured we'd give them classes, types and personalities and let them be the heroes for a change.
So, is this a MOBA? Is this a TD? What is it?
It's neither and it's both at the same time. Allow me to address that quirked eyebrow and questioning look on your face right now. You will have something to protect (most of the time, it's your stronghold) and you will have control over your troops (equip them with items that increase stats or give them powered up abilities, even deciding when to use specific abilities ... but that's for another discussion). However, we have several game modes already planned that go beyond the scope of defend your stronghold and kill the opponent's stronghold.
Yea ... you lost me, what else is there?
While our focus from the start has been multiplayer and competitive gameplay, thanks to our amazing writer we have devised an incredible single-player campaign story. Will we stop there? No way, this is only the beginning! We want to open up the rest of Hendrika for the players to explore. We want to introduce more units, more story, more bosses!
Alright, tell me more about the gameplay modes
Gladly! Currently we have several game modes (we won't limit ourselves to just these, but it's a good start): Normal, Defend, Destroy Objective, Boss Battle and Survival.
Normal - This is the default gametype for multiplayer games, as well as a few story missions. In this mode, you lose only if your stronghold is destroyed and win if you destroy the opponent's stronghold.
Defend - Your troops are garrisoned around your stronghold and will fight oncoming waves of enemies until the last wave.
Destroy Objective - This gameplay mode will allow you to win by destroying key objects in a map instead of a well guarded enemy stronghold.
Boss Battle - You will fight off an extremely powerful (story related) enemy, who's sole purpose is your complete and utter anihilation.
Survival - Similar to defend, this gameplay mode will keep spitting wave after wave of enemies at you for a specific amount of time. You win if you survive this long.
You mentioned something about story before
I sure did, and it's driven entirely by you. The choices that you make will affect every battle you face from that point onwards. This means that you will be able to replay the story and see what you could have done differently, while observing how your choices impact your gameplay. We are positive you will fall in love with Hendrika, as much as we have.
Read this dev blog and more at ShadowHeroes.com