We are back with another entry about our largest game project to date, Hunger of Darkness! In the last blog entry, I focused on the origins of the project, and the main character which is based on zombie from our original minigame Hunger of Darkness. From the past we have worked mainly on the game environment that can help us move closer to a playable prototype.
The epicentre of the apocalypse
Our goal was the creation several part of the game environment, in which we will be able to test the AI and perfect the game design. We already had a nice base before in the form of several city models, including a park. Here si the first version of the park: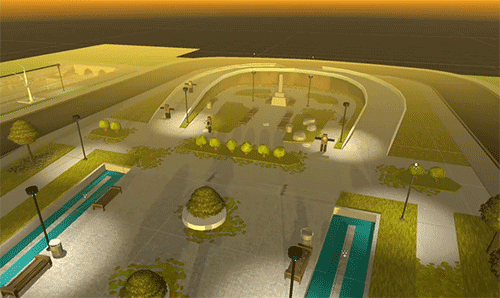 Eventually we developed other parts of the game world, including a forest which will most likely be the start of the game. We also created a small town square and gardens, so right now we have an ideal environment for testing and we get a good idea of how the game is going to look. Personally, I have to say that environment creation is one of the most enjoyable parts of game development. After all, it is what I enjoyed the most in our previous games, including Warped Times 3 and our unreleased GTA-like project Life of a Criminal :).
Creating an entire expansive 3D environment is quite a challenge. Most level design and graphics experience we have is from 2D projects, and our Warped Christmas minigame where we tried a 3D conversion for the first time. In Warped Christmas, we had a simple 3D terrain made of basic shapes, with basic buildings, city objects, and a 2D background.
It was more of a 2.5D game, on the other hand Hunger of Darkness is our first fully fledged open 3D environment.
We decided that a similar style as in Warped Christmas would not be right for Hunger of Darkness, instead we decided that the aesthetic of the environment should be more memorable. We took inspiration from the real world, which is full of interesting places.
I think it was a good decision, as it helps us learn how to make an environment that feels realistic. We're using this approach to develop the map and individual objects and assets, by looking at unusual locations in the world and taking inspiration from them.
As we develop the game further, we will work on improvements and the overall style. Besides working on the gameplay mechanics, we are also focusing on creating and selecting textures for the modeled city. It is also important to keep the fact of the ongoing apocalypse in mind. Here is a image of all environments, which are already ready to testing: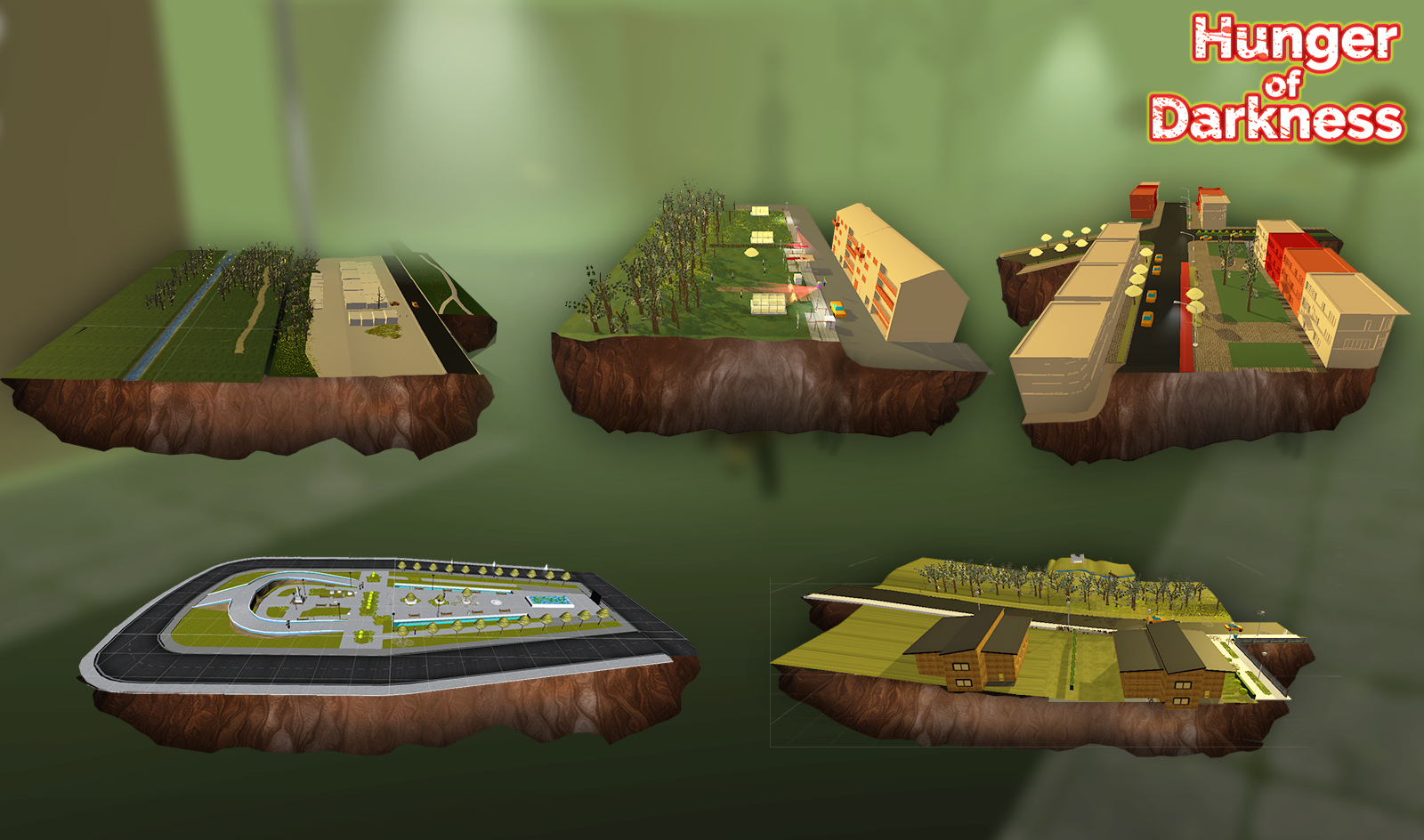 Visuals of the main character
Except the game environment it's now important to solve the main character and his appearance. Right now, we have several work in progress models for the pedestrians and other characters, but the main character is still missing. We do have a couple ideas, but we want to make sure that the main character, who is going to be in front of the player's eyes all the time, can represent the game as best as it can. Our Minecraft-style character model is only temporary before we come up with something more interesting :). Another important aspect of the character is an upgrade system – as the zombie gets more powerful, we want its visuals to reflect that. The main character's appearance thus ended up being one of the most important points, and I hope that in our next blog entry, we will be able to showcase our progress on the main character.
Playable prototype
Our primary goal is to create a working prototype of Hunger of Darkness. After artificial intelligence, the next challenge will be the fighting mechanics. We're not yet sure if we make something similar to the original game, or try going a slightly different way. But that's still a long time away, and we will most likely talk about this more in a special blog entry.

Soon, you can expect more interesting content from the development, which we will be sharing here on IndieDB :)
Thanks to all readers who finished reading the blog, and who follow the development of our game. In the next entry, I will hopefully show you our main character and the next steps towards a playable prototype :)