We're back with a bit of a mix of information today. As we draw ever closer to our release into Early Access we are fine-tuning assets and gameplay systems across the board. We have a special something to begin with! Napoleon and Wellington both didn't like their officers duelling but sometimes disagreements were still decided by blood in secret...
Beat the drums! One good chap meets his unfortunate end in a duel between two officers. What you're seeing here is raw unaltered footage taken directly from the game. Everything here is still being fine-tuned and should be considered a work in progress.
Role-playing and interactions
That video highlights another important aspect of our vision for the game. We feel that the type of gameplay we reward here should have more depth than just point scoring. We have already talked about our focus on community, competitive gameplay mechanics and planned content.
It is another direction that we would like to draw attention to here today. 'Roleplay' sits quietly in the corner of a game like this, taking form in small ways like spontaneous duels on the battlefield and even bigger ways like entire servers dedicated to the simulation of a garrison or battlefield.
To support our community to play the game as they want we are allowing server administrators free-reign when it comes to game settings and server configuration. One example might be the epic onslaught of an open field battle with an extended time-limit and reinforcements spawning in waves; watch the day-night cycle swoop by as the forces clash over and over again. We're also working on new functionality right now which will further increase the dynamicness of the battlefield.
On top of that our environments and systems have had that extra level of interaction and polish; for instance, you may have noticed pianos, walking, voice-acting, musicians, interaction with lanterns, and other in-game objects. You can also take a seat with your friends for a moment's respite in the middle of a battle!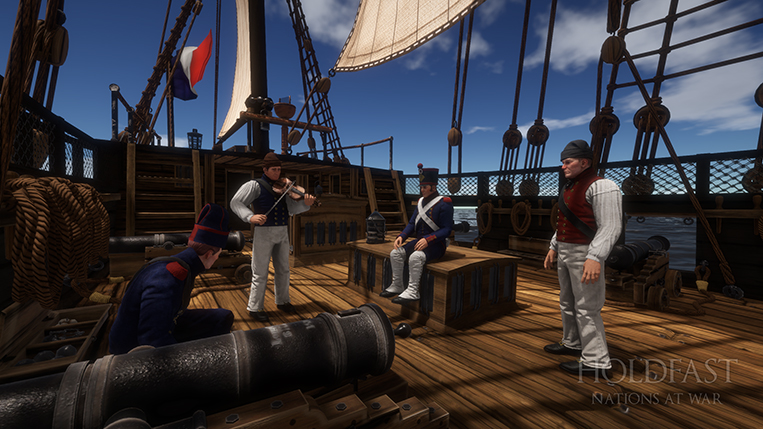 We have a list of features we want to include after our initial early access release to both increase the depth of the game as well as give the players more options in terms of how they can play it. This includes things like detachable bayonets, surrendering, 3D VOIP and more musicians. Players will also have control over the 3D VOIP system - You will be able to adjust the volume and mute other players while server administrators, can directly disable 3D VOIP functionality from their servers. As the game progresses, we look forward to continue working with our community to fine-tune features and work out our priorities for new systems.

Colour profiles. Changing the game's colour scheme
Preferences in terms of look and feel are very subjective and so we have decided to ship with several options for players to pick from in terms of colour palette. Some might prefer a more 'grim' look to their games compared to the vibrant colour scheme you have seen so far. We can cater to both!
Normal - This is the default colour scheme of the game. It's quite bright and colourful.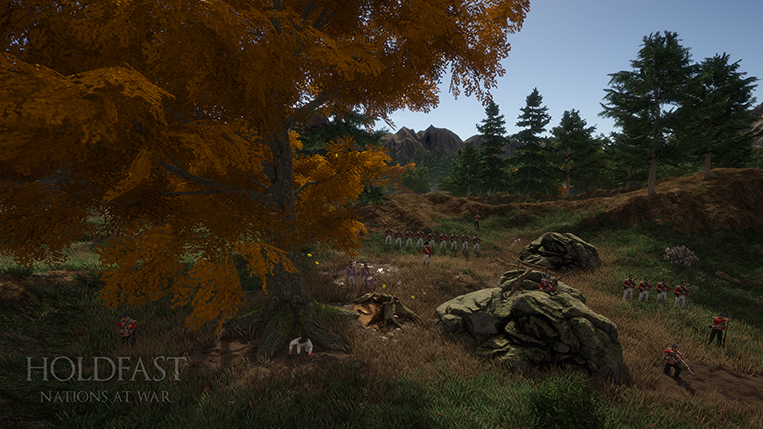 Gritty - This is the first of our selectable colour profiles. It's a personal favourite of mine and makes everything look more gritty.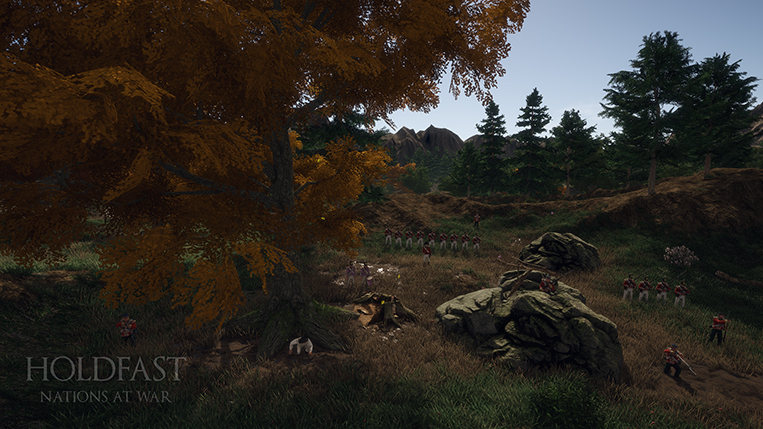 1800 - A colour profile for your atmospheric screenshots and videos.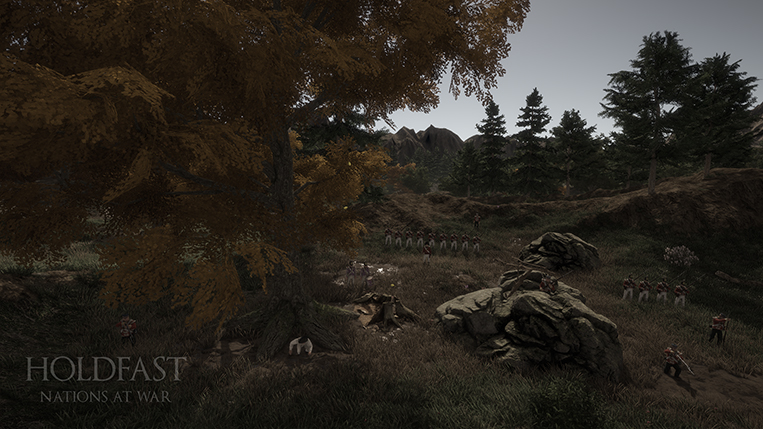 Experiment with them all and choose one that suits you best. Feel free to put forward your ideas to us for additional colour profiles.

Palisade arena
We heard that our players will need somewhere to practice their skills in close combat and so our scene-makers have produced this little area for just that purpose. Server options to disable firearms for the deathmatch game mode were also included for admins to force combatants to only use melee weapons. Be it organised competition, practice or even normal gameplay we hope this smaller scene will suit your needs.
Close quarter arena specifically designed for melee combat. Four interactable lanterns stand in the middle of the field to increase visibility during night time. We have also sped up the dynamic day-night cycle for showcase purposes.
Right now we're in the middle of finalising work on the objectives panel to the left of the screen and the in-game chat.

Army based maps. On-going progress
We are working on several scenes that are designed to be played with larger player numbers and bigger game-goals. These environments take time due to their size as we have to balance the aesthetics, interesting locales, game balance, interaction and performance all at the same time.
Now that we have finalised both the snow scene and the arena map that we've shown in the developer blog; we're working on yet another army based map. We know how important content on army based features and functionality are for our community so we're putting all the time we can invest into that before our early access release.
The next map we're currently working on is designed with the intent to promote both close quarter and long range combat. Close quarter combat will take place inside two small urban areas situated in the middle of the map. Both of these urban centres are separated by a river, but a bridge connects them both. We surely hope to see some intensive charges taking place here! We'll be leaving the rest for another blog post. We're very excited to show it off.

Animations. Community feedback
Members of our community have expressed that we could do with a couple of improvements to the forward musket running animation. So we did just that! We added more movement to the shoulders and sway to the musket so that the movement now looks more natural and fluid.
The list of animations in Holdfast: Nations At War has grown to be quite substantial. Since we opted for developing a directional melee combat system into the game the number of animations required has also increased tenfold! We'll continue working on improving and polishing our animations both before and during early access.
We hope that by now we've shown both our dedication to this project and a willingness to listen to our community. You'll also see this being reflected in its entirety in our roadmap for the game we'll be releasing when the game is out on early access this year.
Anvil Game Studios is hoping to create more than just a single release with Holdfast, our priority is the creation of a community around a shared vision. Therefore we are committed to increasing the scope of the original game after the official release as well as working on more content to start to build up a franchise. It makes sense for our intended playerbase to be a big part of that and we really appreciate all of the support and suggestions that you have been giving us up until now.
Please do join in on our Discord. We'd love to get to know you better and gather your thoughts about the game! Discordapp.com
You can join in the discussion yourself on the following blog here and until next time, may good health be yours.

Once again thank you for all of your support from all of us on the Holdfast: NaW team,
- Peter, Andrew, Julian, Andreas, Nico, Cameron & Tassilo
Anvil Game Studios