Dust your muskets and roll up your sleeves because this week we are venturing into the heart of the desert to visit the remains of civilisation long since past. As we mentioned in our last blog, we are hard at work finalising our selection of maps that will launch with our early access release. We will also be giving you further insight into the user interface and our plans for it based on the feedback we've been receiving from our community.
Raw in-game footage of one of our army maps - Desert Ruins. We also show you how the newly reworked nameplates system looks like at the very beginning of the video. It's much cleaner now that nameplates only become visible when you're looking directly at another player!
What we've shown here is still a work in progress and is subject to change depending on feedback from our community.
Desert Ruins
Desert ruins will play host to some of the largest brawls seen in Holdfast: Nations at War. The terrain while fairly uniform and open is littered with small elevation differences, palm trees and extensive ruins.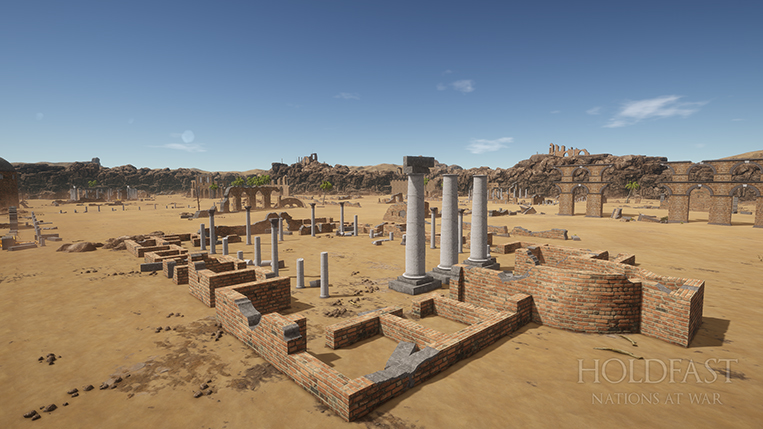 This means that it ends up in a combination of chaotic cover and open spaces. If you ever have time to gaze away from the combat around you, the ruins themselves are an impressive sight. Featuring the remains of bath houses, temples, houses, columns, city walls, and an aqueduct this setting will see fierce hand to hand combat within the remains of the ancient urban paradise.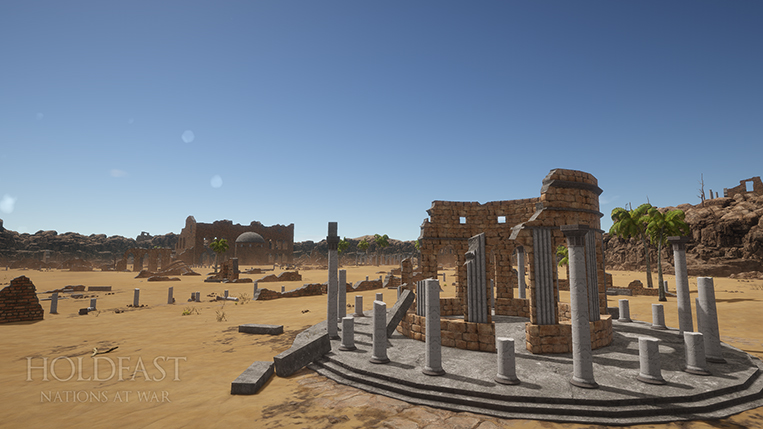 Scaling the walls to gain an advantage over approaching enemy infantry comes at the risk of being an easier target for the field guns in the open sands. The quiet rustling of wind on sand will soon give way to the boom of cannon and crash of hot metal.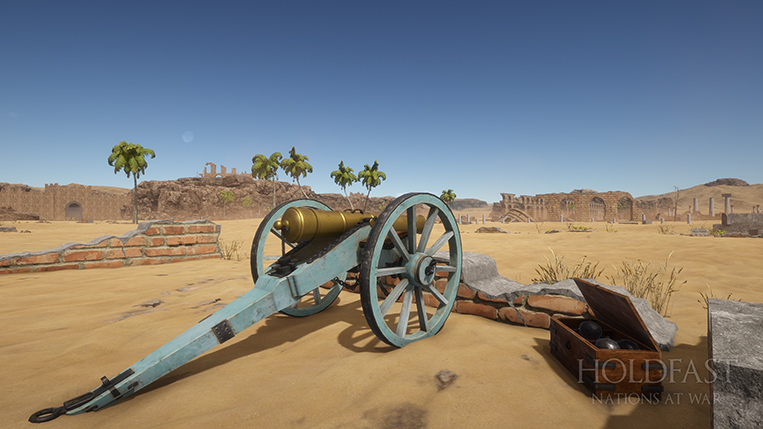 Once again our dynamic day/night cycle comes into play for longer skirmishes, the desert becomes a completely different beast in the cool of night. It has been designed to support the army assault, battlefield and deathmatch game modes.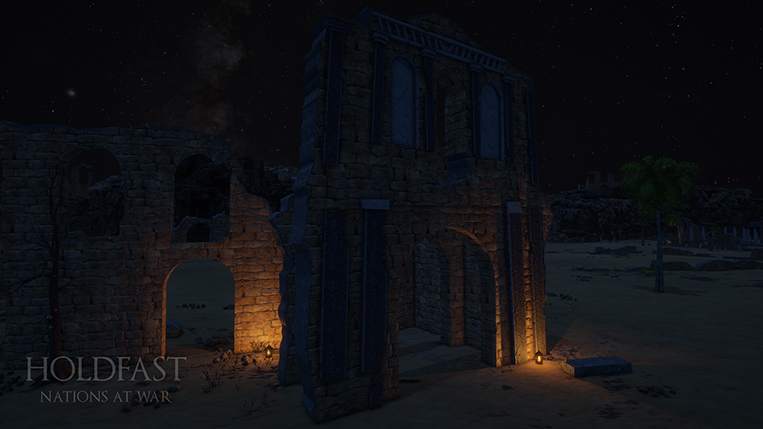 New maps. On-going progress
Along with all of the scenes we have previously shown, players can expect even more army based maps for the early access release. The first of these is a winter scene which has just been finalised of which we can talk more about in a later developer blog. Furthermore, we took some time to create a much smaller 'arena' scene so that players who wish to practice or improve their melee combat skills, have a close-quarters area to do so.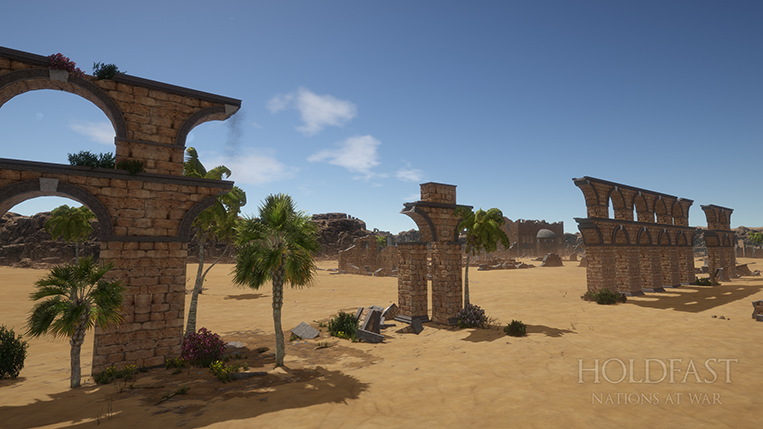 You're more than welcome to share with us any ideas for scenes you may have. Head over to our forums and join in the discussion in the below thread to do so.

User interface. Community feedback
First of all, we would like to thank you all for being so responsive and supportive. This is enabling us to make improvements to our game based directly on your feedback before we even enter early access! Our most recent example is that there were concerns raised over the amount of screen space being taken by the displaying of friendly player's names all of the time. We heard you and have now changed the system to only show a player's name when you are looking directly at them.
We are also looking into ways of helping the player distinguish friend from foe so further feedback as we introduce these systems is greatly appreciated! It is our aim to have this and other sections of the UI toggle-able so that you can tailor it to your own desired experience.
Following on from that we have made some changes to our UI, most notably disabling the objectives panel until we can put our final minimalist UI design into place. We have more improvements and changes in store for the UI further down the line in our development roadmap. This includes reducing the size of the minimap to the bottom left of the screen. We'll keep you updated.

Join us on Discord group chat!
We would like to extend our invitation for you to join us on our Discord group chat. It's been great seeing the community engage in discussions about the game. Your feedback has been truly useful to help us improve and plan ahead our development roadmap for the game which we'll be making publicly available when we go into early access this year.
We hope to see you there soon and please do spread the word around!
You can join in the discussion for the following blog here and until next time, may good health be yours.

Once again thank you for all of your support from all of us on the Holdfast: NaW team,
- Peter, Andrew, Julian, Andreas, Cameron & Tassilo
Anvil Game Studios