Insomnia 62!
We were at i62! First of all, we want to say a massive thank you to everyone who came along and saw us show off all our hard work! Whether you had a play or came and visited our stand over the weekend, its because of you guys that we love doing this and to see so many of you supporting us and giving great feedback.
So really, thank you!
This event really opened our eyes to how massive the indie community is at conventions and expos all over. A massive thank you also to the other devs that were there, who helped make the long weekend that much more fun! Since the start of our journey, we have travelled all over, to show as many people as possible our hard work and dedication, to help make our first game a reality and the best we know it can be.
Hopefully the first of many Insomnia's and many other conventions/events, we had great fun and couldn't believe the awesome feedback from you all. As well as some great suggestions for new traps and items there were some cool ideas for new arenas and characters too! Don't be disheartened if you didn't manage to come and see us, we post all our upcoming events on our social media so be sure to stay up to date! We saw so many of you there and managed to get some shots of the event and action shots of you guys too!
Those of you who came along to play will have probably seen our new arena The Joust!
With a rectangular shape, it has some interesting possibilities for trap combinations. The top and bottom both have a pretty brutal Jousting Knight who'll send you flying if you get in its way! The board in the middle can help give you a little cover from those projectiles and help make for more strategic and intense battles!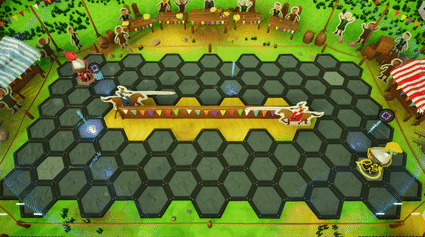 Current Focus
After receiving so much great feedback from Insomnia and with us quickly approaching our anticipated Early Access release we will be working hard over the next few weeks to fix bugs found at i62 and implementing the remaining content and features we had planned and a few other changes and suggestions. We know a lot of you are eagerly awaiting a release date but unfortunately, these things always come with complications and things we just cannot foresee. As always we post all updates on our social media so please be sure to keep up to date and follow us on Instagram, Facebook and Twitter!