I took some time this week to whip up the Notebook system. Here, all clues and possibles suspects are stored. It can be referred to at any point in-game or from the map screen. As you collect new clues and make progress it will update accordingly. The Notebook will be of great use in finding out who the culprit is each time. The UI has been updated, along with a new button, allowing quick access.
Here's a screenshot of the brand new Notebook screen, along with some example data.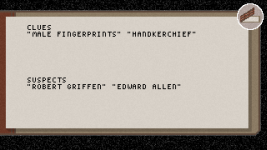 I also completed the Mechanic Shop this week. A dilapidated old workshop with a couple cars being repaired. That makes 10 locations in total so far. Still plenty to go, but progress is coming along well.
Here's a screenshot of the Mechanic Shop, along with the new Notebook UI button.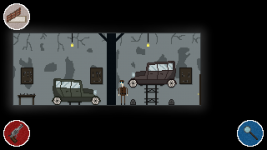 That's all for now, be sure to check back later for more updates!