Progress on Bushido continues at a steady rate- with new content such as Weapons, Environment props, and maps being churned out on a weekly basis! That said, the momentum behind the project has stalled a little bit due to all of the developers having other commitments outside of Bushido. For anyone interested- we all work full-time job's and only have our evenings and weekends to work on the game.
That's why we all sat down recently and discussed the future of the project, and there are two major outcomes we'll be sharing today:
First - after a lot of mulling over we've decided that the only way we can finish the game within a reasonable time frame is to get some cash behind the project. This has led us to discussing, and eventually agreeing, that we'll attempt to launch a Kick Starter campaign in the new year (mid-Jan) to secure some much-needed funds.
Second - In the lead-up to the KS campaign we want to commit to making more regular news posts in the form of these Devblogs, where we show off the really innovative and interesting parts of our project (not just images of the shiny swords!). We're doing this because we want to continue to grow our community, as well secure some potential backers before we even launch our Kick Starter.
So, with that said- lets start with what the team have been up to over the last couple of weeks:
Art team (Sam, Kieran and Rob)
The art team are focusing on 3 main elements- new environments, new weapons and new armor! Our goal is to have enough of these assets completed by January so that we can effectively demonstrate the most innovative and interesting parts of our project (those being our character customisation component, unique combat mechanic and the Japanese themed environments/artwork).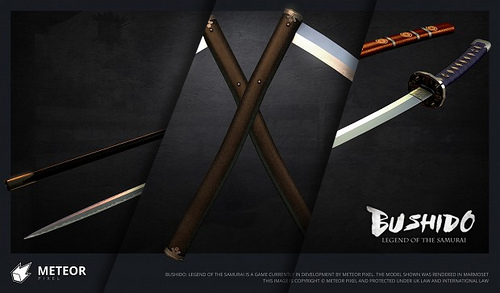 Over the next month or so we'll not only be showing the finished products themselves, but also give you a look at the tools and processes we use to create them!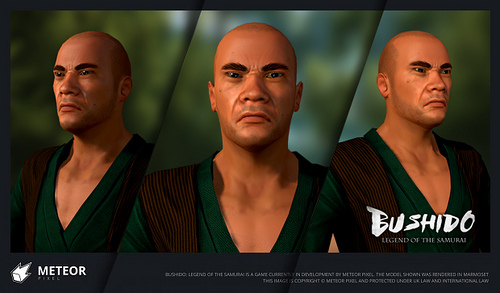 We'll also release some details on the ideas we have for rewards for our backers, such as unique armor pieces or a specially designed sword...

The programming team have recent finished the character customization component, but we're not quite ready to show it off until we've got one of the interior levels completed AND some additional armor pieces to show how it'll all work.
They've also been busy taking our unique combat mechanic from prototype to actual working system! This is proving tricky as we balance the usability of the system against something unique and fun. However we're making great progress, and can't wait to show it all off in a video soon.
So- that's it for this Devblog. We're going to posting these a little more regularly from now on, at least 1 every 2 weeks. If you've got any feedback or just want to say hi, use the comments section below. We'd also like to invite you to follow us on Twitter and Facebook to stay up to date with the latest developments and also help grow our community.
Thanks,
Team Meteor Pixel