DEVBLOG #1
Welcome to our first Devblog! From now on, we want to write every week one article,
to show you the progress of the game.
At the moment, we're working on the menus. Well, options, save&load; menus and stuff like that.
We will give you a little shot in the next week! But today, I want to show you the first concept of the menu, also the worldmap, which will appear in the game.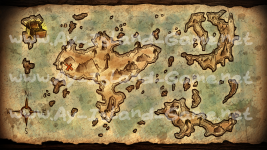 Amazing work by Sebastian Zachow, who draws everything of the game.
But not only Sebastian is busy. I'm pretty busy, too.
At the moment, I am working on the main menu and also the menu theme soundtrack.
Maybe I will post a shot, too! :-P

Other news:
We found the german voice actor of the protagonist. His name is Sirius Kestel. A professionell and experienced german voice actor.
We already made the first tech demos of the game.
Thank you for reading!
And sorry for english mistakes.
More news coming next week!