Grassy Terrain
We introduced the concept of terrain types. In addition to the dirt terrain there are now grassy patches in the map. In addition to adding some color to the map, terrains will have different properties and resources.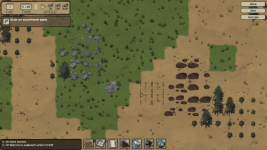 Prioritize Jobs
You can now prioritize which jobs each survivor will prefer when there are several jobs available. You can now tell certain survivors not to do certain jobs at all, allowing each survivor to concentrate on improving certain skills, gaining bonuses when performing certain jobs.
Survivor AI
We revamped the way survivors decided which survivor does which job. In addition to taking into account the priorities of each survivor, the AI will now take into account how far a job is from a certain survivor and how good a survivor is in doing each job.The AI will then choose the best match between survivors and jobs so that the jobs will be done as quickly and efficiently as possible while maintaining each survivor's priorities.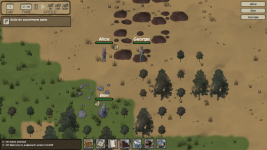 Combat Display
There are several new and improved indicators to help you plan your moves during tactical combat. You now have on-map indications of units, their targets, travel paths, and chances to hit enemies taking into account their cover, flanking, and whether they are moving or standing still.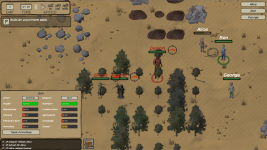 Task completion progress
You can now see straight on the map the progress of each job as it's being done.