Yari Foothills Bridge
Since the beginning of 2015, I have been slowly chiselling away at making the central bridge in our new Yari Foothills map, that serves as one of the most symbolic art sets in the entire game. Its meaning will be touched on later but for now take a look, it's finally done. Keep in mind, this map was started fairly recently and there's still a lot of work to do, I wouldn't even say its 25% done yet as a whole, but it feels great to finally have the bridge in there.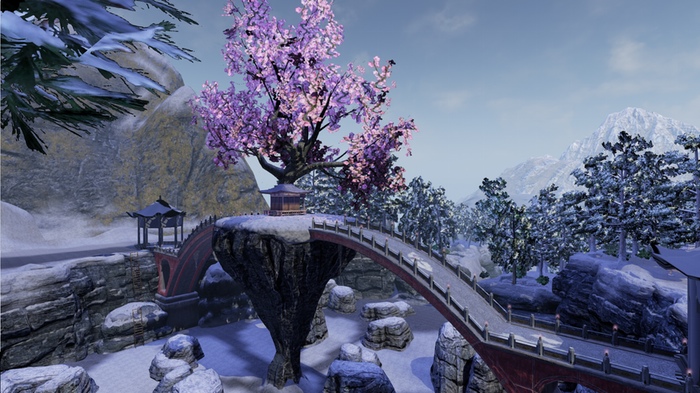 Meaning Behind the Bridge
First off, Yari Foothills is the 2nd map in our online campaign mode, and the first that breaches into Hanako Clan territory. With this transition the art created for this map will start showing clear signs of the Hanako Clan. Their architecture is more pristine and well-kept. The Hanako Clan is concerned with the perfection of all crafts and has access to finer materials.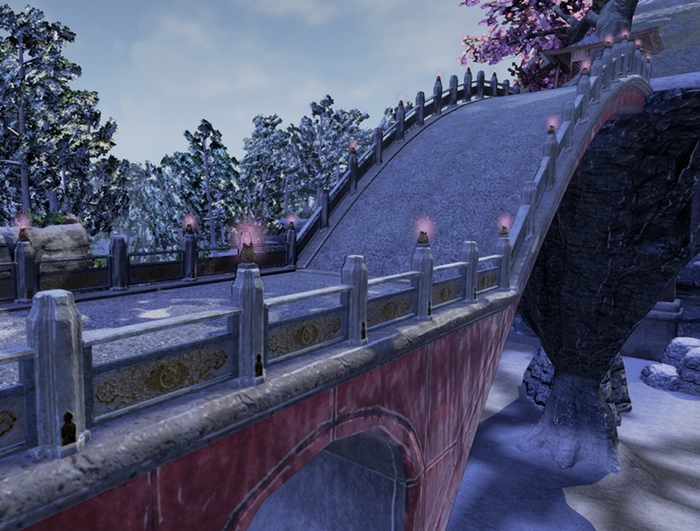 Since the Hanako Clan has a village nestled further up Mt. Yari, they do not have a torii gate commonly used by other clans to signify the entrance of their village. Instead, some distance away at the foothill entrance of the mountain pass, the Hanako constructed a grand bridge out of fine stone, gold and the harnessing their deep connection with nature to create a spiritual experience for travellers, friendly or foe passing through this territory. This grand bridge connects to an ancient mass of land still standing as the rest has fallen or eroded away to a legendary Sakura tree that stands many times larger than any known to Japan.
Passing under this bridge is a welcoming to Hanako lands, even without clear indication of where their village lies, since they live a peaceful lifestyle. Crossing the either side of the bridge to the landmass puts you in the "shrine area" of this map (the shrine to be constructed later, its a placeholder at the moment) which players can use to heal under the falling petals.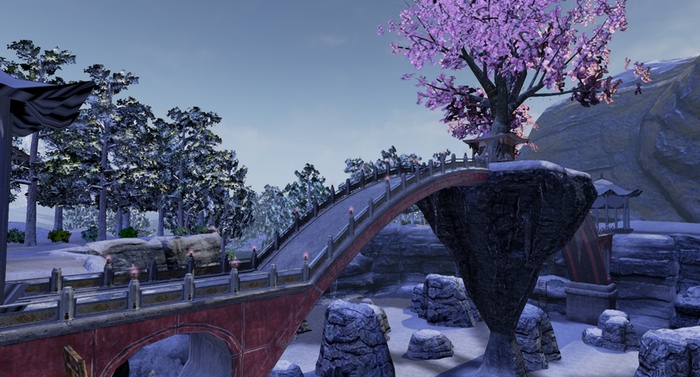 Personal Relevance of the Bridge
This bridge and central area are extremely important to me. As we've mentioned throughout the Kickstarter and in various interviews, the game is a tribute to lost loved ones. Since this is an online game, the best way to commemorate mom is through the art. This Sakura tree is very directly symbolic of the beauty of her life, it's something that I intend for people to appreciate its grandiosity, beauty and visual impact to represent those qualities that she lived by and shared with those around her. Since its the first true sighting of Hanako Clan architecture, it also serves as an introduction to her, in my own way.
The land mass in the middle, with the rest fallen away with the bridge is a metaphor for hope, and that when all else has fallen away there is still a path to peace and oneness. The bridge itself stands for those lost, and its connection to the landscape connects the gap between the living and the spiritual essence. The pink mystical bits emitting from the gold lotus transition the viewer on their brief, but powerful journey to the center area for a grand view of the Yari Foothills area and is meant to provide a moment of clarity and serenity.
The base of bridge has an elegant design with three symbols on each side translated to english: beauty, serenity and love. The entire bridge rests of this structure and the symbols rest of these qualities as structure as well.There will also be added art pieces soon that honor the loss of one of my mentors, Tony Tseng who passed away suddenly a few weeks after I started work on this bridge art set back in January. He was the first supporter of Hanako as an incredibly supportive professor back when it first started as a college project.
I was told a story by another fellow professor about a hawk that was in a large tree between Tony's house and a neighbors the day after his passing that had never been there before. By coincidence, the giant Sakura tree for our game was being made around the same time I was told this story, and soon there will be a hawk perched in the grand Sakura for Tony.
A Candid Request
We are approaching the halfway mark for our Kickstarter campaign, and its no secret we're quite a bit behind pace of hitting our 70k goal. Anything can happen, and Kickstarters can do crazy things near the end of campaigns with communities rallying and making dreams come true.Naturally, with as much as I've put into this, with as much as the team has put into this, we are doing everything we can to get the word out and quite a bit of our ideas and plans have fallen flat.
So we ask you guys to tell as many people as you can, make your voices heard, make our voices and story heard. We believe strongly in what we're creating, this is one of many examples of the soul we're putting into Hanako - Soul of the Samurai and are super grateful for everyone who has backed so far. I hope we can all rally together and bust this thing open to take off and get it where it needs to be for us to deliver the best game possible.
Thanks,
Matt Canei