Hi Folks,
Well it's been quite some time since we updated you all on what's been happening here at Desktop Daydreams HQ and its time to set that right!
We've been incredibly busy and as most of you will know, Unity 5 was released! The inevitable question arouse, 'Shall we upgrade?' It was a daunting premise.
We started creating early prototypes for The Corridor: On Behalf Of The Dead in Unity 4 over a year and a half ago and our development pipeline had streamlined itself to that version of the engine. Unity 4 became the bedrock of the project, we created tools, assets, set up lighting and all the other aspects of development.
It was a hard decision to make, pulling this foundation out from under us was terrifying especially mid way through the project. In the end though, our inner geek had to see the shiny new tech...
The Corridor migrates to Unity 5

So, as the sub heading suggests, we made the decision to migrate the project over to Unity 5...gulp! Initially, we didn't have a good overview of the actual nuts and bolts of a true migration so a sensible backup was made...just in case. We looked at all the documentation and it particular Camouflaj's blog about their experiences with migration came in handy, if you are thinking of upgrading, have a read through to give yourself some extremely valuable tips! Once we had a good idea, we drew up a plan and began the migration.
A separate branch in our subversion was created and we used this to upgrade our project. We opened the project and let Unity 5's Auto Updater take over the process. The Auto Updater is pretty neat and it parsed through our entire codebase to make the proper updates. Occasionally we saw a dialogue box pop up informing us of an 'API Update Required', Unity 5's API has quite a few changes! There are two options 'No Thanks' and "I Made a Backup. Go Ahead!" selecting the later, Unity begins updating the old obsolete API's.
Once the project had finished upgrading it opened and...broke! We're using a collection of custom plugins and scripts that required some minor tweaks, it wasn't long before Tony (more on him later) got us up and running again.
Once we were in and could take a look at the assets in Unity 5, we immediately noticed a drastic ad improved change is the visual fidelity of the game. The main change was Unity 5's new lighting and physically based shader system or to most the 'Standard Shader'. We'd already been using a custom PBR setup within Unity 4 but we decided to move to Unity's own shader and use it as much as we could.
Our creative messiah , Daz, made the rather large decision to take advantage of what Unity 5 has to offer and promptly began the task of rebuilding certain assets which didn't make the cut anymore. This is starting to pay off though as we're seeing a real difference in game.
Where are we now in terms of development? Well, we're still getting used to Unity 5's new features but all the changes we've made so far will make the game a much richer experience for you the player. We'll be able to show you how its looking soon enough!
Xbox one
We're also please to announce that we're bringing The Corridor: On Behalf Of The Dead to Xbox one! We've been working with Microsoft since the new year to get through the on boarding process and we've received our XDK's today!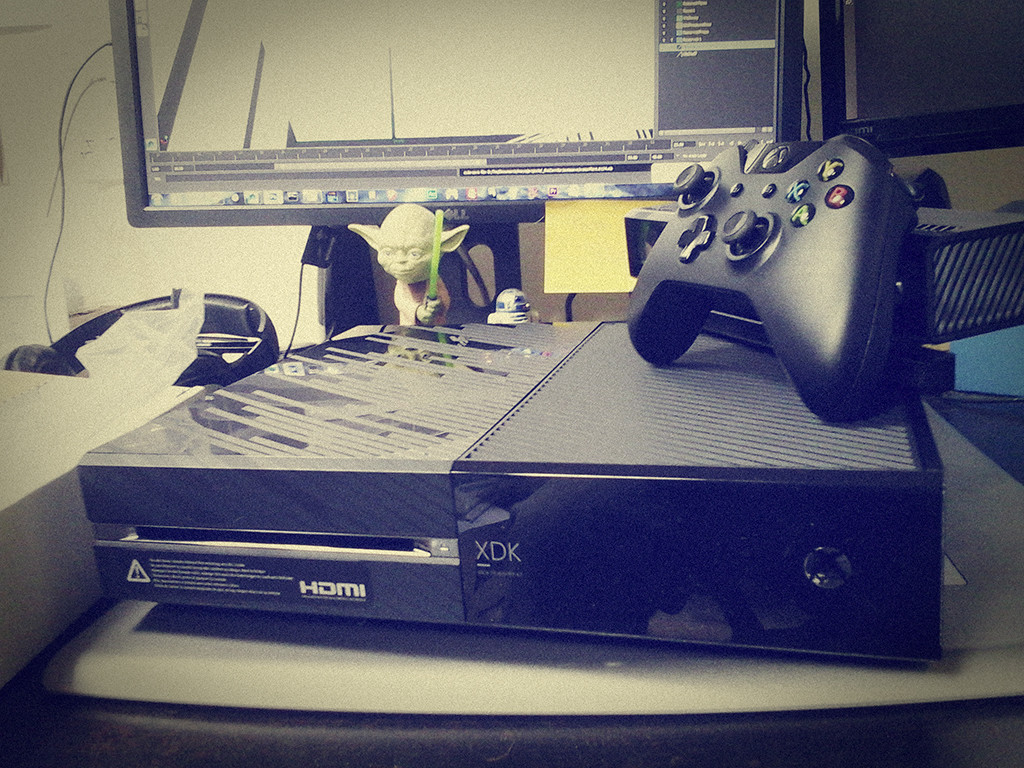 New team member!
Last but never least is the news that we've added Tony ( a coding god) to our team! Everyone say 'Hi Tony!'Well I think that's about it for this update.
Thanks for dropping by and we'll be back soon with another development update!