So after 1 year Whack-A-Dungeon development is back and stronger than ever!
First thing I focused on is making the game work on iPhone. Previous version was not humanly playable on such a small screen and this is something I felt needed to be fixed. Needless to say I had to cut many things, the UI layout has been redone and the grid size has been reduced to 3x3. Although still rough I'm pleased with the result and the feeling of playing Whack-A-Dungeon on a phone.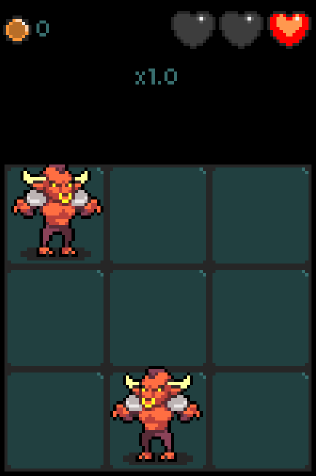 In terms of gameplay the game is more less at the same stage it was a year ago. Some mechanics have been simplified and the game is slightly more "arcadish" than before. I think I'm better focus than one year ago and feel the game is taking the correct direction now. Currently I'm working on the special powers. More news next time!
Besides tech stuffs I also hired a talented artist to replace Oryx's spritepack. You can see his first sprite (the bull) on the screenshot above.