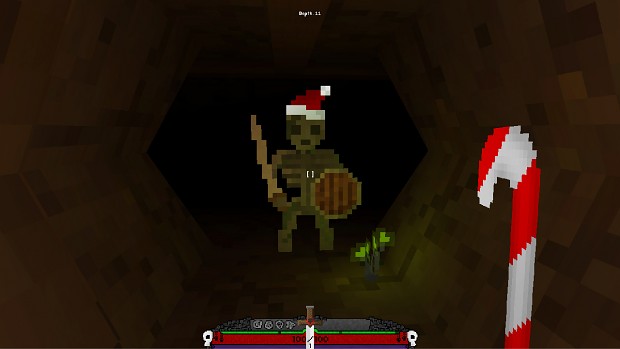 Hello and merry soon-ish christmas everybody.
Here I deliver another update to Dungeon Prospector and it's changelog is:
Added 'x' button to chest window.Added worm egg which spawns small worms when you get close.Added 3 items.Added 2 combinations.Added gem's bonuses can now be stacked via combining. Infinitely. Changed stairs block a bit, so it would align better with cave themed blocks.Changed how themes change with depth: 0-10 dungeon, 11-20 cave, 21-inf dungeon/cave odd/even.Fixed boss health bars not displaying correctly.Fixed slimes of Slime King no longer stuck or spawn inside him.Fixed stairs block would not delete itself after player got far away from it (blinking of walls / z-fighting).Fixed dagger no longer reroll it's additional stats, when enhanced via crafting.
Update should come online soon.
Also the game is discounted for a week, until 29 December.
This is most likely the last update for Dungeon Prospector as it's been more than two years of development and its time to move on :)
Thank you to everyone who supported us over that time.
EDIT:
*going through desura pages* Turns out descriptions of indieDB and Desura not linked together, well that was unexpected. Updated them to the ones on indieDB just now. Also the game is still listed in Alpha-funding category of Desura however it's not in alpha stage for more than a half a year now, that should be sorted out soon too.