This week I was able to track down a bug to do with saving the building's rotation. Along with some code refactoring I have moved on to changing the user interface to be a little more pleasing to the eye.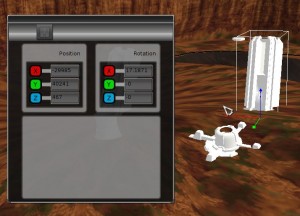 Since I am using a third party library called MyGUI to do all the menu work in, it was very simple to replace the old style. I simply edited some XML and after 10 to 15 minutes of tweaking had things in place. Problem is that since changing the user interface I've discovered a flaw in the drag and drop code that needs fixing. Not a big issue but it has given me a reason to experiment with the new version of the MyGUI library which I hear might be better for what I want to do anyway.
You may have noticed an empty space under rotation and position. This is going to be for selecting different materials to apply to the building pieces however I have not yet decided on how it is going to be implemented yet. Designs and suggestions are welcome of course, just make a post on the forum.