So we've began basically re-making Hanako from scratch back in August, re-designing huge portions of the game mechanics and changing the art style from historically-accurate realism to a more stylistic hybrid art style that we think will greatly enhance the overall presentation of the game, and help separate us from the pack of similar games. We now have a team of mostly (90% or so) professional artists and programmers dedicated to bringing you a triple-A quality experience.
Note: Since we are all professionals with day jobs, we do our very best to be consistent with progress but real-life deadlines (as is in the game industry) often affect our progress. However, we are on pace to have something playable by the public in Summer '14 be it an early alpha or more polished beta. We appreciate your support and it definitely goes a long way after a long day of normal work to provide extra motivation.
Programming/Gameplay Update:
Our deadlines are organized as "pushes," and what this means is we are breaking down production into digestible bits that the team can reasonably handle with our schedules. Our first push is centered on building the core mechanics of the game (movement, basic sword swinging, networked play) around one level with focus on the Kengou class. This push is days-to-a-week away from completion which means we will be able to play over a network and start really testing our gameplay! After that we will immediately get into directional input-based attacks which make up the base of our melee combat system, as well as a rough version of our archery. There is more to it, but we prefer to keep that close to the chestplate for now until we know for sure it will be fun for you guys.
Art Update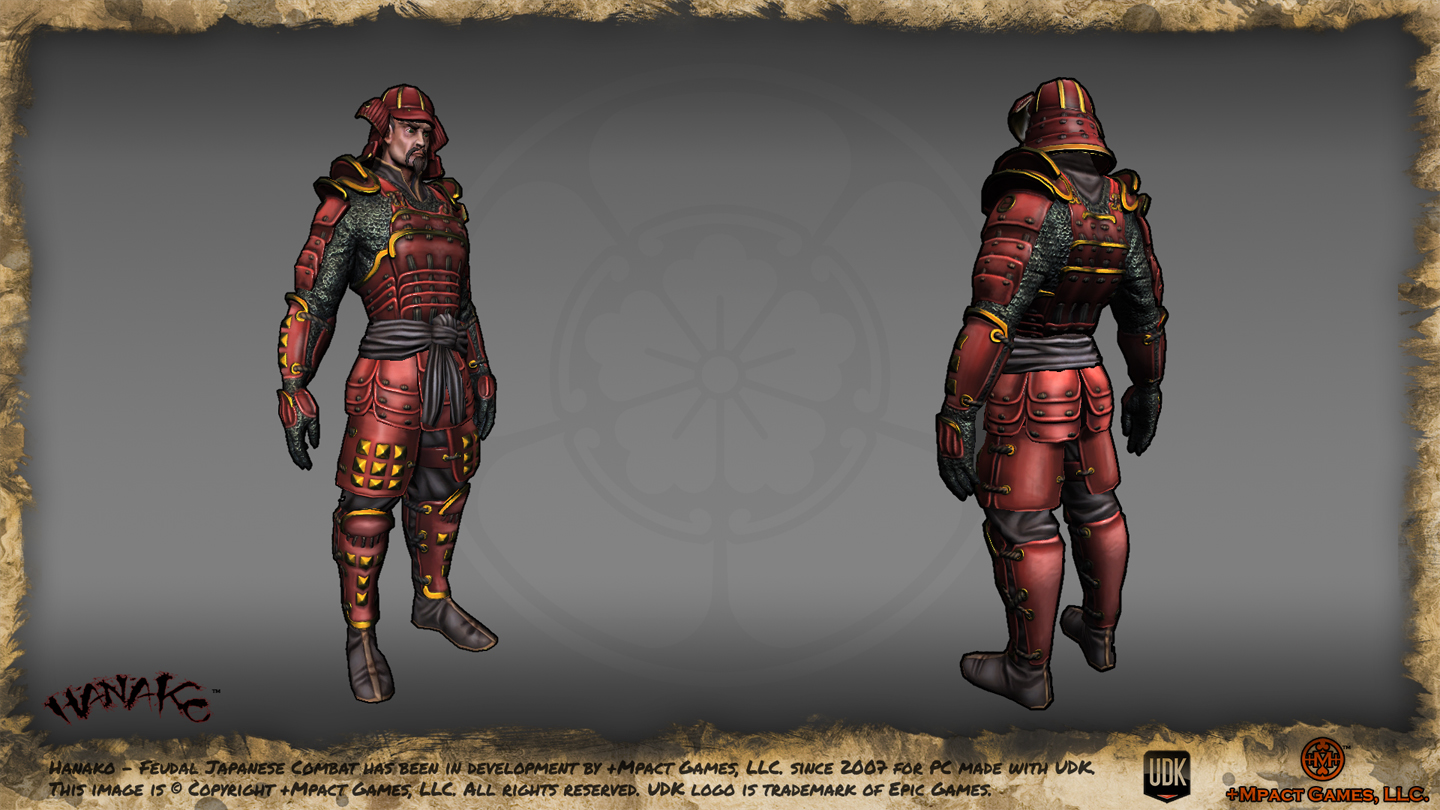 Characters:
Our character artist recently completed a polished version of the Kengou (pictured above in Hanako Clan colors). The Kengou is the first character class in Hanako that a majority of the new combat system will be built around. He is the prototypical, balanced samurai class with a high-level of skill in Katana combat, but as far as balance versus other classes the kengou stands in the middle as far as key stats are concerned (health, armor, abilities, etc).
Environments:
I personally have been busting butt getting art sets made for our 'Streets' map, which is basically a small playtest 1v1 map that will allow us to quickly resolve gameplay and serve as a proof-of-concept/reference point for art direction for the other maps we'll be making. Soon I will begin production on our first large, outdoor battlefield map 'Gifu Crossroads,' which will be one of the primary release maps as well as the starting point for campaign.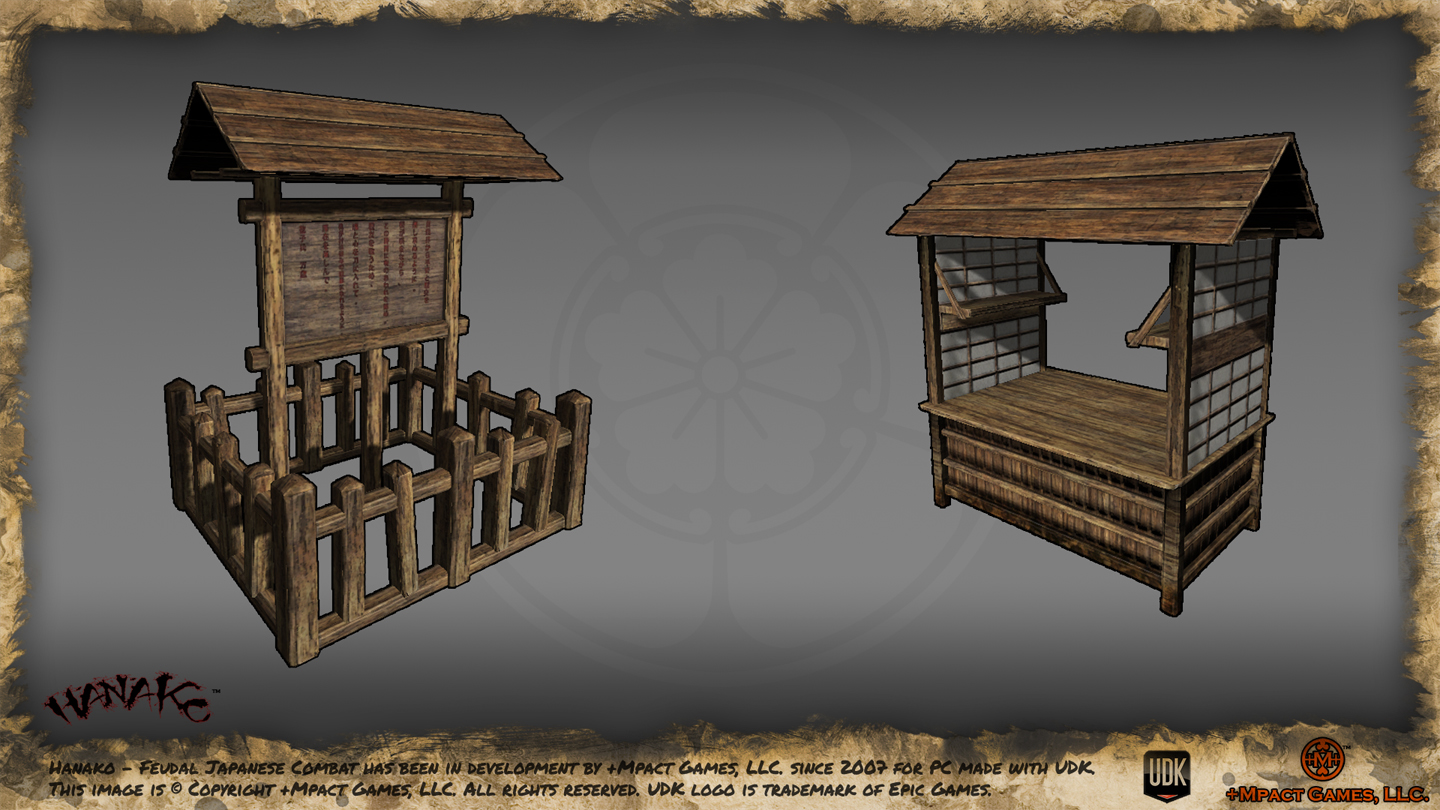 The environment art in Hanako is broken into three key geographic regions divided up by which clan occupies that territory. Basically, each clan has differing levels of wealth, honor, lifestyles that change the appearance of their surroundings. The streets map is more of a middle ground of the art (something seen in Matsumoto Clan territory) while the Hanako Clan is more royal and serene in their architecture, and the Yamai are more war-torn and damaged.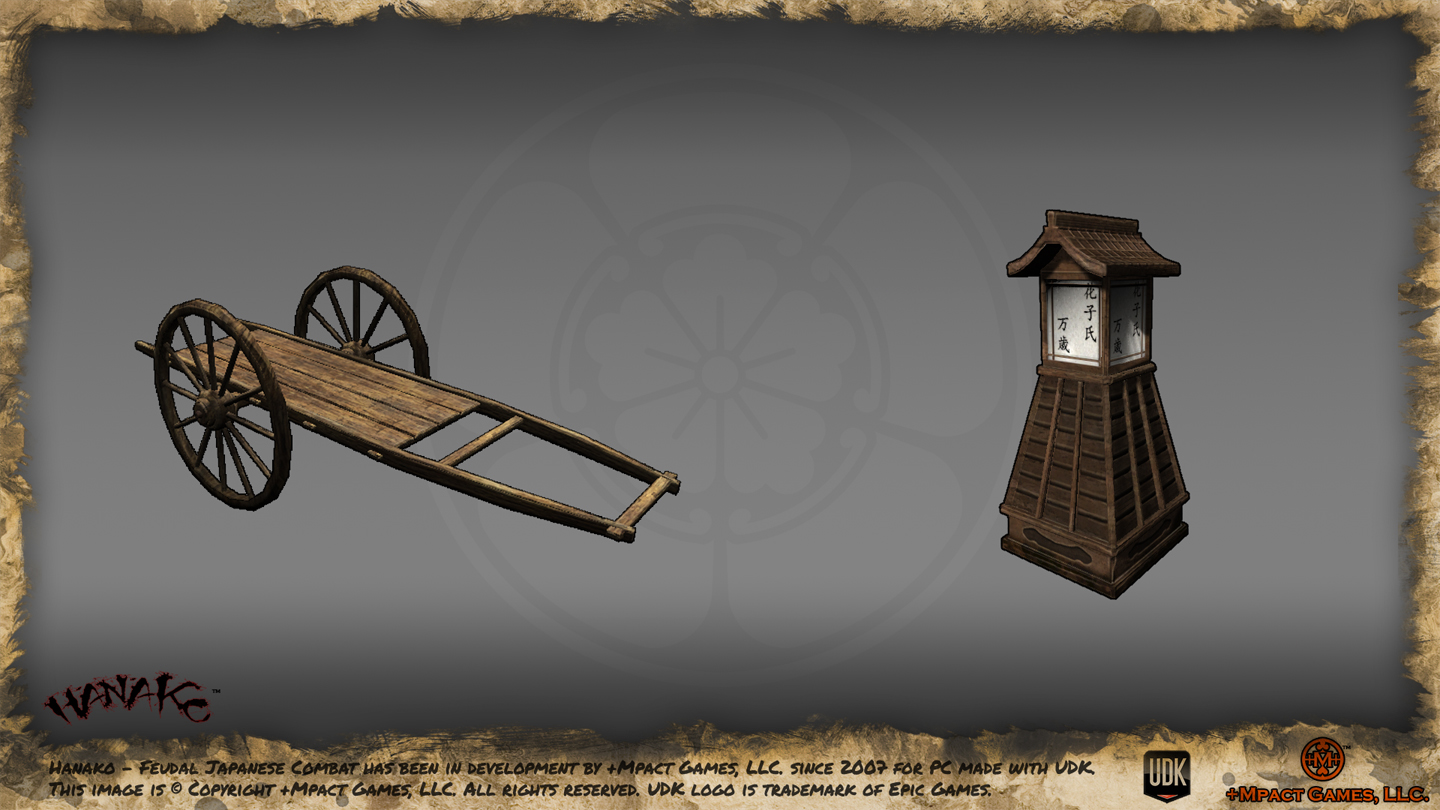 Anyway, hope you guys like where we're going with the project, I'm not sure how many original followers we have, but we're thrilled you're still around and look forward to getting to know new fans as well. Feel free to ask questions and become part of the Hanako family.
Thanks,
Team +Mpact Games