Hello again,
Thank you all for being so patient this month for this dev post. As previously mentioned we're at a point where we are simply filling out the mod with exciting content and updating old files.
Speaking of updating files, all disease and heath related events are now compatible with "Reaper's Due" DLC, so don't forget to stock up on your healing potions, you're gonna need them.
This mod features 6 diseases from JK's Harry potter; Black Cat Flu, Dragon Pox, Mumblemumps, Scrofungulus, Spattergroit and the Vanishing Sickness. Harrypotter.fandom.com
Another feature we've been updating are the many creature cultures. We are currently hiring an artist to create a set of portraits for Goblins and look forward to hearing back.
Moving on, we've been working on some new events again, here are a few that we think may catch your eye. With the many perils in the wizarding world, you may just find yourself at deaths door.
Prolong your life with unicorn blood, but at your own risk!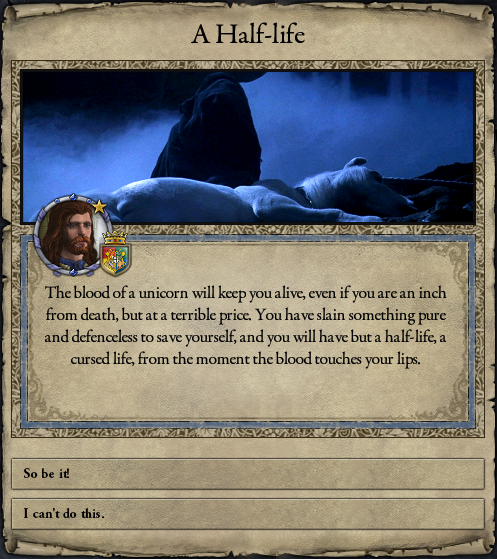 As the heir to the great Salazar Slytherin, you have the right to open the Chamber of secrets and release the terror from within. Filthy Mudbloods! Any parselmouth may attempt to open the Chamber, but only the true heir will succeed.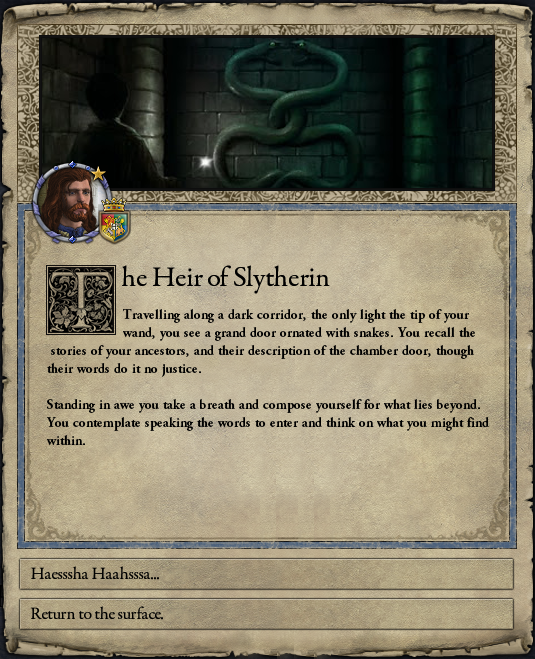 So we've briefly spoken about creating Horcuxes within the game, well here is a little glimpse into that. Achieving eternal life may seem like greatness, but it might just be a curse.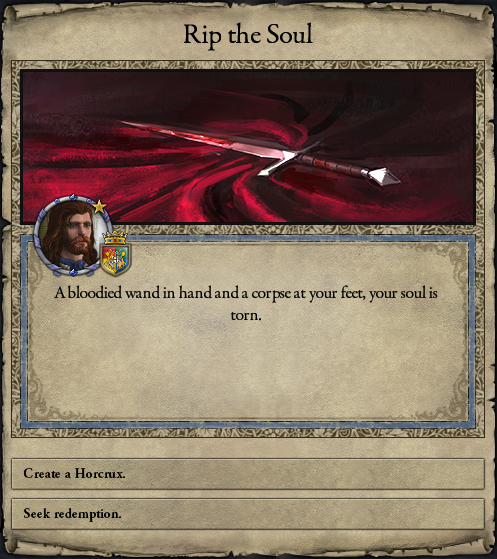 Now shuffling away from events, we've been going over some previous work and adding more detail, really filling things out where we can. For example the Hogwarts wonder has been expanded on, adding 16 upgrades to the castle (an additional 8 slots).
These new upgrades include; The Great Hall, Grand Staircase, Library, Classrooms, Kitchens, Courtyard, Chamber of Secrets, Room of Requirement, Statues, Greenhouses, Quidditch Pitch, Boathouse, Trophy Room... and a few vanilla upgrades to choose from.
Work to more dynasties this month include, Greengrass, Dumbledore, Gaunt, Black (remake).
Then we have 12 new Coats of Arms this month. My personal fave of these is Slughorn!
We continue to grow this mod and fill it as much as possible for your enjoyment!
Thank you for sticking with us, I know it can seem like an age, but we believe it will all be worth it.
Thank you Patreons!
Campbell
ExpGamersInAu
John Valyi
Kieran Gillies
MJB
SweetThose
Vespertides