Hey guys it has been awhile since the first of these and a lot has change in the realm of Shaper's Shuffle.
Firstly the major change is that the ground hexagons have been changed a lot!

The first major change is that all of the hexagons have been rotated. There are a lot reasons for this, but the main reason is that the hexagons now tile horizontally instead of vertically. This makes more sense for the perspective of the game is viewed at.
What can also seen as a major art change with the hexagons of some of the tiles now having a light blue border. This fits with better ascetically also with the underlying story of the game that will be revealed at a later date ;)
One more art update before i get to talking about more exciting things. If you read the first Dev Log you know that i love doing particle effects, and i couldn't resist doing more since the last update. The whole particle management system has been enhanced and revamped and can be seen in all aspects of the game from actual physics to drawing efficiency.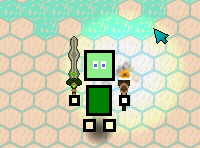 Here you can see the new smoke and fire flying off of the torch (it looks really cool in action trust me:P)
Now for the exciting change, in my opinion, that has been majorly worked on is the land generation code. The map now is surrounded by beaches and the land in between has smooth transitions between environments.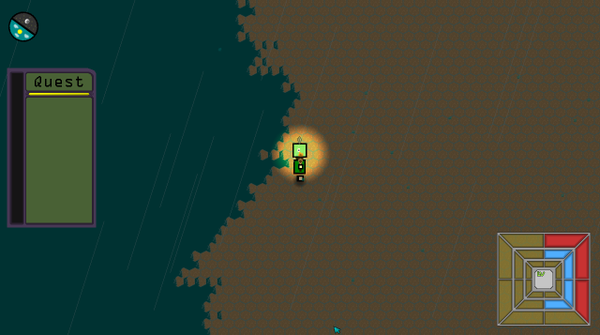 Here we can see Shapley having a "fun" time on the beach.. at night.. in the rain..
So last update that i am ready to share with you guys is that there is now a title screen with a cool hex layout.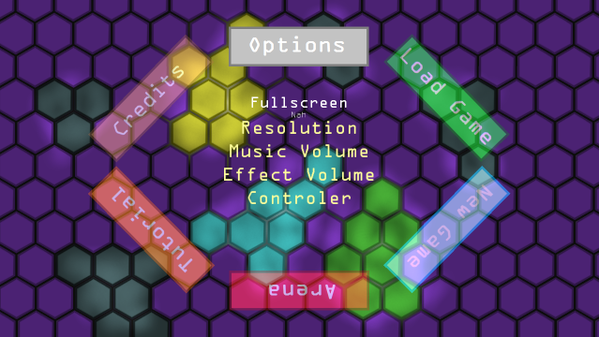 Screenshot of the titlescreen. Not pictured is that those cool hexagons change color slowly overtime.
There is a lot more that has been done that i don't want to share yet that i may or may not show in the coming weeks. What i do hope to share with you guys over the next couple weeks is the free demo that has been long promised! Right now we are fairly confident that the free demo will be out sometime in early may then when the full game is ready it will follow shortly. Thanks for all of your continued support together we can make this a truly awesome game :)
More info and updates about Shaper's Shuffle and our other projects
Facebook, Twitter, Website