Hey Guys!!
Another week has passed away. There were a lot of things going on this week, Here is the summary.
1. Graphic improvement
2. Modifying game balance
3. Adding 'stat system' for monsters
Polishing game graphic
We're constantly refining themes.
Remove the narrow path from the room
A dashing monster, Minotaur, is caught in a small gap and stops in a dash
In order to prevent the passing through the wrong gap,
we removed the narrow gap of the map and renovated the room
mainly for the bigger space.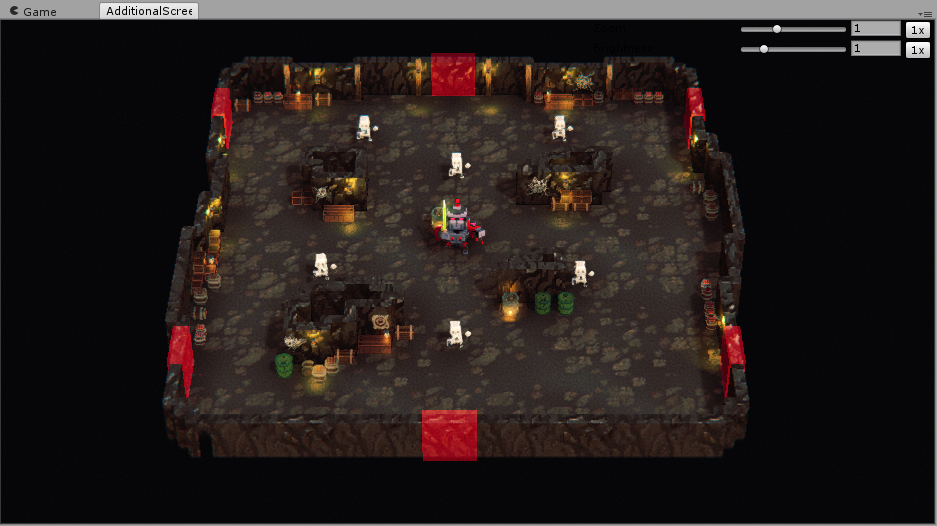 Improve the light color of cage
We adjusted the color of the cage's light to match the atmosphere of the theme a little more.
Optimize walls and floors
We are also working on optimizing it to use only the lowest resources within the conditions so that the game can run more smoothly while maintaining a similar level of expression.
Modifying game balance
We are adjusting game design based on player's feedback.
Change HP gauge - from heart icons to bar
The HP gauge has been changed from an existing heart icons shape to a bar shape. HP's cur / max values are now more flexible. In the past, when hit, 1 damage was given uniformly, but now any amount of damage can be given. For example, the rushing damage of Minotaur is 3.
Although the amount of damage has increased, HP-recovery-item comes out more frequently.So, it will increase the tension while playing one battle room, but decrease stress on whole game.

Adjusting the upgrade value
Increment values of Upgrade got higher now.
We made Ammo limited from last week. Until then, the "Shoot-Cooldown" upgrade was overwhelmingly the best in the upgrades. But now, after the limited ammo, All upgrades was balanced. Thanks to that, we have been able to raise our overall upgrade figures.
Ammo drop rate adjustment
We increased the ammo drop rate slightly. If you don't have any bullets and there is no ammo in the room, you'll get 100% chance of dropping ammo.
Adding 'stat system' for monsters
New Monster Minotaur added last week. This monster rushes towards the players.

Unlike other monsters, Minotaur breaks solid objects during a dash and damages other enemies, including the main character. We couldn't implement this features with simple monster system, so we added Stat System which had been only for hero into Monster.
Not only has Minotaur become a more threat now, Other monsters can be more varied!
etc
Improve convenience
After last week, we added the icon for minimap display. (The minimap icon is not implemented yet.)
- Add ammo icon

The mini-map shows the room where the ammunition dropped. If you have used up all your ammo during battle, go to the room with this icon and get some ammo!
- Add chest icon by rating

In the existing mini-map, it was possible to know whether or not it was a box room. Now it has been changed so that you can see which rate of boxes are placed in the box.
Fix minor bugs
We have been working on fixing bugs.
- The upgrade window does not appear
- Bullet count is not maintained when going to the next floor.
- HP is full when going to the next level
- Ammo blocking projectile
- Quest does not proceed from the second floor
- Specific tips do not disappear
- Beat coin for quest reward is huge
- Correct key description typo
Thanks to @xTechnoCatx for giving many feedbacks and reporting bugs.
There are still a few minor bugs, but we'll fix it as soon as possible. Please give us more feedback :)
Schedule
UtF is getting more and more interesting game by receiving feedback from users who have played.
Some people gave us feedback that the content addition should got more priority than the development of the co-op mode.
We're worried about it. We will discuss about this opinion, and we will make decision until next week :)

Trivia
Today, let's talk about the relics of the mystery, the Holy Grail.

It may seems just like a gorgeous cup, but many knights and heroes have searched the world for this cup. However, the Holy Grail, which eventually ran away from the hands of a number of explorers, is known to reveal occasionally in this underground dungeon. Maybe the Holy Grail, who felt the energy of the devils, came to find someone to kill them? Even though no one knows the exact efficacy of the Holy Grail, no one thinks it will be weak. If there is one thing I can assure you is that you are in luck if you have met the Holy Grail in a dungeon.