Hello all,
Two days ago I started mucking around in Unity for the first time in a while, and I managed to make something that wasn't un-fun. It's been two days and I've put a little more effort into it. Right now I'm working on un-buggering up the main menu as everything should be working on it, except that it doesn't show anything and also working on creating user friendly way of adding different modules.
I suppose this is a good spot to say how the game is going to work. I think that it will have as many distinct parts as I can put into the game, with each being not just a re-skinned version of the previous. I want each module to be different other than graphically, such as noticeably different weights, differing rigidity or bounciness. I want there to be a set size for editing the craft that can be extended to make larger crafts. I don't want ads in it. If I am going to put ads it will be entirely optional to get some in game currency that is easily obtainable (aka: for the really lazy people ;) ). I want there to be an endless mode. Ideally between now and a more polished version I'll think of some more unique ways to play the game and introduce them as well. I want the materials used to create each module to respond in familiar ways.
Right now the game (with way too many place holder images or... borrowed ones) consists of two different blocks and two different wheels.
Heres what the game looks like (using placeholder gas and brake and reset buttons) (also the ground is just a stretched out wooden box):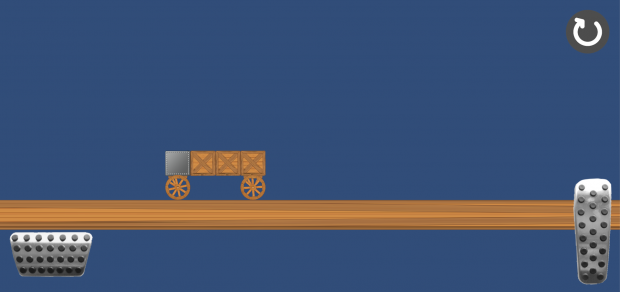 Heres what it looks like just as I ram into another stretched out woodenbox: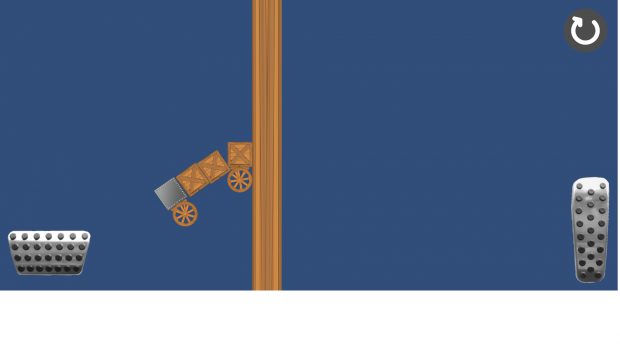 And after I've "landed" the craft: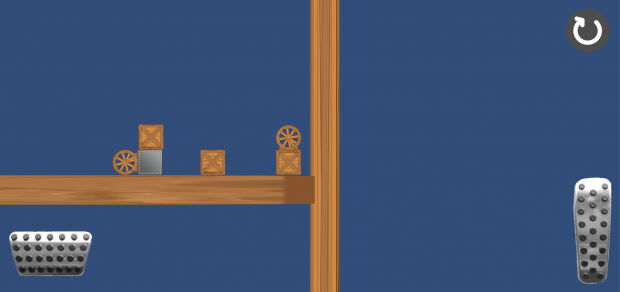 So, looking at this now, I have alot of work until the game even looks good. (Even though I do think the wheels and wooden box look nice.)