Hi Guys!
We greet you with our 17th devlog. There were various things during the 17th week, here is the summary.
1. Remove gold system, Add ammo limit
2. Graphic renewal
3. New monster : Minotaur
Change game design
From the last week, game design part is in a period of upheaval. I try to make various attempts to improve the fun of the game.
Remove gold system
It is quite stressful to earn gold to buy items, We had to go back to the rooms that were visited, to collect more gold. It was tedious and meaningless. That's not what we expected for our core fun of game. So we decided to eliminate the gold from game.
The concept of the shop owner has been changed to the quartermaster, Now the power-ups were offered by free (not by buying).
The constraint of choosing only one of the three has not disappeared. But no longer being stressed by gold, you can now gain one power-up per level.
In the case of consumable items that were previously available in gold, it has been changed to purchase with beat coin.
Limit ammo
Last week, a change in the gun system caused magazines and loading to disappear from game and make players can unlimited firing. Thanks to it, we did not have the stress of loading and it makes UtG more pleasant action game, but we concluded that there is a little difference with our desired direction.
We have decided to limit the total amount of ammunition to prevent unlimited raids and to manage the ammunition strategically. But the magazine system will not come back. The bullet can be dropped with a certain probability by killing the enemy. (If the bullets run out, you should use melee attacks.)
We will continue to experiment and change over time. :)
Graphic Renewal
We are experimenting with various graphics to raise the quality of the dungeon and to highlight the 3D characteristics of the game.
The floor-system was changed from tile-map to whole-map. Based on PBR, we are experimenting with mixing a little bit of realistic style and widening the viewing angle for a sense of space.
So please continue to give us a lot of feedback.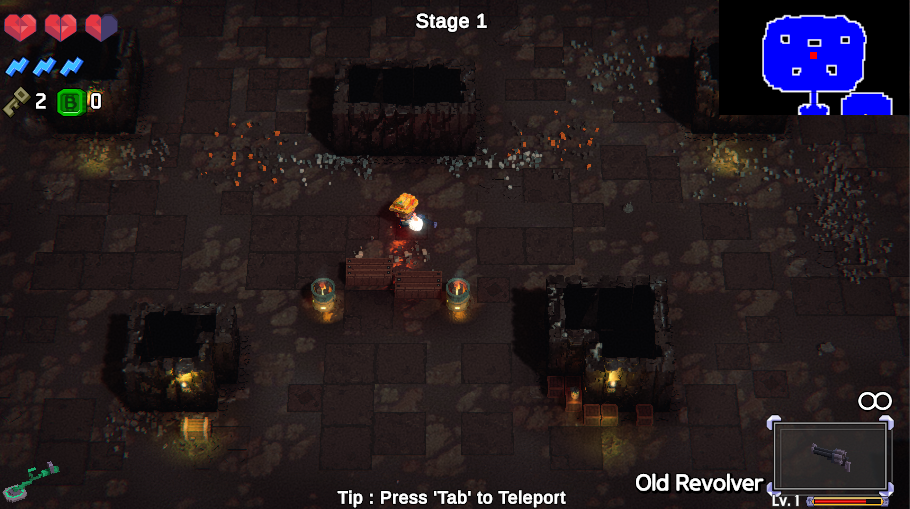 New monster : Minotaur
All the monsters that appeared in the meantime, they launched a projectile to attack.
For the first time, the monster which attacking the player through the attack method, "Minotaurs" has been added.

Minotaurs, with its stunning character that pushes against everything, will be a threat to you all over the dungeon with its powerful stamina based powerful dash.
etc
Add map icon
We already have temporary icons, but we have added a map icon to make it easier to identify quests, NPCs, and items.
Minor bug fixes
We fixed some bugs we found during testing.
- Fixed a bug where monsters could not find the way properly
- Troubleshooted the problems that are difficult to pass through side doors
- Objects pass through bullets only the firing from a particular direction
Schedule
As game design changes are applied to the game,
UtF is becoming a more and more unique game.
Co-op mode is also cruising and you'll be able to see it soon :)

Trivia
Today, we introduce the story of a new NPC Naive Nuts, that will be deployed at the supply base.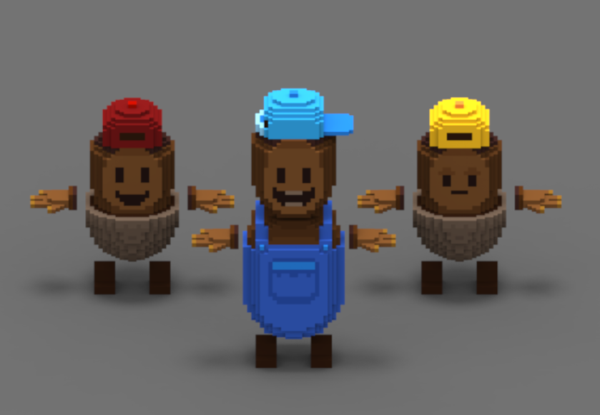 The 'Naive Nuts' are three brothers made up of an eldest brother and younger twins. They always keep their smile and try to think positive. Sometimes it is a little overkill, but they are mostly bright and pleasant crop humans.
These guys can walk around the dungeon without getting caught by the monsters because of the inconspicuous small mass. They sell various items gathered in that way in the supply base. One day, after we demolishes the demons, they want to build a big mixnut theme park on the ground.
Please cheer these friends' dreams!! :)