THE CHALLENGE
Let's face it. Hovers are agile, fast, avoid Plasma splash damage, can carry a decent load, they're stable and versatile. We like Hovers now and we don't want to nerf them or change them (possibly make them descend faster but that's it). So, how do we make wheels viable? Surely it isn't possible? If Freejam achieves it everyone will be amazed right? I mean, top clan teams driving around the map with 3 Wheeled vehicles and 2 Drones in the sky, that will never happen? Well, anyone claiming to make Wheels viable has to have that aim, and that is the aim we've had since we started reworking the wheels.
NEW SIZES & NEW ART
One of the first things you'll notice about the new wheels is the size. We've resized them for a better size increment as you go up the range. Previously you had 5 small wheels and then the Mega wheel called 'Wheel Monster' in-game, so we've resized them so you get a fairly even increment in size as you go up the range from the smallest to the largest.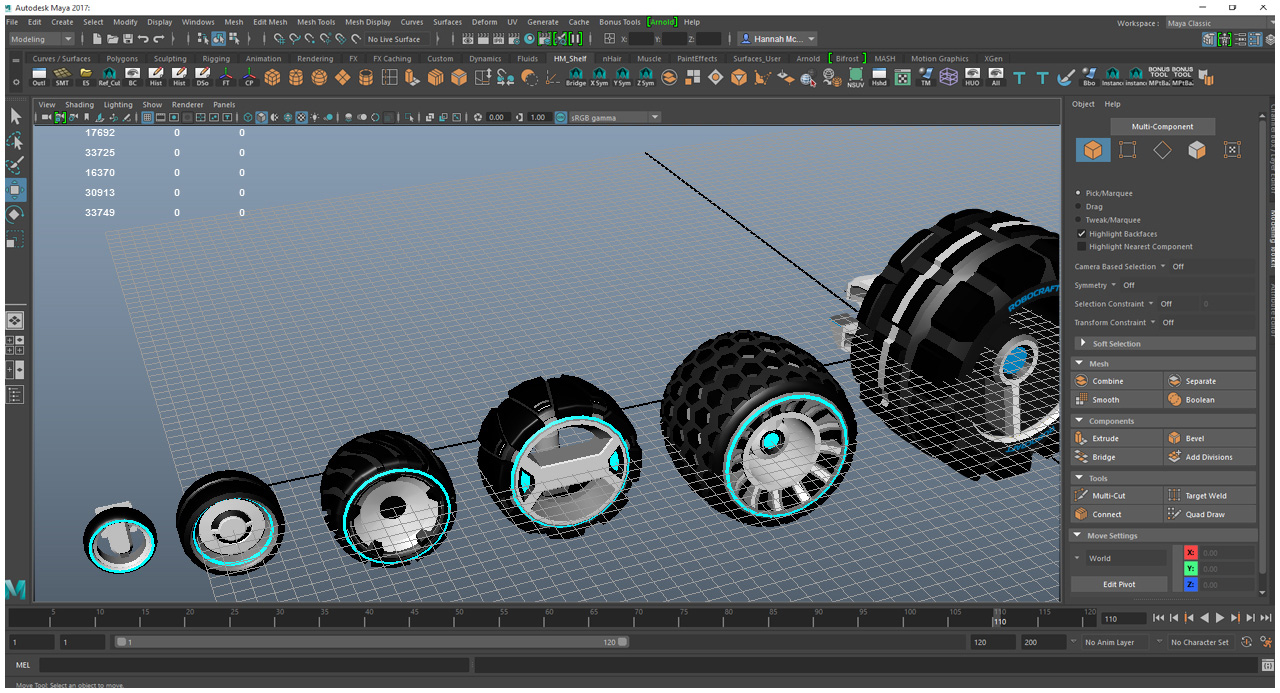 Since resizing wheels will break Robots, what we'll be doing is stripping the wheels off your Robots and putting them back in your inventory so you can replace them and tweak your wheeled Robots as necessary.
SIZE PROS AND CONS
As Wheels get bigger they get faster, much faster. The downside is that you have to invest more CPU in them and they become more exposed and harder to protect within your Robot so you're more likely to get demobilized with the larger wheels.
THEY ARE FAST, VERY VERY FAST
The new wheels will be the fastest ground movement type by a fair margin. We're still balancing but we've had the Megawheels driving at 300+ mph around the battlefield in tests. Not just in a straight line either, yes that's 300 mph round corners and over bumpy terrain without randomly spinning out or flipping over and whilst maintaining full control :)
THEY ARE STABLE, VERY VERY STABLE
To make them viable we need you to be able to focus your attention on positioning, fighting and driving all at once. Robocraft isn't a rally game, it's a fighting game. If there is too much fiddly management of driving the car required to position yourself for a fight, Wheels will no longer be in vogue and the meta will revert to Hovers. So, we've put tons of effort into making them very stable whilst still feeling like wheels from the future. We've built in modern car management systems like 'dynamic suspension for anti-roll', 'traction control', 'dynamic shock absorption' and a 'power delivery management systems' to keep you on the road and in control. They don't drive themselves though, trust me at 300mph you have to have your brain switched on to get the most out of that crazy speed.
CAMERA CONTROLS WORK, WELL
Like all the other parts we've reworked recently we've added in Camera Control support. Wheels work surprisingly well with this new control method and there are a few converts in the studio that prefer the new Camera controls over the Keyboard. Art Director Ric aka @FatDigester is still a stalwart for the Keyboard controls though, so both are very viable and great fun.
WHAT ABOUT THE OTHER MOVEMENT PARTS?
All other movement parts will be getting some balance changes including some movement speed increases with the aim of making them all viable. Aerofoils are already in the workshop for a revamp also with the aim of making real airplanes totally viable too. We'll be giving more details on the actual speeds you can expect in the full patch notes coming next week. We really hope you enjoy the new wheels.
Thanks for reading!
Mark Simmons, Game Director and CEO, Freejam