Short and sweet update to showcase the new but far from done Iraqi hero unit, Ahsan. If you're familiar with Jarmen Kell then you already know what his weapons and abilities are.
Like the Stalone model, I'll be making some heavy modifications to the Boris model. Not sure what will happen to Boris yet so stay tuned.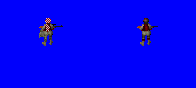 Next is a small showcase of some mechanics I've been playing around with which will be implemented the next release.
All units and buildings are good to go. Provided I get all the art out of the way soon, the next release will just be pending an AI overall and we'll be good to go for 2.0. ETA 8 weeks.