Howdy!
Victoria II was underpinned by the Second Industrial Revolution, a time of fast technical progress and its effects in the economy, society, and politics. Victopia starts roughly a hundred years later, at the doorstep of a Third (or Digital) Industrial Revolution, with its whole series of challenges attached to them.
Factories are, once more, the centerpiece of industry. Although entrepreneurial craftsmen (representing small industries) can produce quite a lot by themselves, factories have the upper hand in terms of efficiency and output.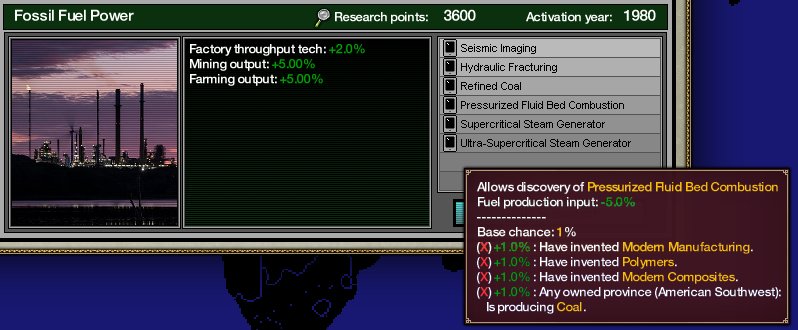 Fossil fuel power, a cornerstone of any industrializing nation.
Factory composition is different from the base game, though. Although certain trades such as construction and manufacturing still require plenty of blue-collar jobs, the proportion of them is roughly half of the work force of the factory. More specialized manufacturing and tertiary/quaternary sector industries require an even larger proportion of white collar clerks.
Industrialization goes hand-in-hand with technological progress, and just as you can guide your nation's industrial policy, you can also direct its academia, not just by picking which techs to research, but seeking to focus and specialize in certain fields.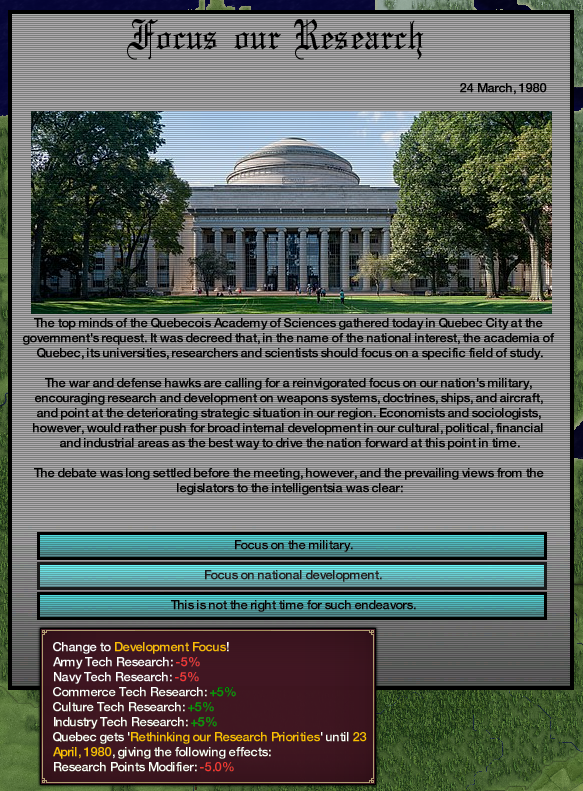 Let's be nice this time, and focus on national development instead of the military.
After some progress down the research trees, you can pick whether to focus your national research goals on the military or economic development, having a small net increase in overall research, although skewing it to favor whichever you picked, e.g. focusing on national development means you have an easier time researching commerce, culture and industry techs, but a harder time in army and naval/aerospace techs.
As time goes on and your research advances, you can focus even more into certain fields. After taking national development, for example, you can focus either of the specific tech branches: commerce, culture, or industry. Eventually you will be able to synergize with other branches (e.g. the Exploration School focusing on Naval/Aerospace and Culture, or the Military-Industrial school, in Army and Industry) to greater fine-tune your research towards your desired goals.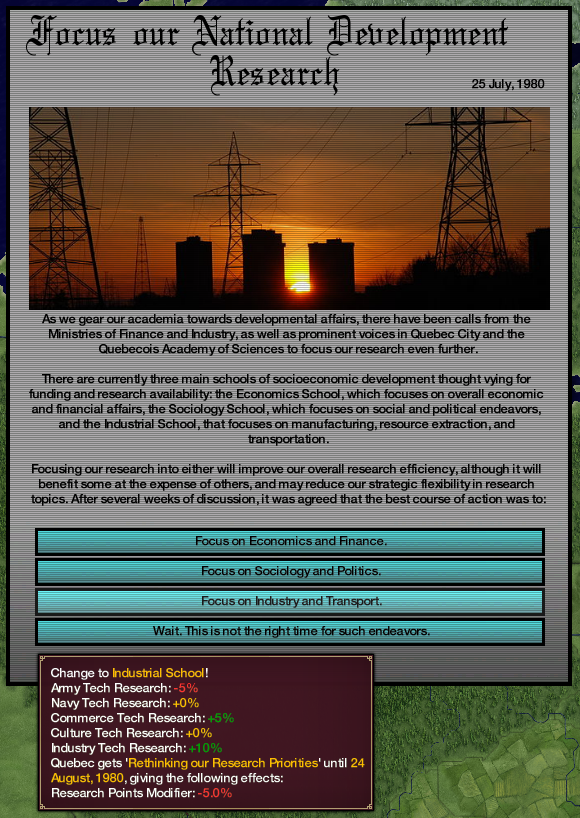 Further developments lead to further research efficiency and specialization.
While their chief effect is in research policy, these ultimately also affect the nation as a whole through events and opportunities that may be available (or unavailable) for certain schools.
There is another way to grow and develop your nation that has been rather popular throughout history: expand your borders. While traditionally countries get bigger through warfare and colonization, there are peaceful methods to do so as well, especially in modern times, and especially in formerly united nations.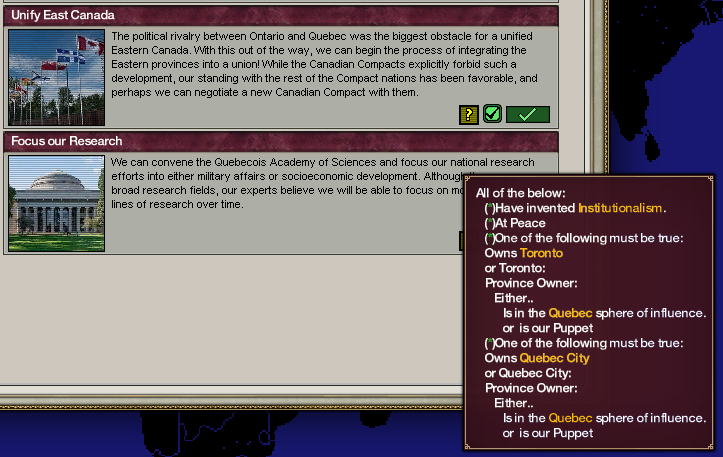 If you become the top dog of your region, there's a good chance you can get your neighbors to join you.
Unification can happen through traditional conquest, judicious use of politics and diplomacy, economic might, or a combination of them. You can even use (or abuse) existing diplomatic tools, such as the American Articles of Dissolution or the Canadian Compacts to expedite the process, even if normally they would restrict your diplomatic and military prowess. Playing nice can pay off!

East Canada isn't big enough for the two of us, mon ami.
Once you start the process, though, expect some resistance. At best, people are reluctant to join parts of larger unions, and require some convincing or coercing. At worst, they'd refuse to join a clearly belligerent power.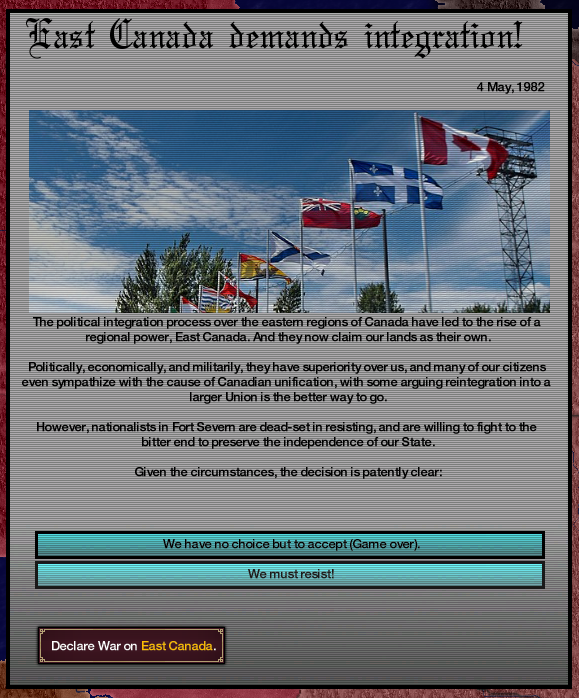 This is an offer we can refuse, actually.
Do note that, as of right now, you can only unify Canada, and the peaceful annexation process isn't fully implemented yet. The US and Mexico are for a future update.
---
Version 0.09 is out! It was a big one, with changes to provinces, new countries, buildings, decisions, events, inventions, and more!
Perhaps the coolest addition was a working dynamic music system that changes the music depending on in-game situations e.g. having high militancy, being at war, being a great power. etc. These new synthwave / ambient electronic tracks are from Kai Engel, Timecrawler 82 and The Present Sound. Absolutely amazing musicians worth checking out! :)
Last but not least, a preview on the current political situation in the American Southwest, including four new starting nations: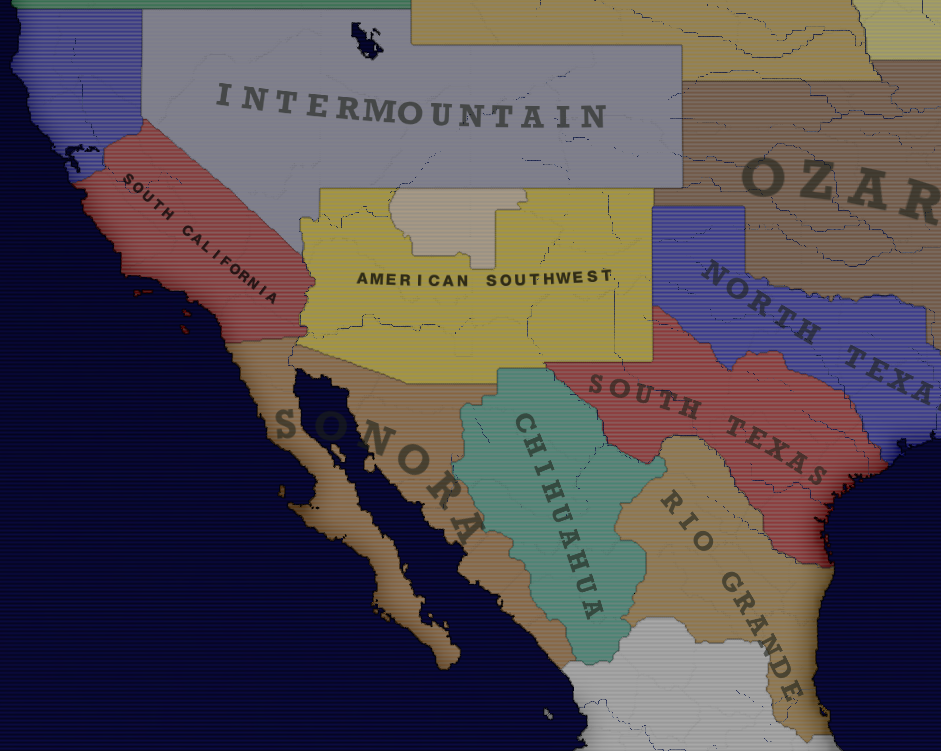 Thank you!