Welcome back. We're on day three of the dev process, and at our second dev diary. To me, so much has already fallen into place within three days. Nice! However, there will be no working tomorrow (New Years party and such) so let's be productive today! First, let's share my biggest topic, Characters & Their Breathing. Here's a video:
Again, the engine WAGAKKIWA is in is Ren'Py and it doesn't support GIF files, so instead I've been going into Photoshop CC 2014, and using Puppet Warp on the characters to slightly move structures of their body to resemble breathing (as you can tell it's still a bit choppy). Then, I save the files to be used, put them in a directory on the test game and list the images in order with time statements and then run it into a LiveComoposite. It works perfectly, and will be great when the animations get better. The only problem is rendering and display; with one animated character on the screen, it ran fine with no problems. However as soon as I placed Hideo in the mix, I noticed it took a delayed .16 seconds to get him to display and start breathing. I might make a statement that makes characters stop breathing during times to save RAM on player's machines, who knows. Speaking of characters, I've finished all of Akahana's default art! Yay! Now I moved on; starting with Hideo in the outfit you can see in the video.
Russian Localization
A friendly user on Indiedb messaged me offering their services for a Russian Localization of the game. I want people all around the world to enjoy this, so of course I agreed. I'll begin the process of sending the text strings to him and he'll send back the translations. However, keep in mind a Japanese and Russian localization won't be available on release day of the original game. They are planned and in action however.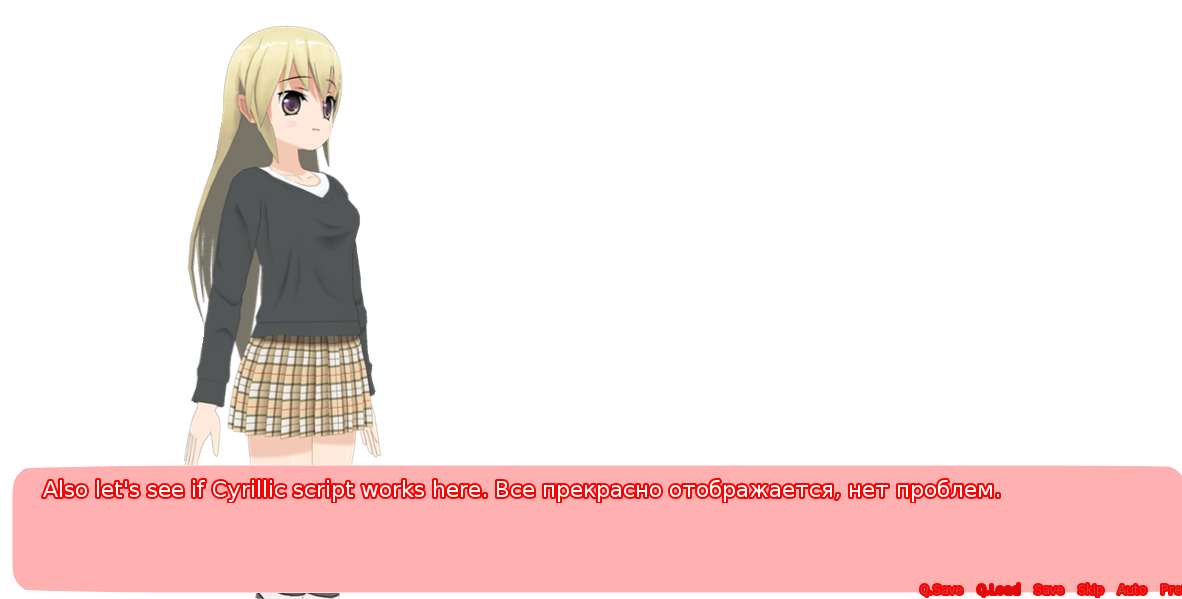 Updated Mailbox HUD
Another thing on my list of "to-dos" for WAGAKKIWA was to change up the UI for the Mailbox system. I'm aiming to make it resemble an actual cell phone UI, but for now my small progress should be fine. I changed the overlay from an old text button (that used to say just "Mailbox # new messages" but now there is a phone image that changes screen color depending on if there is new mail or not. Here's a screencap showing it in it's "New message" state.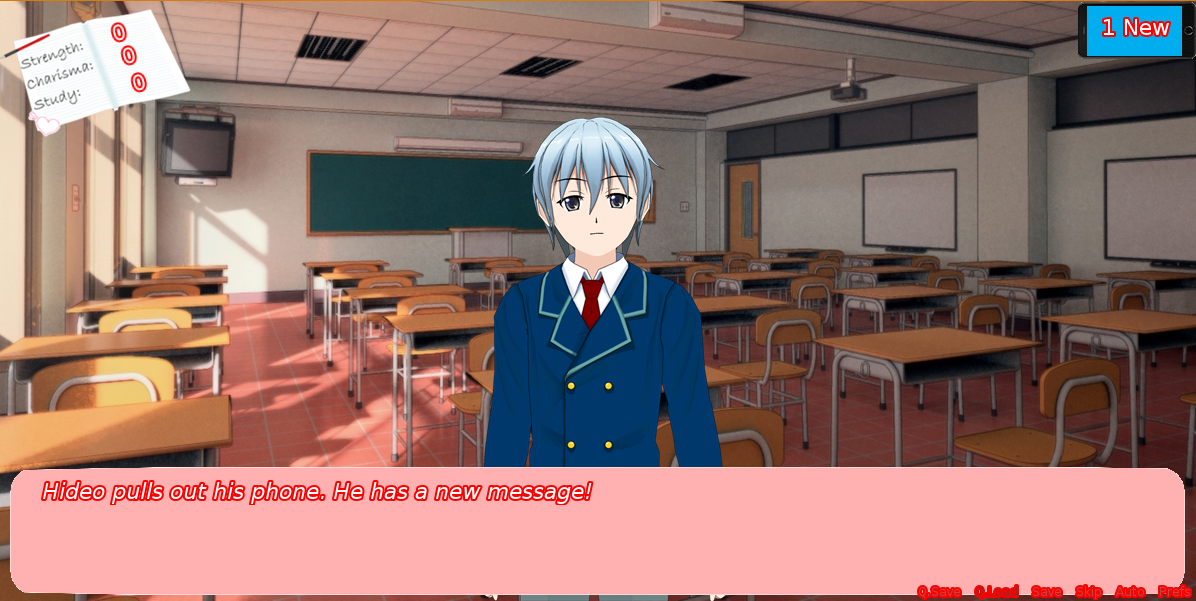 The next thing to do now is when you click the phone, a bigger phone image appears as a frame and will have the mailbox screen inside. Finding it a bit hard to change up the frames and styles at the moment though, so it will come later. Btw: the phone in the top right will go to phone_idle after all new messages are read and can still be clicked to re-read messages. I'm putting some focus on this because the Mail system will play a big part for some events and scenes.
That's it for now. Be sure to "Watch" this page for more updates and any announcements, and possible demos for the future. Also, for more information on characters and the game, you can visit the Tumblr Blog: www.wagakkiwa.tumblr.com
Remember, I'm looking for any help! Programming, Ren'Py code experience, Music, Localization; you can message me with contributions/help for just this game or we can begin forming a team. Whatever tickles your fancy. See ya!