New Game Title
That's right the game title is no longer "Soul Harvest". It turns out that there is an indie studio out there that is already developing a game with the title "Soul Harvest".
They have been working hard on a multiplayer strategy game with an arcade flavor that can be played with gamepads. They've had several releases and even taken the game to some game conferences. You can read more about it here www.soulharvestgame.com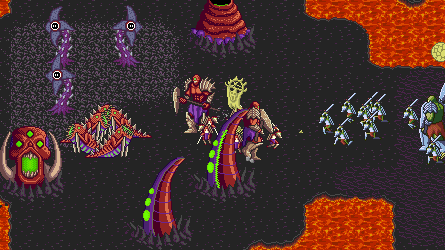 These title clashes happen sometimes, but the other indie studio has been really cool about the whole thing and we feel really good about the new title "Lord Of Decay". It is better suited to the game's primary feature of reanimating and controlling the dead.
User Interface
We have done some work to further tune the user interface and provide clearer controls and UI elements.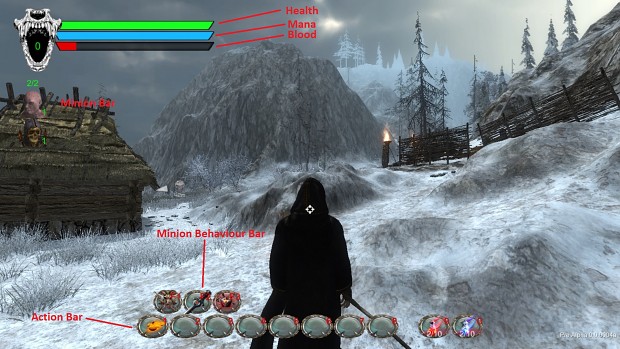 Action Bar
The minion behavior action buttons from the Action Bar to a new Minion Behaviour Bar just above the 1, 2, 3 buttons of the Action Bar. This provides quick and clear access to buttons that modify the behavior of the player's minions as follows:
F1 - Attack player target (self explanatory)
F2 - Aggressive Mode (minions will attack enemies on sight)
F3 - Defensive Mode (minions will follow player and not attack enemies)
This frees up all the buttons on the Action Bar for player skills and shunts the potion action buttons to buttons 9 (health potion) and 0 (mana potion)
Minion Bar
The minion portraits have been made more clear for each class of minion that the player currently has under their command. This at-a-glance UI allows the player to better monitor the strength of their undead army as they rise and fall.
Blood Bar
The blood bar fills up as the player directly engages in combat. More on that later
Combat
Weapons
The player now has a choice of 3 weapons to allow the player to engage enemies from up close and personal or from a safe distance.
Short Sword - fast paced melee combat with medium damage

Axe - Medium paced melee combat with heavy damage

Staff - Slow paced projectiles with light damage
Blood Sacrifice
The new blood sacrifice mechanic is now in play. When a player lands a blow from a weapon a certain amount of blood is gained until the Blood Bar is full. Each enemy type will yield a different amount of blood e.g. peasant will drop more blood than a skeleton.
The player's equipped weapon dictates how much of that blood is collected. The closer the player gets to an enemy and the higher the risk, the more blood is collected e.g. the short sword collects more blood than the magic staff.
When the blood bar is full the player can execute a devastating combo with their equipped weapon or summon a Void Champion.
That's all for now.
You can follow us on Twitter or Facebook for all the latest news, pictures and updates.
You can get involved in the discussion on the Forum.Thanks for the support
Sandbox D7 Team