"As i looked up to the sky, i saw the stars. Countless Souls wandering the realm of the dead.
Each one carrying the lantern used to guide their way to the skies.
If this god continues to wage war on our land, soon the souls can't reach the skies anymore and will stay on Irdana.
If this happens, our last days has begun.
May the Mistress of Skulls cast mercy upon us."
-- Vandar, Highpriest of Velia
Hello out there,
today we would like to give you a small overview over the current state of this game.
But first, i would like to take a quick look on the setting and the story.
The Setting
SoulThrone is set in the fictional world of Irdana. A world not so different from ours, but far more dangerous and deadly.
Many fantastic creatures walk the surface of Irdana. But beside these creatures, unspeakable horrors have set foot on the world. The inhabitants are on their own. The gods won't help them.
We will refine the setting for you, as we progress in the development, so for now, this is all.
The Story
Do you really think we spoil you the story?
I spoiled something in this post already, so you can try to figure the story out over the time by yourself, or you just wait for the game and let it surprise you.
The (more) technical part
Our game is currently more of a proof of concept, as we are in a very early stage of development.
However this proof of concept runs pretty good. We can display a map. We can walk around on this map, have a proper collision detection, can teleport and vanish into invisibility.
Our next step will be to implement enemies so we can test our AI and battlemachanics.

a little movement demonstration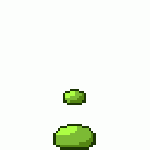 The first enemy, we will add (baby and normal form)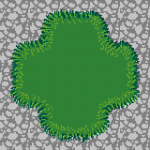 A small part of our tileset (yet to be implemented)
We hope to hear from you soon (or at least to have some news for you).
Sincerely,
POTT-Games
If you have any questions, feel free to contact us.