Hello everyone, I'm
[TWDEV] Volcol
and I'm a 3D and 2D artist over here on the Traction Wars Team. This is the first in a series of dev blogs we have lined up for you to round off what has been a great year for the game. We're exceptionally busy at the moment and apologise for the lack of updates. Please don't confuse the lack of updates with lack a lack of work being produced, we've plenty lined up so without further ado we're happy to showcase the Lee Enfield rifle.
The Lee Enfield No.4 Mk I was the main rifle for the fighting Tommy during World War II. It was adopted as the standard British battle rifle in 1941 and replaced the SMLE which had seen the British Empire and Commonwealth through the First World War and other conflicts. Sporting many of the SMLE's features, it was hailed for its accuracy and reliability, capable of laying down large amounts of fire and having a 10 round magazine it was a force to be reckoned with.
Creating the Lee Enfield rifle was a challenge; annoyingly this seemingly simple rifle was not so simple to model, tricky pieces of geometry and complex mechanics didn't make the task an easy one. I started with the High poly 3D model, making sure to add in details we could bake down into the normal map, details like the screws on the butt plate and stock brackets.
After creating this high poly mesh, I then went about creating and unwrapping the low poly mesh to be used in game. Falling well within the CryEngine3 poly budget, I then went about creating the textures, starting with the arduous task of baking down the normal and ambient occlusion maps (which gives subtle shadows).
From here it was on to creating the diffuse texture, the normal came out nicely and provided a nice base from which to work. Starting with the wooden stock and working my way across the texture sheet, the texture slowly began to take form.
Using a combination of different wood grain and metal overlays and wear/tear painting, the Enfield gradually began to take shape
Once I was happy with the base diffuse I went about adding in a few little details for the Enfield, like production markings, a more apparent wood grain and fixing a few other areas I'd gone over.
A good 40 hours later, with the Enfield now finished, I am able to move on to producing our weapon attachments, of which there are several, so expect an in game update soon.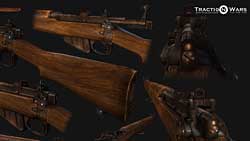 Until then, I hear Brrr is cooking up another explosive treat for us so in the meantime don't forget to vote for us!
Vote For Us!
The team is always looking for new talent, so if you think you have a skill we could use please visit our recruitment page to find out more and find what positions are currently open.