Hello friends! We're back for a last update before the holidays, and we'll resume in January! What's new this week in the exciting world of Ultimate Chicken Horse? First of all, please subscribe to our newsletter! We promise we won't spam you, you'll only get one email a week of the latest and greatest from your favourite Endeavour ever.So what's new is that we have some awesome new art that we're working on to transition from the building phase of the game to the playing phase... note the graph paper awesomeness!
Next up, we have some testing that we've been working on. Right now, we're working on testing things that may or may not go in the final version of the game. Our goal is to test these things without working on any real art or user interface for them, then when we've decided that we'll keep them, we'll put them into the next version of the game. Then, we'll have YOU test the game (because you just love to help out like that) and we'll make some final decisions as to what we cut and what we keep.For example, these coins will be placed in the level either to show the player where to go: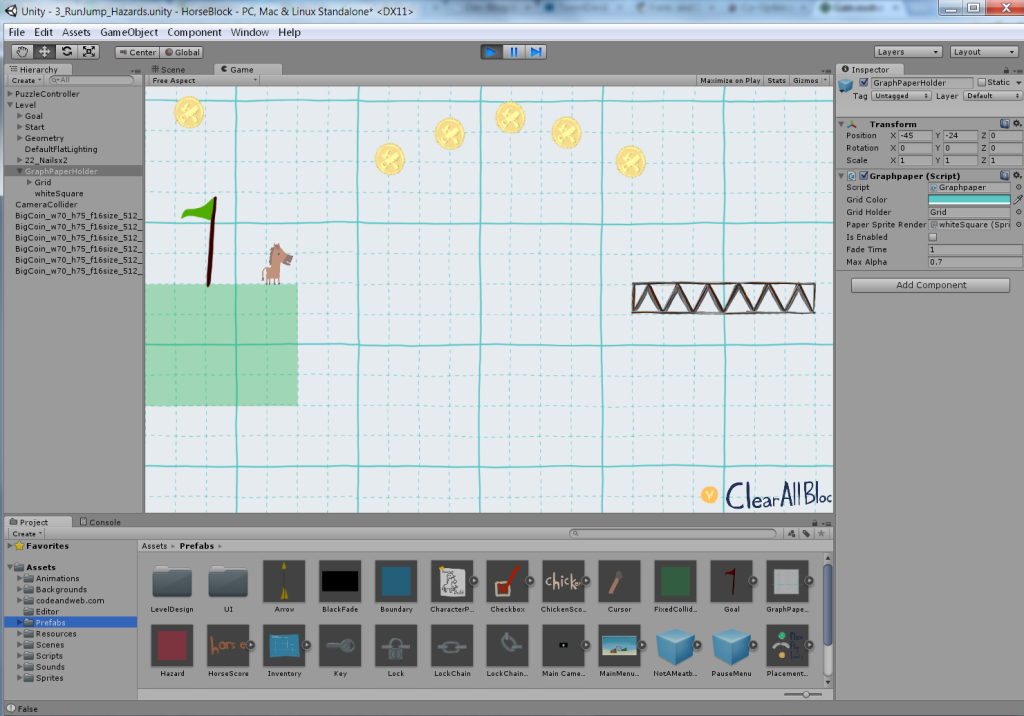 Or to give them more of a challenge, and give some replayability to the game for players who will finish the level the first time without having gotten all of the coins. We plan on having things that will be unlocked with coins, so players will want to go back and collect all the coins once they become Ultimate Chicken Horse masters:
That's all for the updates this week, I wish you all happy holidays and we'll be seeing you soon! Dev blogs back in the first week of January! For now, have a holiday logo, and please subscribe to the newsletter! We'll love you even more.