Yet to be named ski lift construction game is Huge Calf Studios' maiden voyage into indie game development. This first announcement provides an initial glimpse into an original concept. A concept which we think will turn the bridge building genre inside out!
It started in May '16. Like many, I was dreaming of leaving the day job. My younger brother (Will) and his friend (Andy) were about to graduate and look for jobs. A passing comment about teaming up to make 'that ski lift game' that I had thought up a few years before, quickly turned in to a summer project. Now, approaching a year later, I will attempt to share the journey so far.
It's been a steep learning curve and we are all getting a lot out of the process. Every day has bought a new lesson. This is the most obvious and persistent one that I'd like to share with you. Design, art and coding have all followed Hofstadter's Law - It always takes longer than you expect, even when you take into account Hofstadter's Law.
Visit the official blog.
THE HUMBLE BEGINNINGS: MAY - JUNE '16
We created a prototype of the game over the course of 2 long weekends. Andy put revision for his finals on hold and we created something which resembled a ski lift. Nothing really worked, but the ball was rolling. Originally, we planned for this to be a mobile game.
We worked hard on creating a rope that would perform how we expected it to. This is the feature that really sets us apart from other bridge building games. It needed to be flexible, light, strong, be able to hold tension, and most of all, move. We experimented with lots of different methods. Closed circuits, static rope with moving chairs, invisible pulleys. We got there eventually, but it did feel like we were pushing rope sometimes.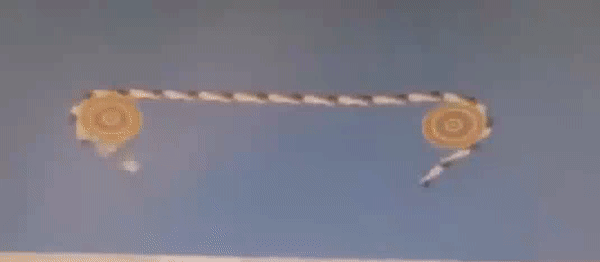 Moving rope prototype (Sorry about the quality - it's all I have)
GOBLIN ENGINEERING: JULY - OCTOBER '16
Not long after we started making this game (but way after we thought we would have finished it), we decided that it would be great if we could make this game accessible to everyone, regardless if they liked skiing or not. We decided to make it a Goblin Engineering game, with the same concept of getting something from one side to the other. Down the rabbit hole we went.
The goblin days and transporting gold. (The rope is missing,
which is probably why I took the screen shot, bugs are running theme in my archive)
We put a lot of effort in to the story behind why these goblins existed and what they were transporting. But ultimately couldn't convince our selves that this was a concept that people would buy in to. So we stopped focusing on our imaginary customers and reverted to making a game that we want to play. So we went back to the original concept of ski lifts. It took us until October to make this decision.
Not all was lost, a lot of time was spent making the physics realistic, and the input reliable and easy to use on a touch screen device. We were pretty happy with the results and would even go as far as saying they were better than any other mobile bridge building game.
IMMOBILE: NOVEMBER - DECEMBER '16
This was an exciting time for me in particular. I had worked out that I could leave my job and survive for long enough until we got this game out. Its an all or nothing approach which may prove to be a terrible decision.
We had an alpha version of the mobile game out. It was being tested by friends, family and the odd stranger. The feedback helped us improve the game dramatically at this stage. We even had a release date.
But then after reading numerous postmortems and deliberating (and arguing) for over a week, we made the decision to make a fully featured PC game. The summer project that we started 7 months earlier had evolved.
YET TO BE NAMED SKI LIFT CONSTRUCTION GAME: JANUARY - FEBRUARY '17
The decision to move this to PC is what we feel to be our best decision yet. The limitations that mobile imposed were no longer there. Now we really could make the game that we wanted to.
A complete redesign was thrashed out in the first week of January, this included new features such as a level builder, a move from 2D illustration to 3D low poly models, and a redesigned construction tool (again we think this is as good as any other PC based bridge building game construction tool that currently exists.) At this stage, none of us had any 3D modelling experience, I took on the challenge in order to make some place holder assets, with the aim of getting someone experienced involved when we knew what we needed.
We created a level builder that was developed for our own use, but we think it is a pretty powerful tool for whipping up new levels in a jiffy. It has now become a fully fledged feature of the game. It provides the user the opportunity to create (and someday share) their own challenges. We have a good physics simulator and a tool that can be used to easily create ski lifts.
8 months after starting and were now happy that we have essentially created the foundation blocks for our game. We're excited to start implementing and working on the following:
Aesthetics

More lift types

More characters

Skiers, bridges and jumps

Win criteria and scoring system

UI overhaul

Sharing features

Campaign

Tutorial

Open Beta

…. Skiing cows

Music
We are running a poll on what we should call our game. We would love it if you could take 30 seconds to cast your vote!
See you next week!