I can't deny that we have been struggling this last couple of weeks for motivation, productivity is grinding rather than the well oiled machine it was before the 4.0 débâcle.
This hasn't been helped on my part by the arrival finally of 'Fifa11', which im just about on the 'come down' from after playing it to death the last week or so and like wise Simon has got himself hooked on 'StarCraft 2' which he's trying to get me onto as well, but so far ive resisted, because no doubt I will get addicted and that I don't want, as im sure you guys don't want either as that means even more delays in our games and stuffs!

Our Latest distractions....
Stuffs? You said stuffs?
Yes stuffs, as I mentioned in the previous blog here after certain feedback we are looking into tool development as well as actual game development and despite our current and quite obvious problems with IGS the way we have developed our engine, knowledge gained from our mistakes and our previous project 'Invasion Defender' we have been able to identify gaps in the market and potential software that would help other indie developers like ourselves.
I have already mentioned previously our powerful Particle Editor which we would both love to see developed into a stand alone tool. However at this point it works as an internal tool in our pipeline, but it would need to be modified to suit a 'general' development pipeline before being released to the public which will take abit of time.
So what will be your first tool?
As mentioned back in Blog03, we have been looking to put our 1000+ images into image strips which would save immensely on loading times. This however has proven more difficult than one would think.
After asking around over on Polycount.com I got hold of 4 or 5 image strip creators and although they all created strips they did not necessarily do as I wanted and I had very little control over the output image that was generated. Simon actually found one that did what we needed but crashed when he tried to save the output, very useful then!
So he went off and made a custom built 'Animation Stripper' as a windows app (so you don't need XNA to work it) which will now probably go-on to become our first released tool.....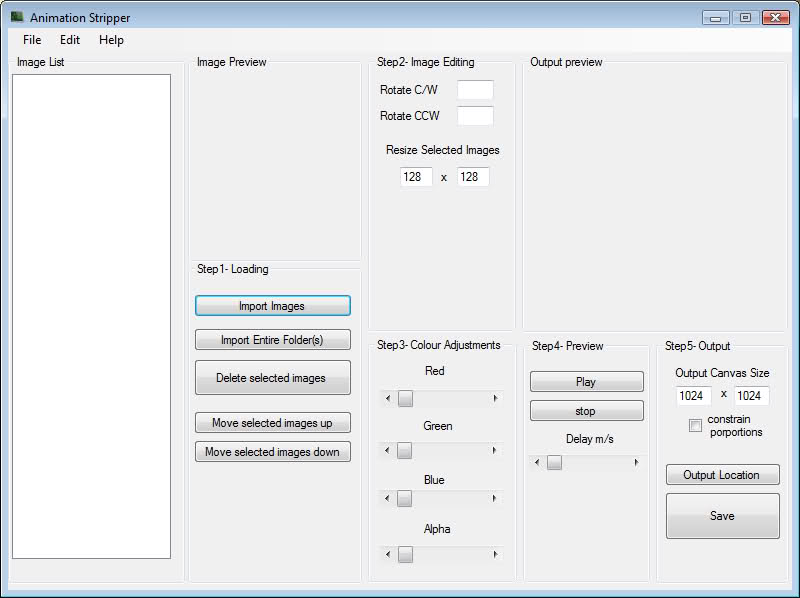 Our first development tool.... an Animation Stripper.
The main features ours has over our rivals is an ability to adjust the canvas size of an imported image rather than the content of an image, plus the ability to set the output size of the final image, this is particularly important for us as our final images will be read in XNA as textures, which as everyone with any game development knowledge knows means they must be sized by the power of 2....add to that several other image editing features mean we have quite a tidy little tool that could be used by anybody.
We hope to have this tool pretty much finished over this weekend where I can start testing it fully on our stuff.

Don't forget the website!
Oh yeah, I almost forgot! we have got a new website up and running over at
Invasion-games.com so get your bookmarks out!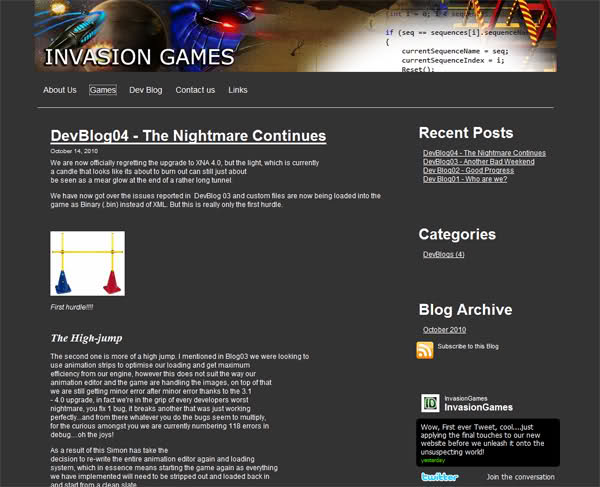 You can now also follow us on Twitter at Twitter.com