Happy Easter everyone!
Lately i have been working on some anatomy of dev textures into finding out how they should be breaking apart. Giving the world more of a realistic feel instead of a simple break apart and have nothing left behind.
Thinking of how each material should be breaking apart is something to take into consideration.
Such as Metal should break apart in bigger chunks as its a more solid substance of matter, and concrete should break in either small or big depending on how it is separated, but it also leaves behind more small pieces of concrete.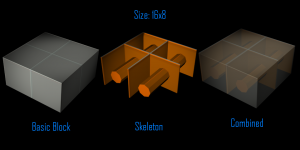 Click to enlarge
The above shows a basic skeleton for a concrete structure that when broken will have the gray basic block pieces break away leaving the metal interior that will bend after a certain amount of damage is dealt.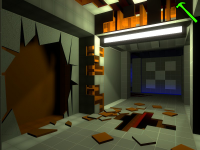 Click to enlarge
Also for an upcoming update, i have released a teaser of the latest level design.
If you're interested in tracking our progress even further, you can now like our brand new page on facebook below and comment on all posts and pictures!
Happy Easter everyone!